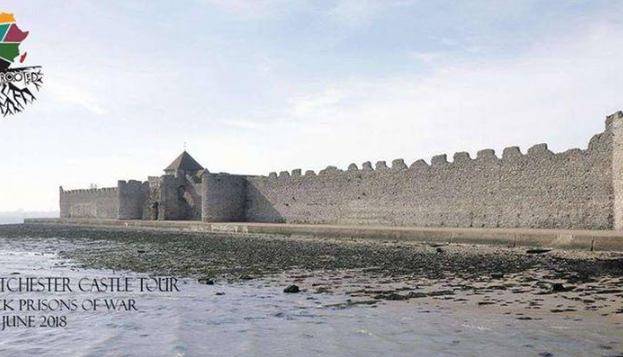 In October 1796 a fleet of ships from the Caribbean carrying over 2,500 prisoners of war, who were mostly black or mixed-race, began to dock in Portsmouth Harbour. By the end of that month almost all of them, apart from about 100 women and children, were living at Portchester Castle.
The story begins on the island of St Lucia in the Caribbean.
When war between Britain and Revolutionary France erupted in 1793, the overseas colonies belonging to Britain, France and their European allies, including the Caribbean, were also dragged into the war. The many Caribbean islands were much fought over by European powers vying for supremacy. These islands were mainly inhabited by an enslaved African Caribbean population working on European-owned plantations.
A French-born revolutionary, Victor Hugues, captured the island of Guadeloupe from Britain in 1794. He then declared an end to slavery and enlisted many former enslaved and free people of mixed race into the French Revolutionary army. Across the Caribbean, men of both African and European descent served in racially integrated military units that fought against Britain – which was still a slave-owning nation – on islands such as St Lucia, St Vincent and Guadeloupe.
On 26 May 1796, the French garrison holding Fort Charlotte on St Lucia surrendered to British forces commanded by Sir John Moore. They laid down their weapons and marched out of the fort and onto British ships. The terms of their surrender ensured that they would all be treated as prisoners of war, rather than as slaves.
Prisoners consisted of black soldiers from: Guadeloupe, St Lucia and St Vincent.
The garrison consisted of mainly local black soldiers, with a smaller number of European French soldiers. There were also women and children among them:
★ Black – 2080
★ White – 333
★ Women and Children – 99
Join Black Rooted as we take a trip down to the south coast of England, Portsmouth to visit the very quarters that held our brothers and sisters as prisoners in the castle, with a full guided tour of the grounds.
London pick up location – (Clapham Junction Station, Grant Road)
Pick up time: 9:30am
Birmingham pick up location – (Malika House, 81 George Street, B19 1NS)
Pick up time: 7:30am
For further information, please feel free to contact blackrooted@hotmail.com or Darrel (London) – 07377990003 | Asante (Birmingham) – 07940330571