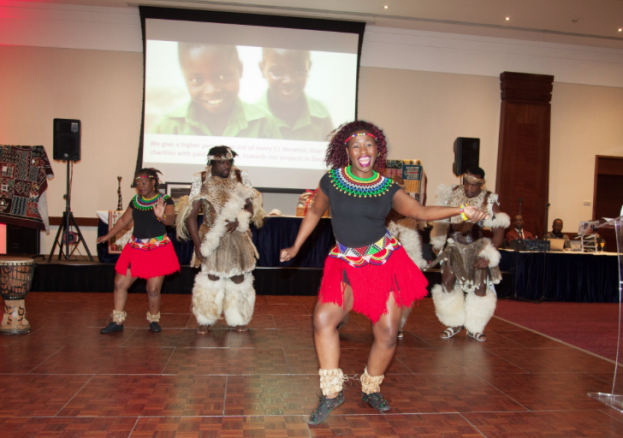 We invite you to our annual Out of Africa Charity Ball 2017 where our "Africa-on-Thames" unique gala dinner will once again bring Africa to the heart of Berkshire. On Saturday 25 November 2017 at the Windsor Ballroom, Hilton Hotel, Reading, prepare to be taken on a journey of Africa, immersing yourself in its diverse and lively culture. Our ball is the perfect celebration for your companies Christmas gathering, corporate hospitality event or team night out and to grow your network and business potential!
You will enjoy live African entertainment by talented performers, arts and crafts, charity auction, raffle and more; all in a celebration of the joy and hope that comes out of Africa. Our keynote speakers will inspire you with their first-hand experience of volunteering in rural Zimbabwean schools.
Having provided over a million meals to children so far, we currently support 2218 children at 9 different primary and secondary schools in making sure they're being educated and fed. Whilst 177 of them are sponsored, we have hundreds of children on our waiting list for sponsors. By supporting Creating Better Futures, your donation will change lives as you will be providing education, food, water and resources for orphans and vulnerable children in Zimbabwe. Your ticket will help to feed a class of 50 children for one whole month.
Our team is made up of dedicated volunteers in the UK and Zimbabwe who donate their time and expertise daily. Since we have been blessed with rent-free office space in Reading, this means that 92% of every £1 donation goes directly towards supporting children in need of your help.
We are very grateful and fortunate to have this event sponsored by the Reading Chronicle, as well as our Pride of Reading Award nomination (2016) as recognition of our volunteering opportunities for job seekers in Reading.
Book a table of 10 people and you will receive a group photo in the Reading Chronicle, a great way to showcase your business to a huge audience! Sponsorship opportunities are available as well for you to gain exposure to local businesses, Rotarians, University of Reading alumni and our charity supporters in the Thames Valley area. If you would like to donate a charity auction prize, please email me at dorothy@creatingbetterfutures.org.uk or call our office today at 0118 327 1154. Should you wish to stay overnight, the Hilton has kindly offered a discount for any person wishing to stay overnight, to enquire please do not hesitate to email me.
Why not come along to the ball and witness how our small and passionate team is making a difference, one child at a time? Tickets are limited so book yours today! You can purchase online via Eventbrite and offline by sending us an email if you prefer to pay by cheque or bank transfer. Please contact us on events@creatingbetterfutures.org.uk
Pay through Eventbrite at: https://www.eventbrite.co.uk/e/out-of-africa-charity-ball-2017-in-aid-of-creating-better-futures-tickets-25816792722
The dress code is colourful and creative; black tie or African.
The tickets are £50 per person.
Telephone: 0118 327 1154 (office) or 07482 938796 / 07898784113
Quotes from our partners
Kirsty Dawn, Barclays Bank, Reading says, ''I think personally for myself I enjoy supporting Creating Better Futures as with a small charity you have more insight as to what your actually helping achieve whereas with larger sized charities there is always that sense of not really knowing how your contribute can really help. I think it's that feel of having more of a personal touch on the outcome and changes''.
Sir David Bell, Vice Chancellor, University of Reading says, "I have been inspired by the story of Dorothy Dix, who talks with great passion about the difference that education made to her as a young girl growing up in Zimbabwe. CBF work to provide education and long term welfare support for children living in poverty not only benefits the children in Zimbabwe, but has provided opportunities for University of Reading students to gain worthwhile work experience within a small, growing charity
 Sean Green, Senior Pastor of Reading Family Church says, ''Local churches can do many things well but need help to fulfil their mission of bringing hope to the vulnerable. Being able to support CBF has enabled our congregations to invest in children's lives whose prospects are very different to our own. The children in our church community now have a heart connection with children in rural Zimbabwe. The adults in our community can now play their part creating a better future for a younger generation in another continent. Amazing. It is a privilege to partner with Creating Better Futures''.