Black History Month recognises black history and achievements, the theme for 2021 is Proud to be Black. October is Black History Month in UK
Black History Month recognises black history and achievements, and this year's them is Proud to Be Black.
Join us for a day of reflection and contemplation as we consider how we engage with reality as we move through the global pandemic as a Black Person in the UK today!
Join us for an Exploration. Take time out to Reflect on why you are where you are. Engage in visioning where you want to be.
What to Expect
Proud to Be Black is a celebratory event for Black History Month that will enable you to consider what you want for yourself on this day of recognition.
You will complete some reflective writing, and engage in a visioning activity.
You may be coming to the workshop to:
give thanks for your strengths and wisdom
consider your purpose
design your future
Our hope for you is that you will have a snapshot and a sense of yourself and be able to use these insights to grow.
All materials will be provided and places are limited. (Don't panic if we're full! Make sure you get onto the waiting list just in case someone drops out!)
The Create Place operates in line within the latest government guidance on social distancing, wearing of face coverings and covid-19 secure measures.
Our workshops are currently limited to six participants per workshop.
Please Note (dated 9th August 2021)
With the easing of all restrictions on July 19th the wearing of face coverings is optional. Social distancing will be maintained, and the venue remains covid-secure.
NHS Track & Trace
On arrival at the workshop, you will have the option to scan The Create Place QR Code to Check-In on the NHS Track & Trace App.
If you do not use the NHS Track & Trace App, we will collect your personal information in accordance with current guidance. This information will be passed on to St Margaret's House, stored in accordance with GDPR regulations, kept for 21 days, and passed onto NHS Track and Trace if requested. Please contact the Community Arts Manager at St Margaret's House (arts@stmargaretshouse.org.uk) if you have any questions or concerns about this (dated 9th August 2021).
More Tower Hamlets Listings MORE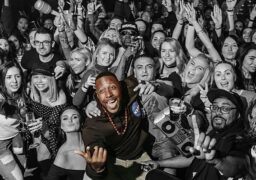 Tower Hamlets
Tuesday 7 September - Tuesday 7 December 2021
This monthly comedy night will take place in the intimate setting of Beatbox. Host Aurie Styla is doing…