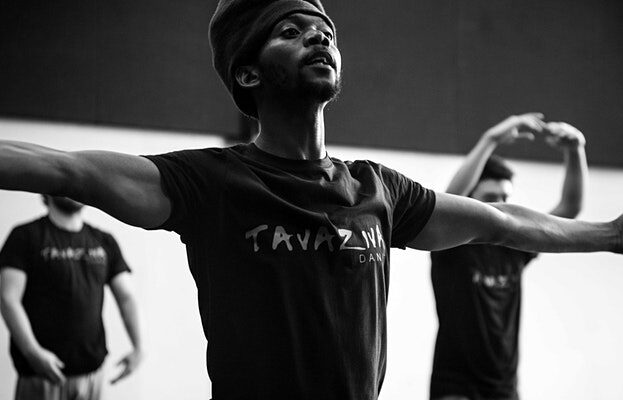 The RAD are delighted to be collaborating with Tavaziva to deliver an African Movement and Technique workshop to dance students, as they tour of their latest work, BOY'S KHAYA.
Bawren's unique style is a choreographic synthesis of ballet, contemporary and African dance; a language which his dancers articulate with athletic physicality, technical precision and grace.
In this workshop participants will be taken through the Tavaziva company warm-up, before exploring company repertoire to further inspire your creativity, through a number of choreographic focused tasks.
Date: Sunday 17 October 2021
Time: 1.45pm – 4.45pm
Venue: RAD headquarters, 36 Battersea Square, SW11 3RA
Teachers: Artistic Director, Bawren Tavaziva will be delivering this workshop, alongside a company dancer.
Who can attend? Students age 16+ with dance experience. This is a great opportunity for students studying towards a dance A Level, those attending a CAT programme, and students studying the RAD Advanced Foundation – Advanced 2 vocational graded syllabus, or the equivalent.
Apply
Please ensure you check the ticket details carefully. If the ticket you wish to book appears sold out, please apply online for the Waiting List Ticket. The team will contact you should a suitable place become available.
Please read and familiarise yourself with our Terms & Conditions before you apply.
The RAD uses Eventbrite for ticketing and registration for events (including workshops, masterclasses, CPD, and a range of free activities). We only store your personal information in order to register and facilitate your attendance and to request feedback. We will not use your information to contact you unless you have opted to receive marketing materials, or have signed up for our e-newsletter. Please read Eventbrite's Privacy Policy. For further details on how your information is processed, please see the Student Activities Privacy Notice.
Please note, in the event of injury or medical emergency during the activity a qualified First Aider from Royal Academy of Dance will provide necessary treatment and assistance to the participant. Please see our Terms & Conditions for further information on this.
Get in touch: email the team at courses@rad.org.uk. Please enquire if you are interested in participating online.