In the 1500s Europeans had no problem venerating the images of Black people. The evidence is in hundreds of artworks still in existence across Europe today.
One of the most famous Black religious figures is Saint Maurice of Germany (seen above in a 16th century painting with his fellow African soldiers) who has an entire German cathedral dedicated to him. There are towns and churches across Europe named after him and even a US infantry order for those who have served with distinction bears his name.
This richly illustrated talk will explain the history and show the art of Saint Maurice and other Black religious figures from the 13th century to the 18th century. We will cover over ten centuries of the African presence in European art.
The Black image in Europe prior to slavery
The history of Saint Maurice
Personal photographs/videos from the cathedral which honours him and other Black male and female religious figures revered in European art
Where we can find similar art in London today
Discover our other historical events here http://bitly.ws/3UFe . Watch out for Andromeda and the Queen of Sheba, African women in European art on 2nd June at 3pm
About the speaker:
Michael Ohajuru is Senior Fellow of the Institute of Commonwealth Studies and holds degrees in Physics (1974) and Art History (2008). He is a cultural art historian, academic and blogger, his specialism and passion is the black presence in Renaissance European art in particular in particular the Black Magus in Adorations images from the period. He regularly writes on these matters also speaks on those themes at the Victoria & Albert Museum (where his work is referenced), the British Library, the Tate Britain and Victoria and Albert museum.
Other coming events :
Andromeda and the Queen of Sheba, African women in European art
Special screening of Jordan Peele's US plus Q&A at BFI Southbank June 16th
Black history river cruise June 22nd
Trafalgar Square, St Paul's, Soho, Notting Hill,
Queen Nzingha lecture 41 eugenics and Black Beauty
The Black history of video games
Black presence in the National Gallery
Will the real Michael Jackson please stand up
Aretha Franklin/Marvin Gaye Black history movie breakdwon
Black History bus tour 14th July
How to move to the Caribbean and live Good
More Westminster Listings MORE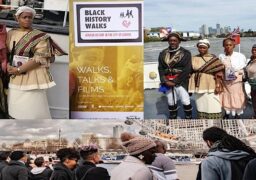 Westminster
Saturday 25 May
Your private, double-decker boat will start from the Temple Pier near Temple tube station on the Embankment. Your…