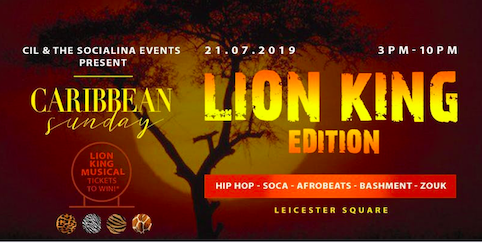 Win your ticket for the Lion King Musical! Free Face Painting & costume contest, Lion King Cocktails, Caribbean Music how can you miss
About this Event
It's been a few months since the last Caribbean Sunday as we have been working on something very special for you.
You are getting it… this time we are coming up with something out of the ordinary. Something that will make you go back to sweet childhood memories while stepping into a universe where you can release your true self.
Get ready to join our Circle of Life… and take a stroll through our savanah home… get ready to experiment an unprecedented Caribbean party.
We are really proud to present:
The Caribbean Sunday Lion King Edition
This is the time to unleash your inner Lion King or Queen! Would you dare to be as brave as Simba, fearless as Nala or savage as Scar? Not to mention that the animal kingdom is full of all kind of exotic creatures.
Want to try the Zazu shot, or the Hakuna Matata cocktail, get some make up and feed yourself?
Here's the program:
*Free face painting
*Goodies to win
*Lion King cocktail
*Costume contest
*Burgers and fries available
*Best Caribbean music
Dress Code:
Animal print galore think Fur, Tiger, cheetah, Zebra prints… Everything from the Jungle is more that welcome ! Use your creativity and release your savage self for a moment of pure excitement!
Costume Contest:
We are delight to offer 2 tickets to win for the Lion King London musical for the best male and female costume of the night. You know what you need to do!
Music Policy:
As per usual, expect the best music from the Caribbean! Soca, Afrobeats, Dumbolo, Afrotrap, Bashment, Zouk, Reggaeton and Trap!
DJs on the Deck:
DJ ALI TWITZ
DJ YUNG MILLI
And more…
Location: Leicester Square
This is a strictly over 18's event and photo I.D is 100% essential, you will NOT be let into the venue without it.
Surprise, surprise and more surprise:
Very much like our family, The Lion King is sending a powerful, influential message of friendship, love, courage and hope, and we want to bring all of that together.
You know what to do, get that outfit ready!
For all enquiries:
Contact Lina via Phone or WhatsApp: +447481035541
E-mail: thesocialina@gmail.com
Sincerely yours,
Thesocialina
Caribbean's In London Team
More Westminster Listings MORE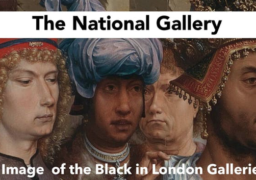 Westminster
December 8 - 2019, March 1, 2020
The National Gallery is one of the world's greatest collection of European art. Hidden in its collection of…