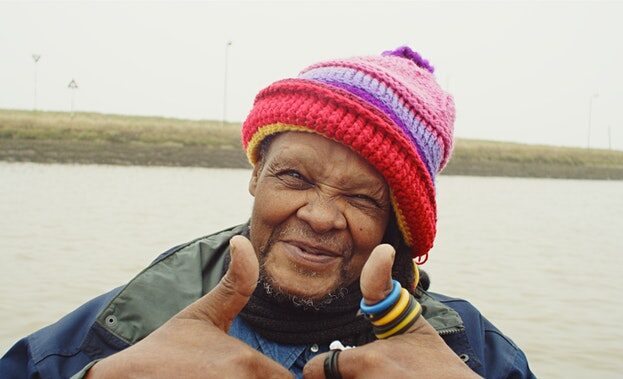 Artangel and Edel Assanti invite you to a special live performance of musician and artist Lonnie Holley at Stone Nest in London, 14 May
Artangel and Edel Assanti are pleased to invite you to a special one-off live performance of US-based musician and artist Lonnie Holley, taking place at the new London arts venue Stone Nest, on Shaftesbury Avenue this Saturday 14 May 2022.
The interdisciplinary practice of Lonnie Holley (b. 1950, Birmingham, Alabama, USA) encompasses sculpture, painting, photography, filmmaking, performance and sound. As one of the most recognised self-taught contemporary artists in the West, he devotes himself to what he describes as a "practice of improvisational creativity." Holley's practiced mediums are imbued with cultural and artistic metaphors, reflecting a deep connection to place and memory.
In 2022, Holley visited Orford Ness, Suffolk. Viewing the site as both a found sculptural environment and a ready-made film set, he went on to create and record a cycle of site-specific songs, performed and filmed across different locations on the since decommissioned military testing site, now a nature reserve overlooking the North Sea. The result is a new Artangel commission film titled The Edge of What, filmed in March and available to stream online for free in May 2022.
The performance also coincides with the opening of Lonnie Holley's first exhibition with Edel Assanti at the gallery's new Fitzrovia home on Little Titchfield Street on 13 May, marking the artist's first UK solo show since his 2004 retrospective at IKON Gallery, Birmingham.
Book your tickets now, limited capacity.
To find out more about Lonnie Holley's upcoming film and exhibition, visit artangel.org.uk/the-edge-of-what
About Lonnie Holley
Lonnie Holley was born as the 7th of 27 children. As a child he watched his mother and grandmother gathering clothing, food, and scrap metal to sell to junkyards; himself learning to repurpose salvaged detritus at a young age. Holley began his artistic life in 1979, aged 29, when he carved tombstones for his sister's two children who died in a house fire. Discovering art's power to transcend human emotions, he started using discarded stone linings from industrial steel moulds to make sandstone carvings.
Soon after, he began making works assembled almost entirely from found materials – a tradition closely tied to the practice of "yard art" in the rural south. The 'yard' emerged as a crucial sanctuary and expressive space for black southerners during the Jim Crow era, where improvisational symbolic languages involving the adaptation of found materials were forged.
By the mid-1980s, Holley's own practice flourished into the format of an immersive yard show environment at his home in Birmingham, Alabama, displaying a garden space filled with found objects, plants, paintings, and improvised sculpture. The site was widely celebrated until it was repossessed for the expansion of Birmingham International Airport in1997.
Today, Holley is one of the most recognised self-taught contemporary artists in the West. He lives in Atlanta, where he continues to create multi-media works that draw upon his personal history and celebrate the South's vast industrial heritage, whilst engaging pressingly with the spirit of the present moment in human history. His most recent sculptures convey subtle narratives, addressing our challenging and changing relationships with nature, technology, politics, and one another.
Holley's music is equally evocative; the centrepiece of his latest album 'Mith' is a brutal and dissonant song entitled 'I Woke Up in a Fucked-Up America'. The histories his sculptures and music relay are at once autobiographical – referencing Holley's childhood in the pre-civil-rights-era South – and collective, inviting contemplation of the past and present as a guiding force for unlocking the future.
About the venue
Stone Nest is an arts organisation and performance venue in the heart of London's West End, bringing exceptional and experimental art to a wide audience. Whilst the 'work in progress' of building restoration continues, Stone Nest is delighted to collaborate with a range of artists to bring life to this iconic former Welsh chapel. A hidden gem nestled amidst the bright lights of theatreland, it offers a platform for bold, visionary artists and a space where audiences can encounter an eclectic programme of contemporary performance.
Stone Nest is an old building and unfortunately cannot currently accommodate electric wheelchairs. We can accommodate manually operated wheelchairs via a temporary ramp; please contact Artangel if you require a complimentary companion ticket.
More Westminster Listings MORE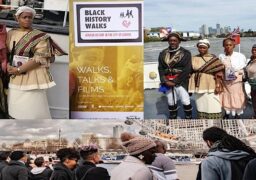 Westminster
Saturday 25 May
Your private, double-decker boat will start from the Temple Pier near Temple tube station on the Embankment. Your…