Our events bring together black singles professionals who are interested in expanding their social circle.
Single Black Networking is a fun and and inspirational concept for Single Black people. Single Black Professionals Networking is to make new friends, have fun and have a great time. Our aim is to empower single black people and we reflect this in our events.
If you like to socialise and want to meet like minded black singles and new people and find a lot of your mates don't go out because they are married, partnered up or just can't be bothered to go out, or you haven't got a 'significant other' that wants to take part in fun activities, then Single Black Professional Networking is for you.
This is a tough city in which to meet people. We are about to make it a whole lot easier by bringing single black people together, whether new to the area or local, and meeting up without the formalities associated with the usual scene. Want to meet new people anyone? Yes, please!
Aimed at professional single black people, it is the perfect way to meet plenty of like-minded black professionals people in a relaxed party atmosphere.
More Westminster Listings MORE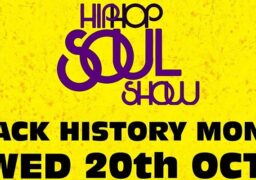 Westminster
Wednesday 20 October 2021- Wednesday 19 January 2022
DJ! Debate! and our infamous Played In Full Music Quiz! Join Hip Hop Soul Show: LIVE! and be…