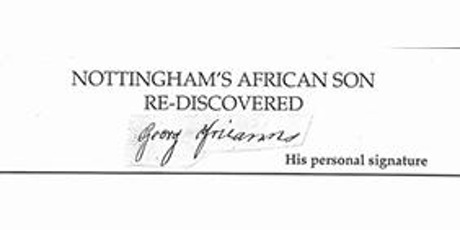 The Life of George Scipio Africanus
Originating in West Africa before he was enslaved, George Scipio Africanus lived as part of the well-known Molineaux household in Wolverhampton. He later became a freed man and went on to become a successful entrepreneur in Nottingham. Collections Manager Victoria Northrigde will draw up Black Cultural Archives collection, to tell the life of George Scipio Africanus. Many of the original documents that will be showcased in the talk were created by the co-founder of Black Cultural Archives Len Garrison.
Wednesday 18 August, 1.00pm-2.00pm
Free, booking is essential.
This talk will be held in Wolverhampton at the Black Local History and Cultural Archives Project, 24 Cosgrove Walk, Pendeford, Wolverhampton, WV8 1YD.
Find out more about Black Cultural Archives:
Founded in 1981, Black Cultural Archives' mission is to collect, preserve and celebrate the heritage and history of Black people in Britain. Learn more about the work we do, visit bcaheritage.org.uk.
Join our mailing list for the latest updates on future events.
Follow us @bcaheritage and facebook.com/bcaheritage.