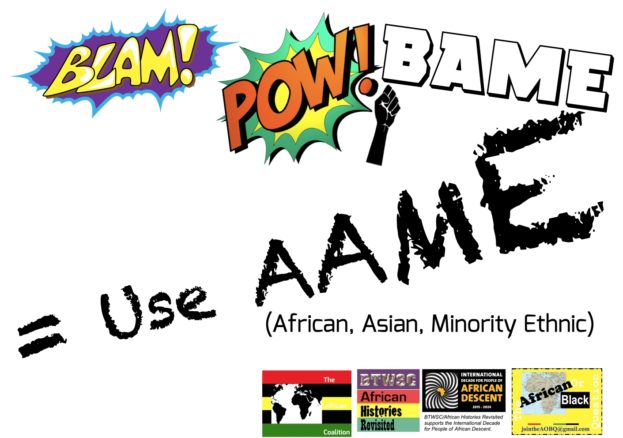 To mark Africa Day/African Liberation Day, UK-based African identity campaign group TAOBQ (The African Or Black Question), in association with The African Coalition, launches its latest slogan attacking the BAME (Black, Asian, and Minority Ethnic) terminology, which has attained an unprecedented ubiquitousness in its use especially in the current discourse on the disproportionate manner in which Covid-19 is affecting particularly non-Europeans in Britain and elsewhere, such as Brazil and the United States.
Today, TAOBQ introduces its latest slogan: Blam! Pow! BAME = Use AAME. TAOBQ, which coined the AAME acronym, which stands for African, Asian, Minority Ethnic, or African, Asian and/& Minority Ethnic, has been consistently campaigning for the use of African since its conference in 2012 passed a resolution to use African, instead of black, to refer to people of African heritage, irrespective of whether they come from Africa, the Caribbean, Britain or other parts of the African diaspora.
After years of writing directly to the Labour Party and anti-racist organisations to use AAME, African, Asian, Minority Ethnic, African, and Afriphobia, which specifically refers to anti-African racism, and publishing articles – the latest being the pre-International Day for the Elimination of Racial Discrimination (Anti-Racism Day) 2020 piece 'The Politics Of Racism, Terminologies And Imagery', TAOBQ recognises some rays of hope.
Last week, Leicester East MP Claudia Webbe was accused by the Jewish community of discrimination by not including them when she made reference to the African, Asian and minority ethnic communities in her question to Prime Minister Boris Johnson during Prime Minister's Questions (PMQ) on the disproportionate impact of Covid-19 on minority communities in the UK.
In a reply published in The Jewish Chronicle, Webbe, who described herself as an "African woman", was forthright in clarifying her position that she did not discriminate against the Jewish community, as they are included in the "ethnic minority" bit. It would seem this response has put a lid on the non-issue, as we have thus far not heard any accusations of anti-semitism or a call for an apology.
Incidentally, talking about discrimination, the African community has a legitimate cause for making allegations of discrimination. Africans face the worse forms of discrimination in Britain and other parts of the diaspora, from unemployment, educational attainment, housing, the criminal justice system, to deaths in state custody. This is the reason why the UN launched the International Decade for People of African Descent (IDPAD) 2015-24 initiative, which Britain and most Western UN member states have not engaged with.
For example, accusations of anti-Semitism within the Labour Party were enough for the party to conduct an internal investigation into anti-Semitism, where Afriphobia and "other forms of racism" were nothing but footnotes in the resulting report. The same accusation has led to an on-going investigation by the Equality and Human Rights Commission.
In contrast, there have been no moves to investigate the Afriphobic activities by Labour Party staff that have been revealed in the leaked Labour Party documents. The party leader Sir Starmer Kier has shown no signs of addressing this. He was however quick in making a public apology to the Jewish community within the first week of gaining the helm of the party. Perhaps he'll make his position privately known when replying to the numerous letters sent to him by Labour members and activists.
Considering that the national equality body has seen no reason to investigate the accusation of Islamophobia within the Conservative Party,what chance is there of it taking it upon itself to investigate the Afriphobic activities by Labour Party staff?
Talking about activists, we are heartened by community activist Olalekan Odedeyi, who after our presentation on identity terminologies at the IDPAD Coalition UK's launch on its Afriphobia document last December, with the support of the leadership of his Middlesbrough activist group, changed the group's name to Tees Valley Labour AAME Forum.
So on this day that African Day/African Liberation Day is marked by Africans and their allies across the world, TAOBQ is proud to present the first Blam! Pow! BAME = Use AAME Award to Olalekan and Tees Valley Labour AAME Forum, for making an organisational shift in supporting the use of AAME.
The second Blam! Pow! BAME = Use AAME Award goes to Claudia Webbe for consistently using African, Asian, and minority ethnic in her House of Commons contributions. Hansard captures three occasions – the first on March 9 2020, when the new MP made her maiden speech; May 18, during the Immigration and Social Security Co-ordination (EU Withdrawal) Bill debate; and on May 20, when she asked the Boris Johnson during PMQ what he was going to do, in light of the disproportionate impact of coronavirus on AAME communities.
One hopes Webbe's fellow African Labour MPs, particularly Diane Abbott, Dawn Butler and Clive Lewis, who were the targets of Labour Party HQ Afriphobic undermining activities, will start using AAME, instead of BAME, and African, instead of black.
Incidentally, TAOBQ is against the use of black in reference to African people, but not against black in describing concepts, such as black politics, black power, black music, or the accounting term "in the black".
To better understand TAOBQ's position on identity and language, you can read TAOBQ (The African Or Black Question) Manifesto 2020+ and related material on TAOBQ.blogspot.com. TAOBQ is part of the organisers of The African Coalition's Marcus Garvey @ 80: Moving Towards A Unifying African Identity</strong> event, a Zoom online contribution to Anti-University 2020 on June 10, 6-9pm (UK, GMT +1) via AfricanHistoryPlus.eventbrite.com.
We also support African History And Representation Across London, a contribution to London History Month on May 31.
Four years ago on Africa Day/African Liberation Day 2016, Africans For JC Values and dozens of pan-African co-signatories, made a submission to Labour Party's Chakrabarti Inquiry to investigate "Anti-Semitism and other forms of racism", which was also published as an open letter entitled 'Call It By Its Name: Afriphobia Is Racism Against African People'.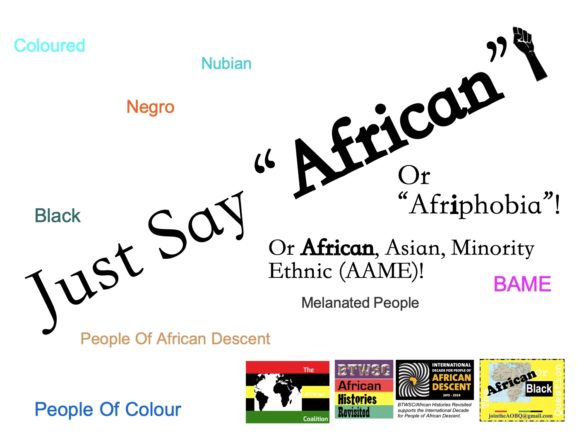 Since then, our campaign on Twitter has included the #CallItByItsNameAfriphobia hashtag. Others are #JustSayAfrican, #Afriphobia, and #AAME.
Kwaku
TAOBQ (The African Or Black Question) campaign lead
www.TAOBQ.blogspot.com
bbmbmc@gmail.com