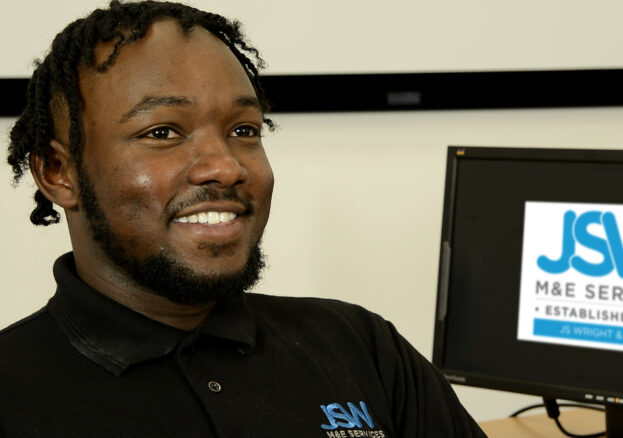 So what happens when you leave school and have absolutely no idea what you want to do? Like many school leavers, Shaun Donaldson was grappling with exactly this problem back in June 2015 when his parents just happened to call in a plumber to redo the family bathroom. "I was at a loose end, so I thought I'd help him while he was there," says Shaun. "It was really satisfying and I ended up learning enough to tile my own bathroom once he'd gone. I was hooked!"
Shortly after, Shaun attended a careers event at the NEC in Birmingham and discovered a college that offered a Level 1 Diploma. In addition to completing this year-long course in just eight months, he got the chance to do two weeks' work experience with Walker Stanley Developments, helping them install a new shower and kitchen. The company were sufficiently impressed by his performance to call the college directly and offer him an apprenticeship.
"This was a brilliant result for me," says Shaun. "I always tended to struggle in a classroom environment and I am much better at picking things up by doing them. I really wanted to develop practical skills that could set me up for the future, and the apprenticeship was the perfect fit."
Perfect, but not – unfortunately – without its difficulties. After a year and a half doing everything from brickwork to plumbing on a variety of projects, Shaun's company downsized and he needed to find another job quickly to stay on his apprenticeship path. Shaun called on the advice of his JTL Training Officer, Paul Walton, who helped him secure another position with JS Wright, a firm that provides plumbing, electrical and mechanical services to high-rise developments.
This unexpected change added a new dimension to Shaun's progress. "I did a number of jobs with an older qualified plumber and really benefited from the way he supported me," says Shaun. "He would show me how to do a particular task and then let me do as much as I could on my own, with me calling for help only when it was needed. You quickly realise that you have to ask or you won't learn!"
He was also impressed by the quality of his female instructor at college, which he attended once a week. "She had a tremendous amount of practical experience and was very good at sharing it with us."
What stimulated him most, however, were some of projects he was given to work on. "In my second job, for example, the design team would come in with a drawing and we had to interpret that drawing and use it to build complex heat interface unity boards from scratch. That took a lot of collaboration and thinking on your feet, but I learned a tremendous amount in the process."
He also benefited from the input of his Training Officer, Paul Walton. "Paul has been there for the past three years, helping me sort out problems and always keeping my mind focused on the bigger picture," says Shaun. "But you're never spoon-fed and you have to take the initiative as you develop and grow."
Having now embarked on his Level 3 Advanced Plumbing, Shaun values the amount of autonomy and responsibility his company now gives him. "For me there's something really satisfying about having the space to think freely, work with others when you need to and then see the final result."
The pace of Shaun's development hasn't just impressed his employers, but it has also impressed his Training Officer Paul Walton, who said:
"Some apprentices need to be nudged along the path to qualification. Others, like Shaun, just need to be pointed in the right direction and they're off. He took ownership of his own development right from the start and you just know he's going to do well." It came as a surprise to no one – least of all Paul Walton – that Shaun was shortlisted for the recent JTL National Apprentice of the Year Awards. "It was a much-deserved recognition of his initiative, ability and potential."
As for Shaun, he faces the future with confidence and has ambitions to take on a management role and give to others the same kind of support he has enjoyed: "I would love to teach up-and-coming apprentices. I know what to do and how to do it efficiently, and I'd value the chance to share my expertise as I continue to develop and grow myself."
Watch this space.
If you are interested in an Apprenticeship like Shaun  visit www.jtltraining.com