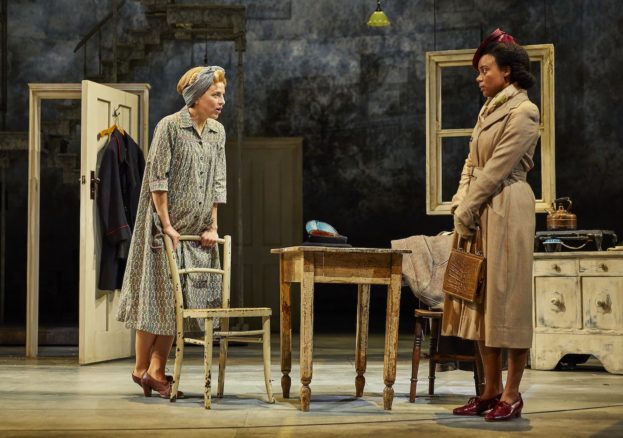 Serena Lee reviews the latest production of "Small Island"
Although we would have liked to see Hortense' character given the same depth of recognition and understanding as Queenie it cannot be denied that little literary expense has been spared in bringing this sweeping tale to the stage.
A stirring story of desire and stubborn realities. In the wake of writer Andrea Levy's death earlier this year, her celebrated novel 'Small Island' bursts onto stage for a new play at the National Theatre.
The sweeping adaption written by Helen Edmundson, explores post-war migration from Jamaica to Britain. The story is pinned on two heroines; Hortense from rural Jamaica and Queenie from a Lincolnshire pig farm. Both women long for a different future in London with similar hopes, yet, through the daily realities of post-war Britain their expectations are tested through cultural rifts and racism. Gershwyn Eustach Jnr gives a stunning performance from start to finish characterising many of the issues that young black males still have to face today.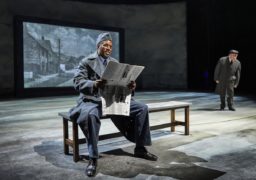 The venue's artistic director Rufus Norris directs a 40-strong cast, backed by an impressive technical production. Katrina Lindsay's set design skilfully conveys intimate scenes combining floating windows and home furnishings on a shifting circular stage. The costume design is on point capturing the essence of the 1950s -two-tone shoes, high waist dresses and fedora hats. Jon Driscoll's curved projections were outstanding including historical footage from billowing palm trees of Jamaica, to the grey streets of northern England. The best use of this effect was the poignant scene of the HMS Empire Windrush leaving Jamaica, a foreboding sight considering the present on going Windrush scandal.
The cast give worthy performances, the main characters intermittently sermonize their thoughts to the audience. Queenie's character played by Aisling Loftus is a courageous yet unfulfilled landlady that takes in veterans whose life intertwines with Gilbert and his wife Hortense. Gilbert, played by Gershwyn Eustache Jnr, tellingly portrays the hopes and stinging disappointments of Caribbean migrants who travelled to British shores in their Sunday best suddenly faced with hostility and racist populace.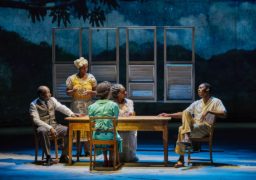 Hortense, brilliantly played by Leah Harvey, is upright, and prideful with a desire to move to England and become a teacher. Although the original story written by Levy is centred on Hortense, Queenie's character is brought to the forefront, elements of Hortense's depth and nuances are disappointingly unexplored.
Norris's scope derives from the depth of characterisation by Levy. He treats the gritty narrative with a punch of comedic prowess; this follows on from Levy's work, always moving, uncompromising and funny. A riveting story well adapted for the stage, a timely production of hope, kindness and intolerance, charting the beginning of Britain's future attitudes to identity and immigration.