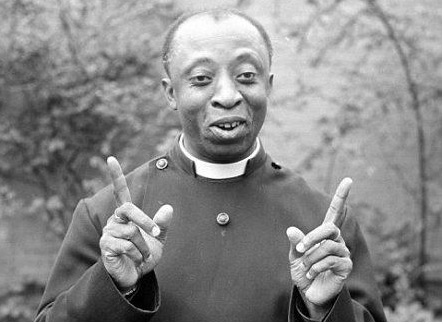 Born in Barbados to Wilfred Coward and Elsie Elmira Wood, in Proute, St Thomas, Wood [later Sir Wilfred] attended Southborough Boys' Primary School and Combermere School.
Having being ordained Deacon on the island after completion of studies in 1962, Bishop Wood's journey had just begun as he was sent to the Diocese of London, first serving in a parish called St. Stephen's Shepherd's Bush, where he served as a curate, then honorary curate, of St Thomas With St Stephen, Shepherd's Bush, until 1974.
He soon came to wider attention in Britain for speaking out on racial injustice. In 1974 he joined the Diocese of Southwark, where he stayed until his retirement.
In 1977 he was appointed Rural Dean of East Lewisham and Honorary Canon of Southwark Cathedral. He was Archdeacon of Southwark from 1982 until his consecration as Bishop of Croydon in 1985, where he oversaw the Croydon Episcopal Area and assisted the Bishop of Southwark.
Throughout his Ministry, Bishop Wood had a strong interest in race relations and social justice in London, as it was for this interest that he was appointed the Bishop of London Officer in race relations, also serving on a number of other important boards, from 1978 to 1981.
He recalled: "I was a member of a Royal Commission called the Royal Commission on Criminal Procedures and in our report, we recommended an establishment of an independent prosecuting service, which has now been established, called the 'Crown Prosecuting Service'. Up to that point, police would investigate and prosecute, but we recommended an independent prosecuting service."
Serving on the Archbishop Commission on urban priority areas – where for three years he and his team visited all the cities and towns in England, such as the large housing estates and areas in need of assistance – Bishop Wood noted that a report on the findings were published and also recalled the setting up of the urban church fund.
Bishop Wood also served as a Lay Magistrate from 1971 to 1982. He was the moderator of the World Council of Churches Programme to Combat Racism, known for its work on South African apartheid, acknowledging the importance of the work of commission as they supported the liberation movements against the racist apartheid regime in South Africa.
Serving as Archdeacon of Southwark from 1982 until his consecration as Bishop of Croydon in 1985, where he oversaw the Croydon Episcopal Area, Bishop Wood said that the honour was very humbling.
"When I become Bishop of Croydon in 1985, it was a big occasion because I was then becoming the first ever black Bishop in the Church of England. At the service at St. Paul's Cathedral, which holds 2 900 [people], there was not enough room, as people had come from all over the world – mostly black [people] were in attendance – and there are 49 bishops who took part in the service. Actually, when my appointment was announced, I received 703 letters of congratulations and well wishes. It was a great day," he expressed.
He holds honorary doctorates from the Open University, the University of the West Indies and the General Theological Seminary, New York, when he was described in the citation as "a wide and trusted defender of the rights of minorities".
In 2000, another great honour was placed upon the Bishop, as Queen Elizabeth II appointed him Knight of St. Andrew (Order of Barbados), for his contribution to race relations in the United Kingdom and general contribution to the welfare of Barbadians living here.
In his last years as Bishop of Croydon, he protested at the honours given to Enoch Powell upon his death, and about the government and opposition's attitudes to asylum seekers.
Before his retirement in 2002, Bishop Wilfred Wood also served on the Board of the UK's Housing Corporation from 1986 to 1995 and was a founder-member of a number of housing associations and revealed that up to his retirement, he was either president or patron of 26 charitable organisations.
During those 40 years, Sir Wilfred moved through the Church of England ranks as curate, chaplain, vicar, rural dean, canon, archdeacon, and bishop. His work did not go unnoticed by the authorities.
Today in Plaistow, East London, there is the Bishop Wilfred Wood Court. For posterity, one street, one close and two housing projects bear the name Bishop Wilfred Wood.
Sir Wilfred Wood retired as Bishop of Croydon September 30, 2002 and was succeeded in 2003 by Nick Baines. He returned to Barbados that same year. In 2004, he was voted by the public as second only to Mary Seacole on a list of the 100 Great Black Britons.
Sir Wilfred has since lost his sight to diabetes, but he has not lost his fervour for Christian witness and mission and is still very active, as he pointed out that he is always knew he would return to Barbados to live and he is even more delighted to be surrounded by his Church of St. Lawrence family where he worships