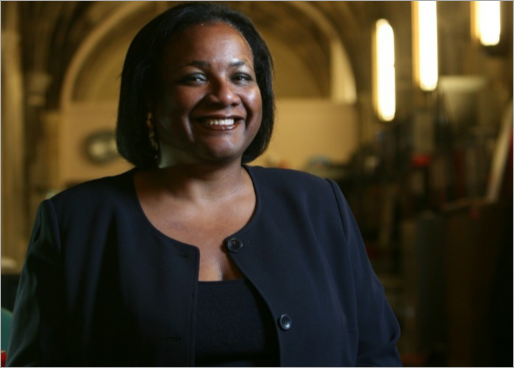 Diane Abbott was born to Jamaican immigrants in London in 1953. Her father was a welder and her mother a nurse. She attended Harrow County Grammar School for Girls, and then Newnham College, Cambridge, where she read history.
At Cambridge, she was tutored by historian Simon Schama. After university she became an administration trainee at the Home Office (1976 to 1978), and then a Race Relations Officer at the National Council for Civil Liberties (1978 to 1980). Abbott was a researcher and reporter at Thames Television from 1980 to 1983 and then a researcher and reporter at the breakfast television company TV-am from 1983 to 1985. Abbott was a press officer at the Greater London Council under Ken Livingstone from 1985 to 1986 and Head of Press and Public Relations at Lambeth Council from 1986 to 1987.
Abbott's career in politics began in 1982 when she was elected to Westminster City Council serving until 1986. In 1987 she was elected to the House of Commons, replacing the deselected serving Labour MP Ernest Roberts as MP for Hackney North & Stoke Newington. Along with Keith Vaz, Bernie Grant and Paul Boateng she became part of the first black and Asian intake in Parliament for almost 100 years.
Abbott has a record of differing from some party policies, voting against the Iraq war, opposing ID cards and campaigning against the renewal of Britain's Trident nuclear weapons.She has been seen as a 'maverick, a free-thinker, willing to rebel against the party machine.'
Abbott's speech on civil liberties, in the debate on the Counter-Terrorism Bill 2008 won The Spectator magazine's 'Parliamentary Speech of the Year' award and further recognition at the 2008 Human Rights awards.
Abbott has served on a number of parliamentary committees on social and international issues. For most of the 1990s she also served on the Treasury Select Committee of the House of Commons.She went on to serve on the Foreign Affairs Select Committee.
Abbott chairs the All Party Parliamentary British-Caribbean Group and the All Party Sickle Cell and Thalassemia Group.
Abbott is founder of the London Schools and the Black Child initiative, which aims to raise educational achievement levels amongst black children.
In May 2010, she was re-elected in her constituency of Hackney North and Stoke Newington, with a doubled majority on an increased turn-out.
On 20 May 2010 Abbott announced her intention to stand in the Labour leadership contest. She secured the necessary 33 nominations by 9 June, assisted by the withdrawal of fellow left wing candidate John McDonnell and unexpected support from fellow candidate David Miliband. On Saturday 25 September 2010, Ed Miliband was announced as the new leader of the Labour Party with Abbott eliminated in the first round of voting after securing 7.24% of votes.
Abbott was later appointed Shadow Minister for Public Health by Ed Miliband, taking shadow responsibility for a range of issues including children's health, maternity services, sexual health, tobacco, nursing, obesity and alcohol abuse.Following her move onto the front-bench, the Telegraph said on 27 September 2011 that Abbott had 'become one of Labour's best front bench performers'.
On 8 October 2013, Abbott's front bench political career came to an abrupt end when she was sacked as shadow public health minister by Labour leader Ed Miliband.
She was one of 16 signatories of an open letter to Ed Miliband in January 2015 calling on the party to commit to oppose further austerity, take rail franchises back into public ownership and strengthen collective bargaining arrangements.
Abbott has built up a high profile within the media
Abbott appeared alongside former Conservative politician and media personality Michael Portillo on the BBC's weekly politics digest This Week. Abbott and Portillo have known each other since school, when they appeared in joint school productions of Romeo and Juliet (although not in the title roles), and of Macbeth as Lady Macduff and Macduff respectively.
Abbott is a frequent public speaker, newspaper contributor and TV performer, appearing on programmes such as Have I Got News For You, Celebrity Come Dine with Me and Cash in the Celebrity Attic.!!
Following her move onto the front-bench, the Telegraph said on 27 September 2011 that Abbott had "become one of Labour's best front bench performers"