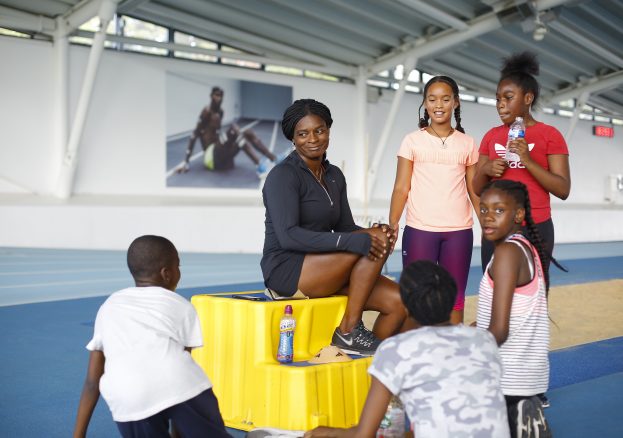 'COACH'
Equality, Diversity and Inclusion are crucially important to the United Kingdom's National Governing Body for Athletics, UK Athletics, with the organisations values – Respect, Accountability, Communication, Quality and Integrity – at the heart of everything they do.
Former athlete and now UK Athletics Vice President and Equality, Diversity & Engagement Lead, Donna Fraser now focuses her time on embedding the values throughout the organisation, while part of her remit is delivering a 'Black History Month' project.
An annual celebration in the United Kingdom, Canada and the USA – though celebrated in differing months based on location, Black History Month exists with the purpose of recognising history, experiences and accomplishes of black people.
In line with the company values, UK Athletics, in collaboration with Photographer Ernest Simons and Project Manager David Gorgeous – plans to celebrate Black History Month by delivering a black and white photographic exhibition entitled 'COACH' with the aim to continue inspiring the next generation for years to come.
Recognising the contribution of past and present Black and Asian athletics coaches in the UK from grass roots to elite level, 'COACH' particularly focuses on those who were athletes themselves and are passionate about sharing their experiences and expertise with the emerging athletics stars in the UK.
"Athletics is the most diverse and inclusive sport globally, and UK Athletics respects the time and effort all coaches give to the sport to produce quality athletes at all levels," says Fraser of the project.
"We want this exhibition to promote positive black and Asian role models and inspire BAME communities, especially females, to get involved in athletics, whether that be through participation, coaching, officiating or volunteering. Irrespective of their background, anyone can get involved in athletics."
'COACH' tells a unique story of the athlete-coach relationship, with invaluable behind the scenes moments and anecdotes captured, while highlighting the coach integrity, and the accountability they have for their athletes which underpins the performance on and off the track.
"Black History invokes many feelings and emotions for a black woman in the 21st century. People celebrate the success of our forefathers, and their achievements. We are able to also appreciate and celebrate their dedication to the cause of making us realise nothing is beyond our reach. Never allow others to limit us.
As a black female coach, it has been challenging on many levels. Athletes question you more, or listen to male coaches instead of to you. Frustrating as it is I am inspire by the words of Maya Angelou 'Still I rise" Christine Bowmaker, Athletics Coach
An exclusive launch reception hosted by Grant Thornton UK LLP will take place on Wednesday 25 October, following which, selected pieces will displayed for the general public to view in and around the London Borough of Hackney at the Hackney Central Library and Dalston James Library from November 2017 – April 2018.
Rachel Hill, Grant Thornton's Senior Manager for Inclusion said "Grant Thornton UK LLP is delighted to support the COACH project in line with our UKA partnership. Our firm's purpose is to shape a vibrant economy. A vibrant economy is driven by a diverse society where everyone's views are welcomed and where everyone is involved, encouraged and empowered to be at their best. To fulfil our purpose we are focussed on developing a culture where every person has a voice and is encouraged to bring their unique self to work, where diverse perspectives are encouraged and where we all make empowered decisions based on our CLEARR values (Collaboration, Leadership, Excellence, Agility, Responsibility, Respect). We are delighted that these values are also celebrated through the Black History month project.
Each coach featured in the project will nominate an athletics, club or school for them to receive their A1 canvas print as a constant reminder of positive BAME role models in the UK.
Photographer Ernest Simons said "I love sport and love taking shots of athletes at all levels even more.  A photograph can tell a story of emotions, whether that be pain, happiness, disappointment; the list is endless.  Working with UK Athletics for Black History Month has given me the opportunity to tell the story of that unique coach-athlete relationship through photography, which many people do not get the chance to see.  That bond and commitment is like no other!  Culturally the BAME community are colourful and charismatic, yet at times emotions are not openly shared and so I wanted to ensure this exhibition tells many stories for everyone from any background to engage with and be inspired."