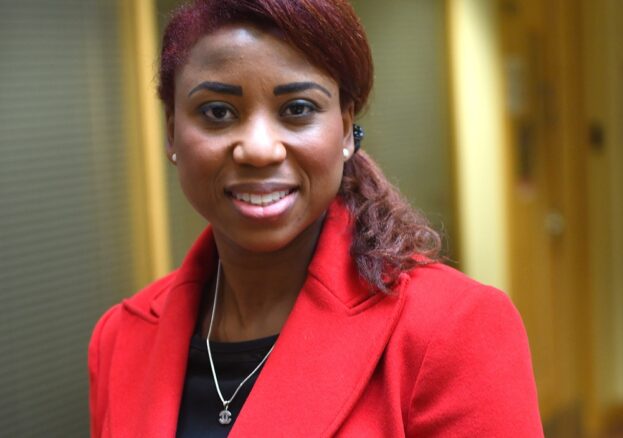 Detective Superintendent Tanya Wilkins is one of the highest ranking Black female police officers in the North of England. What started as a childhood obsession with Crimewatch and American detective TV programmes led to a 22-year career in West Yorkshire Police.
What made you want to become a police officer?
I've always wanted to be a police officer. I remember when I was a little girl, my dad loved watching crime series on TV. He was obsessed with an American TV show called 'Unsolved Mysteries', and as I got older, I started watching it with him. When I was about 12, I got into watching Crimewatch, but it was on past my bedtime, so my mum would record it and I'd watch it the next day before school.
Whenever a police car drove past me, I'd look inside to see what the officers looked like, and I was always disappointed to never see someone who looked like me. All the police officers I saw were white men. Even though some members of my family were reluctant to me joining the police when I got older, it was my mum who said: "I am a firm believer that you can only change something from within. You should do it if that is what you want to do."
I applied to join West Yorkshire Police when I was 18, but I didn't get in as at that time they wanted people with more 'life experience'. Then there was a three-year recruitment ban in West Yorkshire, so I had to wait it out before applying again. It was important for me to police where I lived, because a big part of why I wanted to be a police officer was to help my community, and my community is in West Yorkshire.
During your 22 years at West Yorkshire Police, have you seen progression in the police service becoming more diverse and inclusive?
Yes, we are definitely more diverse and inclusive than when I first joined the police service. I think in my cohort of student officers there was maybe one other person of colour in my class, now you see lots of people joining the force who are from different ethnicities and backgrounds.
You're one of the most senior Black female police officers in the country. Does that carry with it an extra weight of responsibility or expectation?
I do feel a need to prove my competence and capability, to justify how I've achieved the rank of Detective Superintendent. It isn't because I'm Black or because I'm a woman, it's because I've worked hard. When I start a new posting, as I've just done recently, I've got to go in there giving it 110%, but sometimes my 110% doesn't feel as worthy as someone else's. There's a misconception about Positive Action, that's the term the police use to attract and support people from ethnic minority groups to join and progress in the force. I sometimes have to call out people's behaviour, and help explain how Positive Action helps, and why diversity matters. Sometimes people just need to see something from another person's perspective.
Do you think you are achieving your aim of instigating change from within?
I do think I am instigating change yes. I'm a coach and I mentor people of colour within the police. Their success creates increased visibility of ethnic minority people in the police in leadership roles. Sometimes people will come up to me and say, "I joined the police because of you" and it shocks me to hear that. I don't see myself as a role model, but when people tell me that I've had that effect on them, it makes me quite emotional to be honest.
When I was 19 and still thinking of whether to apply for the second time to the police, I was burgled, and the police officer that came to the house was a Black woman. It was through talking to her that I could find out more about what it was like to be a police officer, and she inspired me to join. That's why diversity is important in the police service. People need to see who they could become. It also helps us do a better job. People in the community trust us more, they report crimes, they help us with investigations, and different people bring different ideas, perspectives, and innovation into the police force.
I do feel valued by my senior officers and the Chief Officer Team. I'm often asked my opinion and my voice is heard. I don't speak on behalf of all Black people, but at least a different perspective is being provided and listened to.
How did it feel as a Black police officer at the time of the murder of George Floyd in America, and during the global Black Lives Matter movement?
It was really tough actually. I was surprised at how the murder of George Floyd made me feel. Part of me thought 'well that's in America, it would never happen here', but it really did impact on me, as a police officer and as a Black woman. Someone from my community killed by one of my police family. It was a conflict that made me think am I Black person or am I a police officer? It was a time when the two didn't feel like they married up. I didn't realise how impacted I was by the incident until a colleague, someone I knew but wasn't close to, phoned me up out of the blue to ask how I was, and I burst into tears. After that, I realised that if I was struggling, there'd be other people struggling too, and I made sure that every member of my team who had a person of colour as a staff member did a wellbeing check in with them. The good thing about that person who asked me if I was ok is that they recognised that I may be struggling at that time and reached out. We are good friends now.
You're one of the workstream leads for the West Yorkshire Police Race Action Plan. Could you tell us more about the plan and its objective to improve policing for Black people?
I'm really excited about the Police Race Action Plan. It's probably the first time we've really involved Black members of the community in our decision making, and the first time we've had a plan for how we're going to improve policing, not just for Black people, but for all under-represented groups in society.
What's different about this race action plan from other race reports people may have heard about, such as the Stephen Lawrence Enquiry?
We've had reports and recommendations in the past, but a recommendation feels like an optional choice, whereas this is a plan with commitments for how we will change things.
I believe we will succeed because of the public scrutiny element of the plan. That's what's been missing before. We've got independent scrutiny panels, made up of members of the public who have been consulted on every aspect of the plan – and who will hold us to account in delivering it.
What are some of the key things the plan will deliver that'll improve interactions between the police and the Black community?
We're creating a knowledge bank, which will be accessible for all members of the public, and which will inform them about police processes. It'll help educate the public on their rights and explain what to expect if they do get stopped by, or have an interaction with, a police officer.
On the flip side of that educational piece, the cultural awareness training taking place within West Yorkshire Police will have a massive impact on the awareness and empathy shown by our officers and staff. Every person who works for West Yorkshire Police is taking part in a two-day cultural awareness training course which is focussed on Black history and culture.
What advice would you give a Black person who was thinking about joining the police, but who had reservations, partly because of their ethnicity?
I'd say don't let that stop you. If you believe that changes are needed in policing, then be part of the change and join. Speak to other Black officers and staff members to get a better idea about the job, and have a support network in place to help you deal with the challenges you'll come up against, just as any other police officer would.
The Black History Month theme for this year is 'Saluting Our Sisters' – who would you choose to salute?
It may be a controversial one, but I'm going to say Meghan Markle. I've always been a fan of Meghan, having watched her in Suits, and then when she became part of the Royal family, I just thought wow, that is the ultimate 'organisation' to join as a person of colour. Whatever you make of Meghan, what she has had to deal with from the media has shown a great amount of resilience and character.