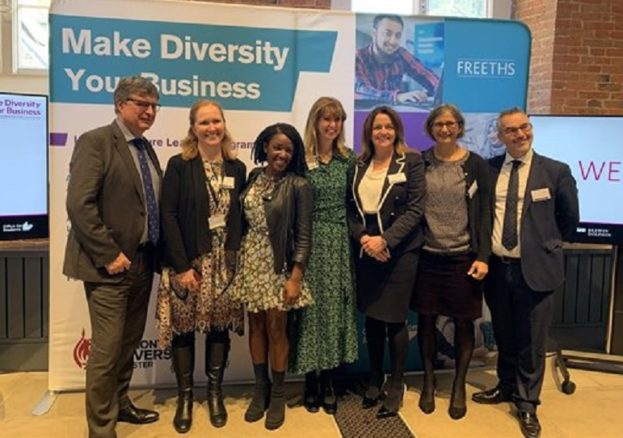 Leicester's Future Leaders is a three-year programme to increase the number of black, Asian and minority ethnic graduates getting internships, jobs and senior roles within the region's businesses.
De Montfort University Leicester (DMU) was awarded £230,000 funding from the Office for Students to support the project, working alongside Freeths LLP, Brewin Dolphin and Eileen Richards Recruitment.
It was launched at Make Diversity Your Business, an event run as part of Leicester Business Festival, with keynote speaker the TV presenter Diane Louise Jordan.
Diane, who made history as the first black presenter of Blue Peter, said: "If business could look at the model of a healthy family and how those at the top look after those coming through – they nurture them, they open doors for them – that way, you'd never get a group of people anywhere feeling overlooked and discouraged.
"I think Leicester could be the poster child for this new way of doing business."
Helen Donnellan, Director of Business Engagement at DMU, explained how the project had led from an event at last year's festival, which looked at why Leicester's diverse communities were not reflected in its business sector.
She quoted a survey from May this year which found a third of BAME employees had felt pressure to westernise their names to conform to workplace culture.
"We need to own this subject," she said. "We need to make a difference, collectively, and to help our businesses to recruit, retain and promote a much more diverse workforce."
The event included practical workshops on topics such as creating a job advert that speaks to all, effective mentoring, measuring workplace ethnicity and analysing whether business websites reflect staff diversity.
Students at DMU will play an integral role by working with employers to give their view of the recruitment process and sense of belonging in the workplace.
Economics student Davina Patel is spending a placement year in the university's careers team, helping students engage with business and think early about their career plans.
She has already been taking part in research looking at why young people from BAME backgrounds may feel held back from the workplace.
Davina added: "I think many employers do not even think there is an issue. More people need to hear about this project and we'll be helping employers find out about it."
Josiah Hyacinth is a final year DMU student who has worked with companies such as Ernst&Young to help them appeal to young BAME students. "Companies are not doing enough talking to young people to find out what they think," he said.
Twelve Leicester businesses have already signed up to the next stage of the project, which will bring together small working groups in early 2020 to start building an inclusive recruitment toolkit.
Emma Anderson, Director at Freeths LLP, said: "What we are saying to businesses is that they are going to miss out on really good people who could have a huge impact on your business."
Would you like to be involved? Please contact project Vanessa Haye at vanessa.haye@dmu.ac.uk. All businesses are welcome. No prior knowledge of ethnicity and diversity issues is required.