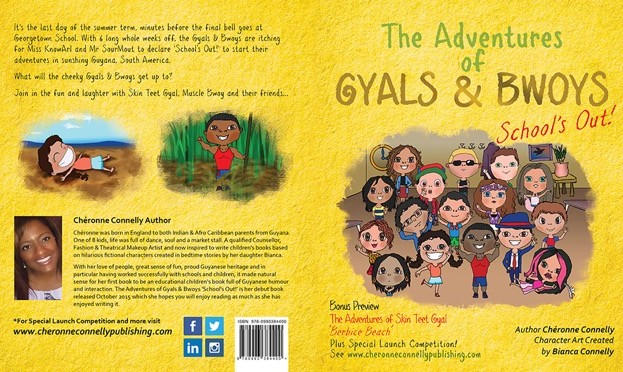 The Adventures of Gyals & Bwoys 'School's Out!' written by Guyanese writer Chéronne Connelly is one of a few books that aims to teach children about the lifestyle and culture of Guyana; from locations and language, to habits and food.
With such a wide range of subjects to cover, it may come as no surprise to hear that 'Adventures' is a book almost 10 years in the making.
"The idea came from my daughter when she was around eight years old and loved to read. Being very creative, she wanted to write a funny book, coming up with all these characters like 'Skin Teet Gyal' (a colloquial phrase in Guyanese Creole to refer laughing) 'Picky Head Bwoy' (messy hair) based on Guyanese sayings. But as Bianca got older, she became more interested in art than writing, so not wanting to dismiss her ideas, I took it up, added some more characters and basically began to finish off the idea my daughter and I had from when she was eight years old." Said Connelly during our phone interview.
It is a sentiment that has not been lost on Chéronne, having made her daughter, Bianca Connelly the illustrator of the short story and carrying on the family tradition of the next generation helping the previous.
"When I was younger, I used to help my dad out on his market stalls in East London. He used to sell Men's suits and I remember it so well because he was a very funny man and would say things like "Spin de wheel, I give you a deal!"'
The influence of such humour resonates within the pages too, with the characters being based on the personalities of her daughter, nieces and nephews.
"All of the characters in fact resemble bits of my nieces and nephews. Whilst the whole character may differ, I tried to capture the essence of their personality and made larger into someone cheeky and new that children will love." Such a dynamic means that each of Connelly's characters, whilst fictional, are still Guyanese at their core. It also means that every character comes with their own message to the reader and furthers the educational approach in The Adventures of Gyals & Bwoys 'School's Out! a message which has come from Chéronne's experience working in schools, which she has been heavily involved with since 2004 as a School Councillor.
"Even though the book teaches children about Guyanese culture, there are also bigger things there too, like brush your teeth every day, and make sure you don't go outside alone, but stay with an adult."
Chéronne also hopes to expand the series and it's educational foundation with more books in the future. "I want to take the book to places like Kaieteur Falls and have the characters form their own stories, teaching children about Guyana."
"I want to put Guyana back on the map." Chéronne tells me. "Because when you tell people of Guyana, they think of Ghana, which is of course, African, whilst Guyana is in South America."
In Chéronne's second publication 'The Adventures of Skin Teet Gyal' she plans to take the characters to Berbice beach with the help of her readers.
"I want children to submit drawings to my website and of those characters, I will choose one to put into my book."
The aim is to encourage reader engagement by the time 'The Adventures' reaches schools.
"My goal is to eventually have my book in every school library and children's hands."
Chéronne Connelly's book, The Adventures of Gyals &Bwoys 'Schools Out!' can be purchased at 'special rate' directly from www.cheronneconnellypublishing.comand on the Amazon bookstore for £12.00 in paperback and e-book formats.