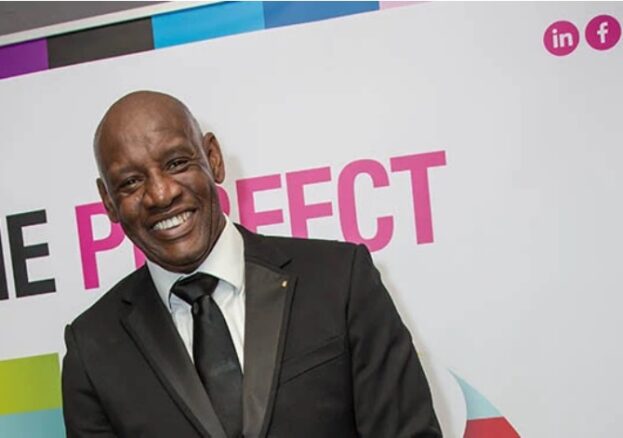 Aside from his on-screen appearances, Shaun is also a vocal advocate for diversity, inclusion and equality. He appeared in Channel 5's 'Racism: My Story' in 2020, to detail how he rises above racist abuse.
In this exclusive interview, Shaun discussed the importance of recognising Black history every month of the year, his experience of racial profiling and favourite moment from 'The Chase':
What must businesses do this October to recognise Black History Month?
"Black History Month is a good thing because it recognises [Black history], but we shouldn't just confine it to October. This is something that should be practised all the year round.
"Businesses should recognise Black achievements; they should recognise people from different ethnic backgrounds who have the ability to make a positive contribution by virtue of their talent in the workplace.
"And it's not something which you think, "okay, it's October, we should basically be seen to be doing the right thing', then put it back in the box for 11 months.
"No – proper businesses recognise all year round the diverse talent that Black and ethnic minorities do have and can bring to an organisation. And once they start getting out the idea that it's only in October we should be focusing on [Black history], the business will grow and thrive."
You have spoken openly about your experience with racial profiling, how did the experience impact you?
"It didn't impact me, because if I allowed it to impact me, then it would have made me bitter and twisted. I would have probably reacted in a reactionary way, when confronted by people in authority who basically practise that.
"So, the best way to deal with it is to look at my talent. I'm a qualified lawyer, I'm a mastermind champion – say what you like, you won't get me to actually rise to the bate.
"Not everybody is blessed with my temperament. I simply say that if you are confronted with [racial profiling], you've got nothing to fear if you've done nothing wrong."
Best known as a 'Chaser', what has been your favourite moment on the ITV quiz show?
"I suppose, my favourite moment has got to be when I was asked to become a Chaser. I was appointed in December 2008, to try and convince the ITV commission of an exciting new game show concept. And the audition went really, really well. I was then working on a show by myself for four months, I had to go to three separate auditions.
"So, I am the world's first chaser! Every Chaser, not only in England but around the world, comes from [me]. It's an honour for me to be the first Chaser ever appointed to this brilliant concept of a quiz show.
"Then they appointed Mark in April 2009. The pair of us went up to Manchester to do a ten show Pilot and the rest, they say, is history. It's taken Mark around the world – it's taken me around the world – Mark is the American Chaser, Australian Chaser. I've done the Australian version of The Chase. Since Mark and I were appointed, we've had four more additional brilliant Chasers and the show has gone from strength of strength.
"We've had a spin offs like The Chase Celebrity, we've had a 'Beat The Chasers', which has really gone through the roof. And in June, we celebrated twelve years – fantastic really."
Which qualities are needed to become a champion quizzer?
"You've got to be confident in your own ability. You can't be frightened to get a question wrong – good quizzers are really interested in the next question, if they got the first question wrong. So, a good quizzer remains cool under pressure, looks for the clues in the question and is basically confident in their ability.
"If you're going to be a champion or professional quizzer, then you've got to have that dexterity in order to answer a whole range of questions. Obviously, every Achilles has a heel, and I have my weaknesses. I'm not very good at [soap operas] and I don't hide that fact. Or video games, that's not really my bag.
"But I do have my strengths in history, sport, science. I'm very good at literature, I'm not bad at Opera. So, you know, everybody does have their weaknesses but the key to being a good quizzer is to be an all-rounder in terms of having a wide breadth of knowledge."
Listed in The Motivational Speakers Agency's top Black History Month speakers for October 2021, Shaun Wallace is available to book for your online, corporate or public event.