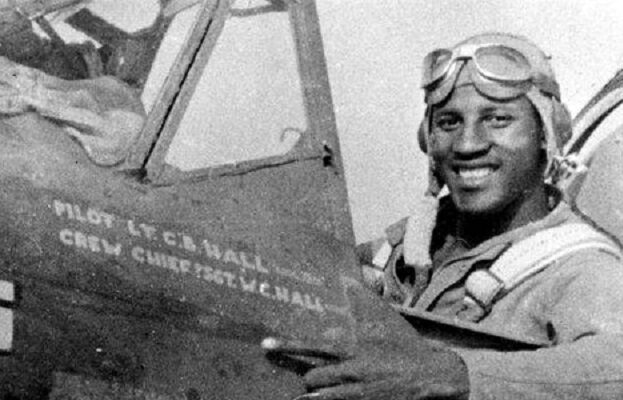 Rare archive footage and heroic stories of Black fighter/bomber crews of World War 2 to coincide with the Battle of Britain anniversary
Pilots of the Caribbean, Tuskegee Airmen and Heroes of African Heritage. The story before the Windrush! Adventure with the real Top Guns of the past!
The Caribbean, African and African-African American contribution in the 1940's against the background of World War 2 is consistently over-looked and under-represented. This two-hour, multi-media presentation will entertain and highlight the stories of their achievements. Fighting for freedom and democracy, their outstanding bravery and sacrifice helped re-shape the world and left a lasting legacy.
See:
Unreleased and archive footage of their exploits
Details of the missions, aircraft they flew and where they served
Learn what was happening in the Caribbean, America and Africa at the outbreak and during the war and why without these heroes the war could not have been won!
Get further resources and websites that tell these stories
Entertainment:
Music and fashion these heroes took around the world
An officer and a gentleman – a warrior and a lady. Hair style and flair of the 1940's
Win free hair products! Luster Pink, S-Curl and Pink Kids competitions for all the family
Unique merchandise will be available
Adults and children will equally be astounded! We will also detail the numerous Black Royal Air Force veterans who provided leadership for a variety of Black British Civil Rights groups in post war Britain as referenced in the new Pearson Migration GCSE exam text book for schools. After defeating Hitler's Nazi German tyranny, many of these RAF heroes also led the independence movement to break the colonial hold of the British Empire on their countries.
This is an interactive session and part of a six month series of Phoenix Family Fun Sundays, Black history events which will include:
Tropical Island "Carnival" Movie Premiere – A Red Carpet Event Starring Monty Mango, Su Su Pineapple and Bernie Banana
Sunday 4th September: 12pm -2pm
The Phoenix Cinema
52 High Road
London N2 9PJ
Book Ticket Here
Tickets: £9.45
Buy your ticket and come on a fun filled 'holiday' in a cinematic experience of sun, sea, sand and salsa! A brand new, original animated children's film set on a fictional tropical island. You get to visit and join-in the interactive fun and storyline. Tropical Island is based on the popular live theatre show and co-produced BBC TV puppet show – which many of adult fans watched when they were young. This show will have you singing and dancing in the cinema aisles – so dress to impress and win prizes!
Entertainment:
Red carpet movie premiere
Free gift from Tropical Island
Prizes and competitions!
Music and sing-a-long interactive fun
Smiles, laughter and comedy
Character hair bundle packs with Luster Pink, S-Curl and Pink Kids competitions for all the family
Unique merchandise will be available
Directors Cut – Raising Tennis Aces: Richard, Venus & Serena Williams Story –
20th Anniversary Red Carpet Event. Sunday 9th October 12pm -2pm
This is the real story told by the real family. Long before the award-winning King Richard movie starring Will Smith , this officially authorised film shows what it was like to live with the Williams family and gives a deep insight into the sporting phenomenon of the two champion tennis stars and their father's unrelenting vision of success. Original never-before-seen footage and interviews and a powerful insight through training with their father Richard Williams and his philosophy. You will get a detailed view and understanding into the lives of the sport superstars and their and previously unknown background. Plus, Q&A with producer/director Terry Jervis.
About the producers
Terry Jervis Was The Mastermind Behind The Recent Raf Museum Exhibition 'pilots Of The Caribbean And Has Worked With Some Of The Biggest Names In World Wide Music And Film Including: Diana Ross, Stevie Wonder, Michael Jackson, Tim Burton (Batman), Spike Lee , Will Smith, Queen, Madonna, Elton John, Natalie Cole, Janet Jackson, Luther Vandross, The Rolling Stones, The Williams Sisters And Many More.
Terry Was One Of The Executive Producers On The Bbc/ Millennium Day Broadcast With Over 2.5 Billion Viewers, The Biggest Live Television & Radio Broadcast In World History Involving Over 70 Different Countries. He Was A Also A Producer And Director On The Real Mccoy Comedy Show.
He created BEHIND THE BEAT (BBC 1 & 2), this at its peak attracted 10 million viewers and changed the face of music programming (and had a huge impact on the record industry heralding the age of multi-media entertainment). OUR COMMON FUTURE, an international BBC/CBS co-production attracted 300 million viewers and was the first global environmental entertainment show.
He is currently involved with both the Royal Air Force and Marvel organisations working on Iron Man, Black Panther and Spiderman. He is also producing his own African Superhero animation titled Spirit of the Pharaohs and has one of the biggest comic collections in the country.
Tony Warner is the author of Black History Walks in London Volume 1 (delayed from 2020) from Jacaranda Books and co- author on the Pearson Education GCSE Migration text book https://www.pearsonschoolsandfecolleges.co.uk/secondary/subjects/history-secondary/pearson-edexcel-gcse-history-91/pearson-revise-pearson-edexcel-gcse-9-1-history/gcse-9-1-edexcel-history-migrants-in-britain-c-800-present-student-book-1
which for the first time ever details the activities of ex RAF WW2 servicemen in the fight for Black British Civil Rights
Black History Walks has also curated the African Odysseys film programme at the BFI for the last 15 years