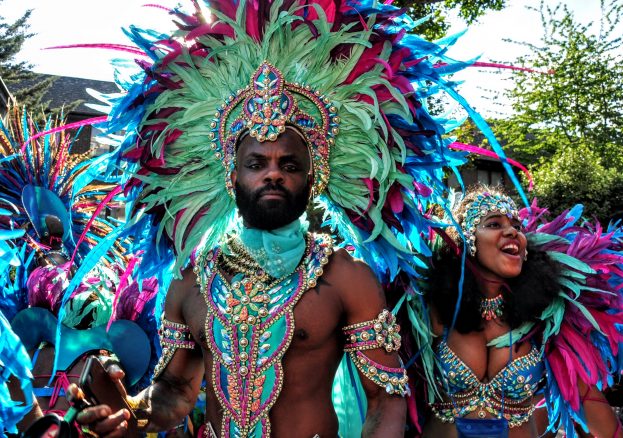 The first carnival in Notting Hill took place in 1966, although Claudia Jones – a Trinidadian journalist and activist living in London – laid the foundations in 1959 with a Caribbean Carnival in north London.
Over the years, the event has blossomed into a vast, energetic celebration of Caribbean culture for everyone to get involved in, encompassing music, costumes, dancing, food, and much more. Over one million people are expected to attend this year's Carnival, and as ever, inclusivity and local community are key to the event's atmosphere. And it's still free to attend.
Dates
The main dates for the 2018 Carnival are Sunday, August 26 and Monday, August 27. For a pre-Carnival warm-up, head to the UK National Panorama Steelband Competition on Saturday, August 25 in Emslie Horniman's Pleasance Park, an annual event that's part of the Carnival programme and guaranteed to get you in the mood.
Location
The main action takes place around Notting Hill, Ladbroke Grove, and Westbourne Park. Check the handy maps on the official NHC website, which show the parade route and soundsystem locations, plus other crucial info like toilets and first aid tents.
Schedule
Sunday is known as 'Family Day', though it's very much open to anyone, and features a daytime children's parade. There's a slightly more relaxed vibe on Sunday, but there'll still be all the usual Carnival festivities as well (there are live performers and soundsystems on both days).
Sunday earlybirds can head to J'Ouvert (6-9am in Ladbroke Grove), a kind of unofficial opening where revellers start the celebrations by dancing and getting messy – literally, by chucking coloured powder paint and chocolate around. Later, the 'Dutty/Fun Mas' parade continues the wildness of J'Ouvert – but fear not if you want to remain paint-free, as there's plenty of live music on the Red Bull Music Stage in Pleasance Park and Powis Square Stage, both from 12pm-7pm, including soca and calypso bands.
Monday is the big (or rather, even bigger) one, with the main parade shaking and snaking its way through the streets all day, soundsystem crews going full-pelt and afterparties galore when the sun goes down.
What to see on the day
The eternal Carnival question… As you've probably worked out, there's a hell of a lot going on over two days, so how do you see it all? Unless you've got a chartered helicopter, you can't. The best thing is to pick out a few bits you really want to do and just wander between those. You're guaranteed to get sucked into other fun along the way.
As awesome as the soundsystems are, don't forget to catch some of the main parade as well. It's a fantastic spectacle and gives a real flavour of the spirit and roots of the event. This is where you'll see those incredible costumes and hear traditional carnival sounds from across the globe, thanks to the mas (masquerade), Brazilian and steel bands.
Food and drink
Don't forget to eat, y'all. Luckily, there are loads of great street food stalls dotted around. There will, of course, be tons of jerk chicken (plus other jerk cuisine, including non-meaty options), but look out for other Caribbean favourites such as plantain, ackee and saltfish, and roti.
Drinks-wise, you'll be surrounded by a certain stripey Jamaican beer, plus Guinness punch, coconut water drunk from fresh coconuts and every variant of a rum cocktail you can imagine. There are numerous stalls, but many people buy their own booze – though shops in the area will be super-busy.
Soundsystems
Welcome to the party. Over 30 setups will be blasting out tunes of all shapes, sizes and flavours. You'll hear dancehall, soca, drum 'n' bass, house, dub, disco, jazz, jungle, R&B, funk, plenty of reggae… You get the idea.
As ever, the soundsystem roster is made up of Carnival stalwarts like King Tubby's, Channel One and Saxon Sound (all great ones to find if you're after some classic NHC sounds), alongside (relatively) newer crews like Disco Hustler and 4 Play. Remember to check out the soundsystem map on the official Carnival website.
Fringe events and afterparties
There are loads of warm-ups, afterparties and Carnival-themed events taking place across London. As well as the mass of club nights keeping the vibes and bangers flowing post-Carnival shutdown (in everywhere from big-name clubs to tiny bars), look out for quirky one-offs, such as live mural-painting at The Art of Carnival and Hugh Grant fopping through a very different Westbourne Park at a screening of 'Notting Hill' at Boxpark Croydon.
Whatever you get up to at Carnival, remember the basics: check your transport route (some stations and roads are closed), only take the essentials (including cash, bank card, water and sunscreen), wear something comfortable (and take something warm for the evening), be prepared to queue for the toilets and remember that phone signal will be patchy. And most of all, enjoy yourself! That last one won't be difficult.