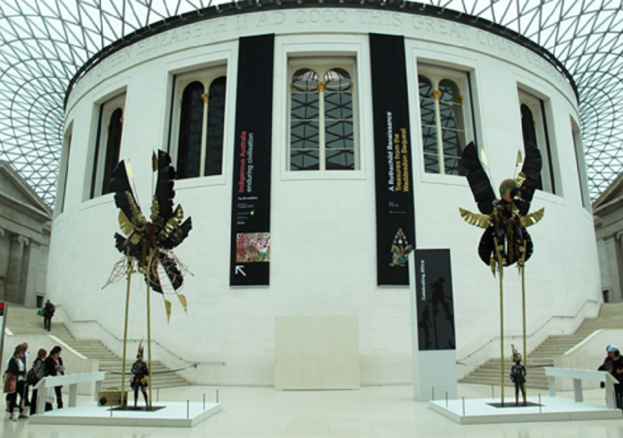 Over the past three decades autumn has become synonymous with the showcasing and promotion of exhibitions and events pertaining to the longevity and cultural contributions of BAME diaspora communities in the UK with histories, interdependencies and ancestral heritage linked to continental Africa, the Caribbean region, and the wider Global South.
Since the earliest inception of BHM during the late 1980s, a number of national and local authority museums, archives and libraries have played a pivotal role foregrounding October as Britain's preeminent month (but, importantly, not the only time of year) for shining a still much needed bright and positive spotlight on Britain's diverse and long-established communities of colour, and the momentous aesthetic, cultural, socio-political, legislative and economic legacies that African and Caribbean diaspora peoples have contributed over many decades and, indeed, several centuries of settlement in the provinces and regions of Great Britain.
To acknowledge and honour the achievements of all who have worked tirelessly to create and promote informative and educational cultural programmes during Black History Month, please see below a small selection of 30 institutions and heritage services regularly exemplifying excellence in their seasonal scheduling of exhibitions, talks, performances, community debates and other public events to commemorate and celebrate Black British histories.
SELECTED LISTING OF NATIONAL MUSEUMS, ARCHIVES AND LIBRARIES
1. Black Cultural Archives – a nationally significant archive and exhibition space, on Windrush Square (Brixton, London), housing more than 2000 historical documents, artefacts, periodicals and a library of c. 8500 books about the history of African and Caribbean diaspora communities in Britain over the past five centuries. The BCA's Runnymede Collection is one of the nation's most significant research resources on race relations in the UK, spanning the period from 1968 to the present day.
2. British Library  – the nation's largest research library and document repository that provides an extensive "What's On" guide about important public events and research holdings addressing aspects of Black British history. The ground-breaking autobiography of formerly enslaved 18th century African abolitionist Olaudah Equiano –'The Interesting Narrative of the Life of Olaudah Equiano, or Gustavus Vassa, the African' (London, c. 1789) – is one of the treasures of this vast collection, freely available to view online as a digital resource at https://www.bl.uk/collection-items/the-life-of-olaudah-equinao.
3. British Museum – the longest-established national museum in the UK, featuring thousands of holdings relating to Africa, Oceania and the Americas – from ancient Egyptian and Sudanese antiquities through to modern and contemporary works of fine art from other regions of the African continent, and its diasporas displayed in the African Galleries (Room 25). Two Moko Jumbie sculptures by the British-Trinidadian artist Zak Ové (representing male and female carnival masquerade figures dressed in vibrant black and gold costumes) are among the British Museum's most recently commissioned new artworks, on permanent display in London until 28 March, 2020.
4. IWM – Given the importance of the centenary commemorations taking place to mark the 100th anniversary of World War I (1914-1918), the nation's specialist military history museums such as IWM London  and IWM North in Manchester have become key sites of remembrance and memorialisation for those wishing to learn more about the significant (and often previously hidden or under-acknowledged) contributions of armed forces and auxiliaries from continental Africa and the Caribbean who served during this global conflict and in other theatres of war. The valiant history of the British West Indies Regiment (BWIR), established in 1915, is a particularly important feature of the IWM's programme of exhibitions, talks, gallery tours and other public events.
5. International Slavery Museum  – a suite of galleries located on the third floor of Merseyside Maritime Museum in Liverpool presenting the previously untold stories of resistance and resilience by enslaved African people throughout the era of transatlantic enslavement, as well as contemporary narratives about human trafficking, modern-day enslavement and other forms of labour exploitation worldwide.
6. Migration Museum Project at The Workshop  – an innovative new museum space, located at The Workshop, 26 Lambeth High Street, London, hosting exhibitions and events exploring migration narratives to and from Britain. The Migration Museum is open to the public Wednesdays–Sundays (plus bank holidays), from 11am–5pm.
7. Royal Museums Greenwich – Collectively, the museum services at Greenwich in London (including the National Maritime Museum, Cutty Sark, Queen's House, and the Royal Observatory) host a diverse programme of exhibitions and events themed around the NMM's Atlantic Gallery and featuring archival records and artefacts related to enslavement, Empire and maritime histories. In addition, the celebrated art installation (and 4th Plinth commission) of 'Nelson's Ship in a Bottle' (2010) by the award-winning British-Nigerian contemporary visual artist and Royal Academician Yinka Shonibare MBE (RA) is one of the stand-out exhibits on permanent display at the National Maritime Museum.
8. Poetry Library at the Southbank Centre  – a national resource in the heart of central London featuring an extensive collection of poetry and audio-visual material showcasing spoken word performances and publications by literary artists of colour: from John Agard, Akala and Malika Booker through to Jackie Kay, Linton Kwesi Johnson (LKJ), and Benjamin Zephaniah.
9. Science Museum  – Every October the Science Museum (South Kensington, London) and its 'sister' sites within the Science Museum Group at the National Railway Museum, York, the National Science and Media Museum, Bradford, and the Museum of Science and Industry, Manchester, develop showcase displays and host events to highlight the work of black scientists and achievers from Britain and around the world.
10. V&A Museum  – The Victoria and Albert Museum (V&A) in London is considered to be one of the world's finest museums of art and design, and provides a regular schedule of free African Heritage Tours, as well as paid events, linked to exhibits and fine art objects with African and Caribbean provenance. A wide-ranging and diverse collection of fashion and textiles, furniture, jewellery, ceramics, photography, political poster art, prints, drawings and paintings, as well as many other aspects of BAME theatre arts and decorative arts heritage, are documented and featured within the V&A's displayed collections and archives. A searchable, illustrated catalogue is also freely available online at http://collections.vam.ac.uk.
SELECTED LISTING OF GALLERY EXHIBITIONS, FINE ART COLLECTIONS AND ART FAIRS
1. Alexis Peskine: Power Figures (14 September – 21 October 2017), at the October Gallery, London – This solo exhibition by French artist Alexis Peskine (b. Paris, 1979-) features a series of large-scale portraits rendered using nails hammered into wood and covered in metallic leaf. Peskine's work is described by the gallery as "thematically linked to the 'Black Experience.'" His signature technique also makes historical and aesthetic references to the spiritual Minkisi "power figures" of the Congo Basin, thus symbolising the characteristics of strength, perseverance and self-possession.
2. Zanele Muholi: Somnyama Ngonyama, Hail the Dark Lioness – a photographic exhibition, curated by Renée Mussai at Autograph ABP, London (until 28 October 2017) – http://autograph-abp.co.uk/exhibitions/zanele-muholi. This FREE solo exhibition of c.60 photographic self-portraits by South African visual artist and activist Zanele Muholi (b. 1972, Umlazi, Durban) is on display at Autograph ABP, London, throughout Black History Month. Zanele Muholi's stunning oeuvre of high-contrast black and white portraiture, 'Somnyama Ngonyama (Hail the Black Lioness)', serves as a defiant visual narrative of dramatic poses that capture the multiple roles she assumes as an aspect of her gendered, African and LGBTQI identity. Her ongoing project will ultimately comprise 365 self-portraits, one for each day of the year. Exhibition venue address: Autograph ABP, Rivington Place, London EC2A 3BA. Opening hours: Tues, Wed, Fri 11am – 6pm; Thurs 11am – 9pm; Sat 12 – 6pm; Closed on Sundays, Mondays and Public Holidays.

3. Chris Ofili: The Caged Bird's Song (2017), at the Clothworkers' Hall, London  – A new fine art tapestry designed by the award-winning British-Nigerian artist Chris Ofili CBE is on permanent display at the Clothworkers' Hall in London. This vibrantly colourful wall hanging , 'The Caged Bird's Song' (2014-2017) – was handwoven by Dovecot Tapestry Studio, and represents an original watercolour by Ofili that simultaneously references elements of classical mythology and the beautiful landscapes and seascapes observed from his artist's studio and home in Trinidad. Exhibition venue address: Livery Hall at Clothworkers' Hall, Dunster Court, Mincing Lane, London, EC3R 7AH. Public viewing (by appointment only, c/o archivist@clothworkers.co.uk): Friday 13th October 2017, Friday 24th November 2017, Friday 19th January 2018 and Friday 2nd March 2018.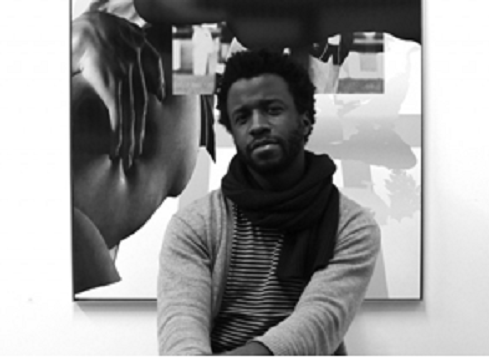 4. 1:54 Contemporary African Art Fair, London 2017  – The fifth London edition of the 1:54 Contemporary African Art Fair will be taking place at Somerset House, 5–8 October 2017. This year's event, curated by Touria El Glaoui, showcases the work of more than 130 emerging and established artists who live and work in 32 countries: Algeria, Angola, Benin, Botswana, Cameroon, Canada, Côte d'Ivoire, Democratic Republic of Congo, Egypt, Ethiopia, France, Ghana, Haiti, Italy, Kenya, Madagascar, Mali, Morocco, Mozambique, Nigeria, Portugal, Senegal, Sierra Leone, Somalia, South Africa, Togo, Trinidad, Tunisia, UAE, the UK, the USA and Zimbabwe.
5. Making Histories Visible Project: Black Archive & Collection, Preston – Making Histories Visible is an interdisciplinary visual arts research initiative and archive repository based in the Centre for Contemporary Art at the University of Central Lancashire (UCLAN) in Preston. The project is led by Lubaina Himid MBE Professor of Contemporary Art and supported by Susan Walsh (Research Fellow Contemporary Art) and Christine Eyene (Guild Research Fellow). Its Black Archive & Collection houses an extensive number of artists' and curators' correspondence files, event posters, exhibition materials and other ephemera related to the Black Diaspora, spanning the 1980s and 1990s through to the present day. Some of the contemporary visual artists featured in the collection include: Chris Ofili, Sonia Boyce, Maud Sulter, Lubaina Himid, Claudette Johnson, Ingrid Pollard, George Hallet and Ben Patterson.
6. Serpentine Pavilion 2017, designed by Francis Kéré – Award-winning architect Diébédo Francis Kéré, from Gando in Burkina Faso, was commissioned to design the 2017 Serpentine Pavilion. This temporary architectural structure (displayed in Kensington Gardens, London, until 8 October 2017) was inspired by a tree in Kéré's home town of Gando that serves as a central meeting point for the local community. The beautiful, indigo blue painted wood and steel structure mimics a tree's canopy, allowing air to circulate freely while also offering shelter from the rain and sun. Through this design the architect seeks to connect its visitors to nature – and also to each other.
7. Simeon Barclay: The Hero Wears Clay Shoes (Tate Britain, Millbank, London, 7 July – 5 November 2017) – . Tate's FREE Art Now exhibition for 2017 features a series of striking compositions by the Leeds-based contemporary visual artist Simeon Barclay. Curated by Elsa Coustou, Barclay's works juxtapose a myriad of cultural references, from characters illustrated in Viz comics through to photographic stills of the Argentinian footballer Diego Maradona scoring his (so called) 'Hand of God' goal. His complex and thought-provoking compositions serve to question, challenge and disrupt the various preconceptions, misconceptions and stereotypes that can emerge when exposed to particular types of mediated cultural signifiers.
8. Soul of a Nation: Art in the Age of Black Power (2017) – Tate Modern, London, until 22 October 2017 – An international group show featuring politically aesthetic works by African-American artists, curators and arts activists involved in the civil rights struggles of the 1960s and 1970s (Tate Modern, Bankside, London, 12 July – 22 October 2017). Throughout the exhibition's run there will be a series of scheduled talks, tours and conferences taking place at Tate Modern, including: A listening session exploring the links between American music of the 1960s and '70s and the visual art featured in the exhibition (9 October 2017; £20 & concessions); A keynote talk about the exhibition by award-winning writer Claudia Rankine (12 October 2017; 18.30-20.30; £9 & concessions); A landmark conference, 'Black Art: Black Power: Responses to Soul of a Nation' (13 October 2017; 10.30 – 18.00; £24 & concessions).
9. Tiwani Contemporary Art Gallery – Stall(s) of Fame (2017) – An exhibition by the Zimbabwean contemporary visual artist Gareth Nyandoro (Tiwani Contemporary, London, 29 September – 4 November 2017)
10. 'Zak Ové: Black and Blue: The Invisible Men and the Masque of Blackness', Yorkshire Sculpture Park, Wakefield (8 April 2017 – 3 June 2018) –  This FREE open air installation, featuring 80 figural sculptures by the British-Trinidadian contemporary artist, is current on display in the YSP's Lower Park until 3 June 2018. Historically, this striking installation references Ben Jonson's play The Masque of Blackness (1605), which used to be performed in the 17th century by white actors in 'blackface'. Conversely, the artwork also alludes to Ralph Ellison's acclaimed anti-racist novel The Invisible Man (1952) about the history of racism and marginalised communities in the USA, told through the eyes of his African-American protagonist.
SELECTED LISTING OF LOCAL MUSEUMS, ARCHIVES AND PUBLIC LIBRARIES
1. Back from the Western Front: African Soldiers of the Great War in Britain – an exhibition at Brent Museum & Archives, October 2017 – January 2018 – . This community research and exhibition project explores the legacy of African soldiers in the First World War, as well as the impacts of the 1919 riots on Africans settled in Britain after the war. The exhibition – developed in association with Learning through the Arts and the Heritage Lottery Fund (HLF) – will be displayed at Brent Museum & Archives (based in the Library at Willesden Green) until January 2018.
2. Birmingham City Archives and the Library of Birmingham: Connecting Histories & Black History Collections  and . Connecting Histories features an online repository of digital images and documents that present the diverse and multicultural history of the West Midlands in the 20th century. The online archive and searchable database was initially developed by Birmingham City Archives (2005-2007), working in partnership with the University of Birmingham and the Black Pasts, Birmingham Futures group and is accessible via  www.connectinghistories.org.uk/. In addition, the Library of Birmingham holds an extensive collection of printed sources about Black History in Birmingham and its environs, detailed online at www.libraryofbirmingham.com/article/blackhistorycollection.
3. Bristol Museums, Galleries and Archives – . Staff and volunteers are currently involved in the 'Diverse Bristol: 91 languages' project, using social media – Pinterest and Twitter – to digitally showcase objects from the local history collections that reflect the many linguistic and ethnically diverse communities in Bristol. The local authority services in Bristol also support the annual collation of an interactive listing of educational events during Black History Month that celebrate the cultures, histories, achievements and longevity of Britain's African and Caribbean communities, available online at www.bristol.gov.uk/people-communities/black-history-month
4. Hackney Museum (Ground Floor, Technology and Learning Centre, 1 Reading Lane, Hackney, London E8 1GQ) –.Hackney's museum service features collections of objects, images, recorded oral history interviews, documents, clothing, textiles and other ephemera that help visitors explore the world-wide roots of many diverse communities that have made this area of London their home over several hundred years. Their Black History Month event programme is always one of the most interesting anywhere in London.
5. Leicester Black History Month 2017 – Throughout October Serendipity, in partnership with Phoenix Cinema are hosting a month long Black History Month film festival (BHM Film Fest), inspired by theme of Social and Civil Rights.
6. London Metropolitan Archives (40 Northampton Row, Clerkenwell, London EC1R 0HB)
7. Museum of London, Docklands – This year marks the 10th anniversary since the 'London, Sugar & Slavery' galleries were installed as a permanent display about the capital's long history of involvement in the transatlantic slave trade and systems of enslavement spanning more than four centuries. To date, the exhibition has been visited by over 2 million people, including 250,000 school pupils.
8. Northamptonshire Black History Project – an online database and series of educational publications, developed by the Northamptonshire Black History Association /. The NBHA's listing of Black History Month events are detailed on their Facebook page at www.facebook.com/NorthamptonshireBlackHistory.
9. Nottingham Black Archive –  Nottingham Black Archive (NBA) was established in 2009 to research, collect and preserve Black history, heritage and culture in Nottingham, from the earliest time to the present day. The collection holds some of the earliest documents relating to the formation of Black community organisations in Nottingham, as well as, a growing archive of oral histories, photographs, published articles, newsletters, books and political letters about Nottingham's African and Caribbean diaspora communities dating back to the 1940s.
10. The People's History Museum (and Labour History Archive & Study Centre), Manchester – The Museum's collections enable visitors to explore the history of working people in Britain and their struggles for democracy. In addition, the Labour History Archive & Study Centre (LHASC) provides access to a national research repository for studying the political wing of the labour movement in Britain. Venue address: The People's History Museum & LHASC, Left Bank, Spinningfields, Manchester M3 3ER. Opening times: Monday to Friday from 10.00am until 5.00pm, with a lunchtime closure between 12.30pm-1.30pm. FREE admission.
Details of the featured images:
1. Moko Jumbie (2015) by Zak Ové. Two mixed-media sculptures on stilts, displayed in the British Museum's Great Court. Copyright © British Museum (courtesy of the Trustees of the British Museum). Source: https://hyperallergic.com/235163/british-museums-first-commissioned-caribbean-sculptures-tower-over-its-great-court/
2. Photograph of the Leeds-based British contemporary visual artist Simeon Barclay (b. 1975). Source: The Double Negative [online]: www.thedoublenegative.co.uk.
3. The Caged Bird's Song, 2014-2017. Wool, cotton and viscose. 780cm x 20cm. Courtesy: Chris Ofili CBE, Victoria Miro Gallery, The Clothworkers' Company and Dovecot Tapestry Studio. Copyright © Chris Ofili. Photography by Gautier Deblonde.
Source www.clothworkers.co.uk/History/Collections/Tapestries/The-Caged-Bird-s-Song.aspx
Written by Dr Carol Ann Dixon – Researcher and Education Consultant
Dr Carol Ann Dixon is an education consultant and academic with research interests in African and Caribbean diaspora histories, cultural geography, museology, exhibiting practices and contemporary visual arts. Her doctoral thesis examined 'The 'othering' of Africa and its diasporas in Western museum practices' (University of Sheffield, 2016, http://etheses.whiterose.ac.uk/17065/). Carol regularly publishes essays, articles, exhibition reviews and commentary pieces addressing these issues and themes in printed and online periodicals, such as: Race & Class, Museums Journal, Geography (The Journal of the Geographical Association, UK) and CAA.Reviews (College Art Association, USA). She blogs via 'Museum Geographies' at museumgeographies.wordpress.com/.
/