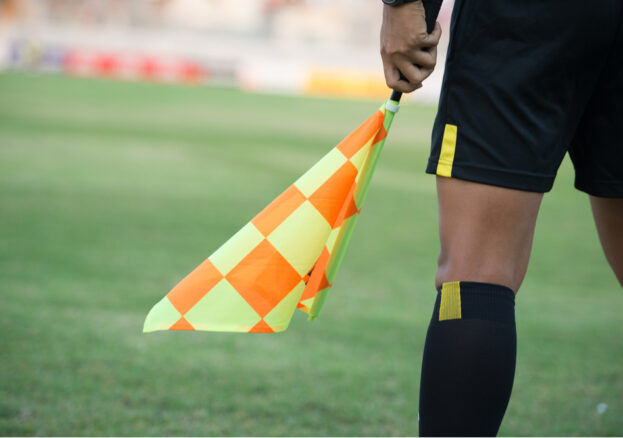 In the 2019-20 season, there was not a single Black, Asian or Minority Ethnic (BAME) referee in the Premier League. There is an approximate 2000 BAME referees out of 28,000 in the FA. With no BAME referees in the Premier League and only one in the top four English divisions, most BAME individuals are refereeing in non-professional leagues and at grassroots level.
BAME referees may be deterred from professional refereeing because of unconscious racism, and sometimes, direct racism. Racism in football itself is prevalent and this could further impede the progression of young referees. Black referees may feel held back because of racism in football, e.g. the racism experienced by Manchester City forward, Raheem Sterling. After interviewing a referee manager, he said that for many people they have a "I can't see it, so I can't believe it" mindset. A lack of role models is another major barrier. Many children may feel the need to fit in, and if there is no idol they can relate to, it is unlikely that they will go on to explore refereeing.
In the Premier League, there has only ever been one BAME referee: Uriah Rennie. As refereeing is perceived as a low status job, BAME parents may have encouraged their children to aspire to a higher status jobs. Rennie held a Law Degree, and this could have been a factor for his parents to consent to Rennie's progress into refereeing, as he could fall back on this if it didn't provide a financial base.
Parents often influence their children's career choices. BAME parents may have higher expectations of their children through academic performance and want them to acquire a prestigious job- which refereeing doesn't provide. The term Tiger Parenting is the title for parents that push their children for academic or extracurricular success. This term was developed thousands of years ago when the Chinese philosopher Confucius promoted ideas and attributes about the importance of family values and academic success.
After interviewing the Head of Diversity in the PFA, she said that refereeing is perceived as a 'secondary career' that people do alongside their main job. Therefore, there might be people that achieve a job of high status and do refereeing as a part-time hobby. However, if BAME individuals are experiencing racism or have cultural or religious customs that could hinder their continuation, this could put the BAME community off this path.
In contrast, if you look at the NBA, most of the supporters are from an ethnic minority group, this could make their job less stressful. Although there is not a major difference in diversity in NBA referees, there is at least a route for BAME referees which English football could adopt to improve a more diverse set of referees. Basketball uses the draft system: where they have black colleges which gives them the chance to become a referee. Although there is only 14% of black referees in the NBA, which may not seem big, they have at least formed a path to increase the participation of BAME referees.
In 2012, the FA did set a target to obtain 10% of referees from a BAME background by 2016. Despite this effort, this target was disappointedly downgraded in 2018, and in 2019, the number of BAME referees across most levels only reached 9.4%. It seems that the FA have noticed the problem and have shown some effort in tackling it but there is a lack of interest and reluctance on their part, which results in a lack of effort made to encourage BAME referees. Therefore, their target in 2016 was consequently not met. This appears as mere tokenism- the FA are acting as if they are doing something when really their efforts amount to little. Should we turn to reforming the FA's and the Referees Association system, replacing it where it is free of bias? Or could we change the assessors who interview and hire the referees?
The Referees Association (who represent approximately 12,000 referees) believe the lack of diversity emanates from a lack of funding in grassroots football. However, The Professional Game Match Officials are running experiential learning opportunities for BAME referees for the 2020/21 season in order to increase BAME numbers in higher leagues. Also, through raising the issue of the lack of diversity, the FA and Premier League need to go further by regularly reviewing their strategy and plans to see if they are successful or not and frequently conferring with organisations like 'Kick It Out'.
The issue in my opinion is that the referee assessors are mostly white, old and biased. There are no BAME individuals applying to become assessors because it is not an inclusive system. One way round this would be to identify which assessors are marking BAME referees down and give them a chance to change their minds. Also, they could employ a 'mystery shopper', where they are assessed without the referee knowing and this can be compared with the 'official' assessment. If these measures are implemented, then we can only hope to see a diverse refereeing workforce in the Premier League.