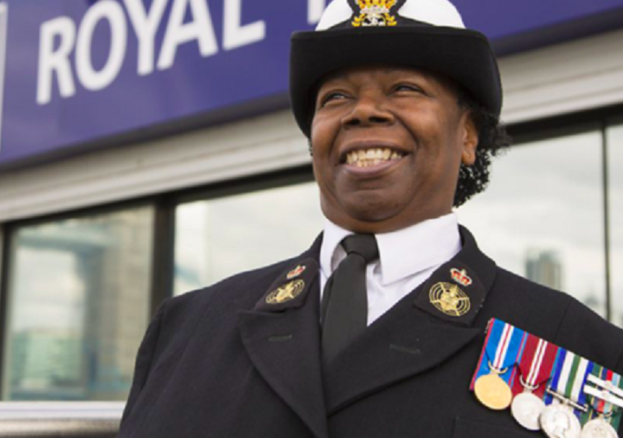 Evadne Gordon from Hackney, London, was just 19 years old when she joined the Royal Naval Reserve as a Wren. It was back in 1977, whilst she was studying for her A-Levels, that Evadne saw a newspaper ad calling for Reservists. Serving for 42 years, Evadne is the longest-serving female member of the Royal Naval Reserve (RNR).
'Back when I joined, Wrens could only sign up for three years, so I thought I would give it a go and see where it led to. It just seemed like an interesting thing to do. I never planned to stay for forty years, but each time I had the opportunity to extend, I did.'
During her time in the RNR, Evadne has seen a great deal of change:
'When I joined the Wrens, we were a separate entity and lots of full timers didn't know who we were and what we did – they thought we were veterans on the reserve list.' In the 1970s, women were not allowed to serve at sea or carry arms. Now the Reservists are fully integrated into the Armed Forces and women can now serve on the front line.
Not only did Evadne meet the Queen Mother in the early 1980s she also played a role in the Queen's Diamond Jubilee in 2012 as part of the welcoming committee when the Royal barge arrived at HMS President. Evadne has also served overseas mobilising to support British Forces in Hong Kong, and training hundreds of officers and personnel in Hong Kong, Gibraltar, Dubai, Portugal and across the UK. She was also responsible for sending and receiving transmissions from Royal Navy ships around the world.
In 2019, after 42 years Evadne retired from the RNR. At a special event, held at HMS President, Evadne was awarded the David Skinner Memorial Trophy. The citation read 'She can be truly said to have trained an entire generation of RNR Officers and Ratings… CPO Gordon has consistently provided a role model of what one should expect from an experienced Senior Rate'.
As the nation's largest Armed Forces charity, the Royal British Legion (RBL) is dedicated to ensuring that all those who served and sacrificed, and who continue to do so, in defence of our freedoms and way of life, from both Britain and the Commonwealth, are remembered.
In our acts of Remembrance, the RBL remembers,
The sacrifice of the Armed Forces community from Britain and the Commonwealth.
Pays tribute to the special contribution of families and of the emergency services.
Acknowledges the innocent civilians who have lost their lives in conflict and acts of terrorism.
The story of Black British and Black African and Caribbean service and sacrifice is one that we are keen to share, a story of men and women who have done so much in defence of Britain and in protecting all our citizens. A story that is replete with stories of bravery and courage, as epitomised by Victoria Cross winner Johnson Beharry.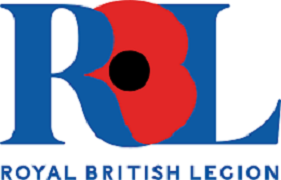 Therefore, to mark 100 years since Britain's current Remembrance traditions first came together, the RBL has bought together over 100 stories of British and Commonwealth African and Caribbean service and sacrifice. The stories range from the First World War to the present day and are of servicemen and women from across Britain, Africa and the Caribbean, representing both the armed forces and emergency services.  
The RBL wishes to offer special thanks to Stephen Bourne for his help in putting these stories together. Stephen Bourne has been writing Black British history books for thirty years. For Aunt Esther's Story (1991) he received the Raymond Williams Prize for Community Publishing. His best-known books are Black Poppies (2019) and Under Fire (2020). His latest book Deep Are the Roots – Trailblazers Who Changed Black British Theatre was recently published by The History Press. For further information about Stephen and his books, go to his website www.stephenbourne.co.uk