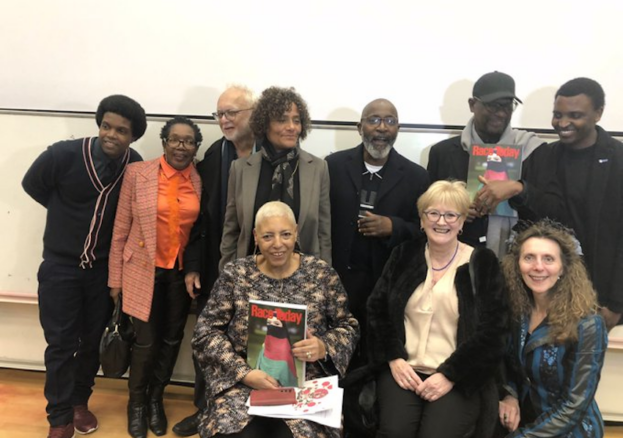 Don't Forget Those Women Who Are With Us, As We Mark IWD, IWM Or WHM
Kwaku
In the next few days, there's going to be several events highlighting women, on account of International Women's Day (IWD). And hopefully some more thereafter, as this month is also known as International Women's Month (IWM) or Women's History Month (WHM).
Oftentimes it seems that those highlighted are those who've been there, done their bit and passed. However, as important as it is to remember such women, we shouldn't forget those women who are alive and also worth highlighting.
This is the thought that struck me when I attended the Darcus Howe 80th birthday event last Friday at Goldsmiths, University of London. Gary Younge gave a thought-provoking keynote speech to launch the new Race Today book and online archive.
Apart from Leila Hassan, who as a member of the Darcus Howe Legacy Collective, hosted the event, there were other notable women in the audience, whose histories are deserving of being remembered in and out of IWD, IWM or WHM.
I spoke to three of them. Zainab Abbas was an activist and a member of the Black Liberation Front and Brixton Black Women's Group. Marcia Riggs has been fighting for justice for her brother Sean, who died in police custody in 2008, and is part of the United Families & Friends Campaign. Margaret Busby is a book publishing pioneer who has been campaigning for diversity within the publishing industry.
There are countless more from whom women can take inspiration, learn from, interview, or take the baton from to continue their "good works".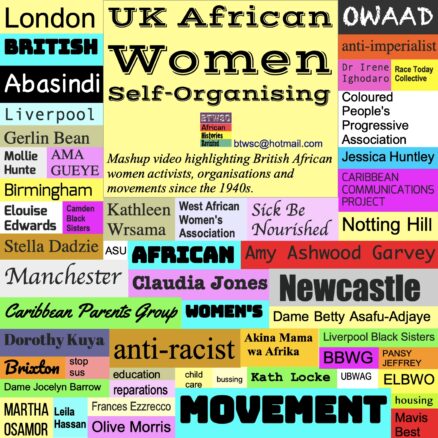 Last year, as part of BTWSC/African Histories Revisited, we organised a WHM event entitled 'UK African Women Self-Organising'. The discussion was preceded by the screening of an eponymous 100 minute mashup video highlighting British African women activists, organisations and movements since the 1940s, which is available for online screening and discussion in and out of IWM/WHM.
Whilst the video highlighted several women activists who had joined the ancestors, such as Amy Ashwood Garvey, Claudia Jones, Jessica Huntley, Elouise Edward, Kath Locke, Dr Irene Ighodaro, Kathleen Wrsama, Dorothy Kuya, Olive Morris, Mollie Hunte, Frances Ezzrecco, Pansy Jeffrey, Dame Jocelyn Barrow and Dame Betty Asafu-Adjaye, it also covered sisters who are very much in the land of the living.
The attached video cover image includes names such as Leila Hassan, Martha Osamor (now Dame Osamor), Stella Dadzie, Ama Gueye, and Gerlin Bean. The latter Zainab Abbas lamented has been forgotten, and few know that she was the one who called the meeting in her house which developed into the Brixton Black Women's Group.
A few months ago, in November 2022, one of the featured interviewees, Mavis Best, died. That should be a sharp reminder for those interested in capturing history to seek out and get the first hand histories of the stalwart women who are still with us.
Ahead of delivering last year's event, I talked about some of the women mentioned above and womanism on Resonance FM's The Workplace programme, and also published an article entitled 'Background To Tuesday Morning's The Workplace Womanist Chat And Evening Zoom Screening & Discussion'.
The article highlighted some of the current crop of women doing "good works". They were Lavinya Stennett, founder of The Black Curriculum; Ife Thompson, founder of BLAM (Black, Learning, Achievement, Mental Health) UK; and Connie Bell, co-founder of Decolonise The Archives.
Of course, many others could have been included, such os Zita Holbourne, co-founder of BARAC (Black Activist RISING Against Cuts) UK, or Prof Lola (Omolola – not many people know that) Young, Baroness Young of Hornsey. But the objective here is to provide a hint, rather than a comprehensive coverage.
It also focused on two 1970s women's organisations with different stories of their physical legacies. East London Black Women's Organisation (ELBWO) managed to buy its Forest Gate, east London premises in the late 1980s. Sadly, since it burnt down several years ago, it has not been re-built and ELBWO continues to operate from a nearby church hall.
On the other hand, Liverpool Black Sisters' plans for permanent premises came to fruition with the opening in 2004 of the Kuumba Imani Millennium Centre, an impressive multi-purpose community centre located in Liverpool's Toxteth area.
Lastly, it's worth celebrating the fact that in the midst of the 1980s media hysteria about "Loony left" councils, often on account of backing programmes that redressed endemic and systemic race, class and gender discrimination, two African women became council leaders – Linda Bellos (nee Adebowale – not a lot of people know that) in Lambeth, south London and Merle Amory in Brent, north London.
These two former politicians are still with us, although the latter keeps a decidedly low profile.
Kwaku is an independent history researcher, historical musicologist, and programme developer for BTWSC/African Histories Revisited. He's the director of the 'What They Said I Should Be: The Story of African British Female Movers & Shakers' DVD and the 'Claudia Jones: In My Own Words' video.