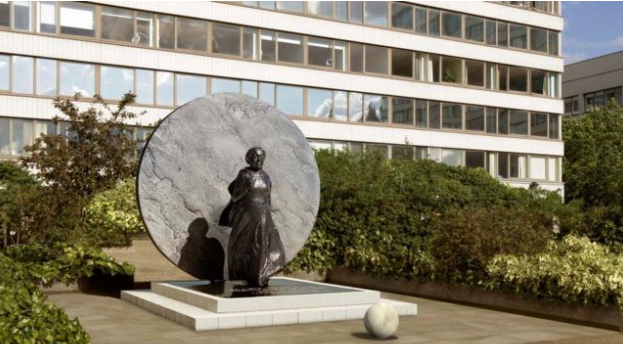 She was a Jamaican-born nurse who cared for wounded British soldiers during the Crimean War in the 19th Century.
The statue's completion follows a 12-year campaign, which raised £500,000 to honour Mrs Seacole.
Campaigners said the bronze provided recognition of the contribution made by black and ethnic minority people throughout British history.
The statue, which was created by sculptor Martin Jennings and stands opposite the Houses of Parliament in the grounds of St Thomas' Hospital, also features a memorial disc.
It is inscribed with words written in 1857 by The Times' Crimean War correspondent, Sir William Howard Russell: "I trust that England will not forget one who nursed her sick, who sought out her wounded to aid and succour them, and who performed the last offices for some of her illustrious dead."
In November, Chancellor George Osborne announced the Treasury would contribute £240,000 to help pay for the installation.
Born to a Scottish soldier and a Jamaican woman in 1805, Mary Jane Grant learned her nursing skills from her mother, who kept a boarding house for invalid soldiers
She and her family had few civil rights – they could not vote, hold public office or enter the professions
Married Edwin Seacole in 1836 – he died eight years later
She travelled widely visiting the Caribbean, Central America and the UK. On these trips she studied traditional and European medical ideas
In 1854, she travelled to England and approached the War Office, asking to be sent as an Army nurse to the Crimea
She was refused but went anyway. Once there, she established the British Hotel near Balaclava to provide "comfortable quarters for sick and convalescent officers" and also nursed the wounded on the battlefield – sometimes under the hail of gunfire
She became known as "Mother Seacole" and, at the time, her reputation rivalled that of Florence Nightingale
After the war she returned to England destitute and in ill health
In July 1857 a benefit festival was organised to raise money for her, attracting thousands of people.
Later that year, she published her memoirs, The Wonderful Adventures of Mrs Seacole in Many Lands
She died on 14 May 1881
Lord Soley, chair of the Mary Seacole Memorial Statue Appeal, said: "We are very grateful to everyone who has supported the statue, and to the many nurses, schools and Army units who donated funds for the appeal.
"We would also like to thank the chancellor who made this possible with a donation of £240,000 for the installation of the statue.
"The unveiling will be a truly memorable event and, after 12 years of campaigning, we look forward to finally granting Mary Seacole the acknowledgement she deserves for her selfless support of British soldiers."