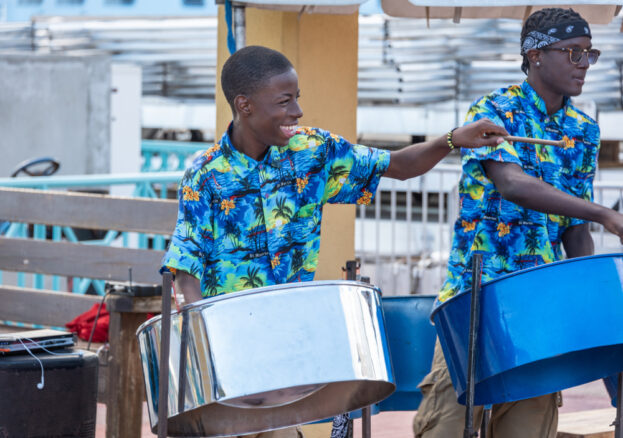 The Windrush experience began with Caribbeans being invited to Britain to help rebuild the country after World War 2. Receiving an invitation from the British Government on behalf of the King, many responded positively and journeyed over 4,000 miles to England's 'green and pleasant land', where the streets were reputedly paved with gold.
Among the very first Caribbeans to arrive in Britain aboard the SS Empire Windrush was Aldwyn Roberts, a Trinidadian Calypsonian better known as Lord Kitchener. He composed and sang a song that expressed the sentiments of many of his fellow passengers – 'London Is The Place for Me'.
"Well believe me I am speaking broadmindedly
I am glad to know My Mother Country
I have been travelling to countries years ago
But this is the place I wanted to know
London that is the place for me"
The expectations of many Windrushers that they would be welcomed with open arms in the country they had been invited to by the King soon came face to face with a different reality. By 1959, many of the Windrush arrivals were singing the 'Teddy Boy Calypso (Bring Back The Cat-O-Nine)' by Lord Invader and his Calypso Rhythm Boys, a song that spoke of racial attacks around the UK led by Teddy Boys. The lyrics are hard-hitting and call for corporal punishment to stop the violence.
"The only thing to stop those Teddy Boys,
From causing panic in Great Britain,
The only thing to stop those hooligans,
From causing panic in England,
Well I hope that the Government,
See they need another kind of punishment,
I say one thing to cool down this crime,
Is to bring back the old-time cat-o-nine."
It wasn't just the Teddy Boys of course, Windrushers often faced racism in school, at work and on the streets. Lord Kitchener summed it up in his song 'If You're Brown', with lyrics that are a far cry from the hopes and dreams he brought with him in 1948.
"It's a shame, it's unfair, but what can you do
The colour of your skin makes it hard for you
You can tell the world you still will get no place
Every door is shut in your face
So boys, if you brown they say you can stick around
If you white, well everything's alright
If your skin is dark, no use to try
You got to suffer until you die."
Despite the hardships the Windrush Generation faced, the religious faith of many has remained strong and music has been a big part of that. It has been said that in the 1950's and 1960's, you could tell the streets where Caribbeans lived because of the Jim Reeves, Pat Boone and Harry Secombe songs playing all day on a Sunday – including songs like 'Take My Hand Precious Lord' and 'What A Friend We Have In Jesus'. In the first 20 years of living in the UK, newly arrived Caribbeans in many places around Britain were denied access to established places of worship. They had to worship at home before establishing their own Black churches, all of which continue to thrive today.
Many Caribbeans intended to stay in England for just a few years and then return home, but plans often changed when they fell in love with people in Britain, including those from different Caribbean islands to their own. The soundtrack of the fifties and sixties included songs like 'Moon River' by Danny Williams, 'Welcome To My World' by Jim Reeves, and 'What Do You Want To Make Those Eyes At Me For?' by Emile Ford and The Checkmates. Calypsos from 'back home' were also popular too including songs like 'Jean & Dinah' by the Trinidadian Calypsonian Mighty Sparrow, aka Slinger Francisco.
The sixties brought the ska beat to Britain with songs by artists like Prince Buster and The Blue Beats giving hope to many Caribbeans. Jamaica achieved independence from the UK in 1962 and Prince Buster's hit 'Independence Song' was hardly off the turntables, with many Caribbeans hoping their island would soon be next.
"This is the new talk
All callin over town
The independent people are swingin the news around
It's for Jamaica, where I stand
So please join in my happy band
Let's all together, sing this independent song."
Britain's love affair with Jamaican music was visible to all. Millie Small's 'My Boy Lollipop' was riding high in the UK charts, helping to launch the iconic Island Records into mainstream popular music. Trojan Records launched in London in 1968, with songs like Desmond Dekker's 'Israelites' and Dandy Livingstone's 'Rudy, A Message To You' resonating with young people from all communities.
By the 1980s, many of the Windrush Generation's descendants had become prolific writers, poets, and musicians. Jamaican music had helped to blend Jamaican patois with London English, laying the foundations for what's known today as Multicultural London English.
Dub poets like Linton Kwesi Johnson and Benjamin Zephaniah led the way, sharing the experience of many Black people in spoken word over reggae rhythms, including issues like police brutality and racism. Johnson summed it up in his poem 'Sonny's Lettah (Anti Sus Poem) in 1979:
"It was de miggle a di rush hour
Hevrybody jus a hustle and a bustle
To go home fi dem evenin' shower
Mi an Jim stan up waitin' pon a bus
Not causin' no fuss
When all of a sudden a police van pull up
Out jump tree policemen
De whole a dem carryin' baton
Dem walk straight up to me and Jim
Mama, mek I tell you wa dem do to Jim?
Mek I tell you wa dem do to 'im?
Dem thump him him in him belly and it turn to jelly
Dem lick 'im pon 'im back and 'im rib get pop
Dem thump him pon him head but it tough like lead
Dem kick 'im in 'im seed and it started to bleed
Mama, I jus couldn't stan up deh, nah do nuttin'"
The 1980s also saw the death of Bob Marley, and the emergence of new homegrown styles of Jamaican music like Dancehall, pioneered by the sound systems of artists like Tippa Irie and Ragga Twins. The Windrush Generation was more inclined to look back, but their British born children were looking forward and reimagining Jamaican music from a British perspective. Inspired by roots reggae bands like Birmingham's Steel Pulse, Windrush descendants had no intention of being treated like second class citizens.
"We once beggars are now choosers
No, no intention to be losers
Striving forward with ambition
And if it takes ammunition
We rebel in Handsworth revolution."
Movements like 2-tone brought ska and reggae together with punk, via bands like The Specials, while reggae influenced everyone from The Clash to UB40.
The decades that followed saw the continuing evolution of homegrown musical styles influenced by Jamaican and British music, including Jungle, 2-step, and Grime. We also called out cultural appropriation, with some white artists accused of raiding Black (and other non-white) cultures, without recognising the artists and cultures that made their success possible.
Fast forward to the present day and Calypso is still going strong of course. In 2020, the Caribbean Calypso Challenge saw professional and amateur Calypsonians from across the Caribbean diaspora share their extempo rhymes on Covid-19 – from messages of hope, to tips on things like handwashing and social distancing.
Reggae and ska is still the music of protest, with British band Captain SKA protesting against Theresa May in the run-up to the Windrush Scandal with the song 'Liar Liar GE2017'. Their song 'The Windrush' was released in 2018. With the phrase "one down, one to go" it called on Theresa May to follow in Home Secretary Amber Rudd's footsteps and resign – as it was May's 'Hostile Environment' policy and the changes that she made to the law which had led to the Windrush Scandal, a scandal which saw some members of the Windrush Generation and their descendants wrongly deemed 'illegal immigrants' and threatened with deportation. In 2019, Captain SKA released the song 'Nigel Farage Is A Racist' in protest against Brexit-inspired racism.
The unlawful killing of George Floyd in the US rocked the world, with protests declaring 'silence is violence'. Black people and their allies stood up to systemic racism and demanded the decolonisation of the UK, but there's a long, long way to go. Music continued to be part of the resistance, with Black Lives Matter UK urging people to play 'The Harder They Come' by Jamaican reggae legend Jimmy Cliff at 7pm on 4th June 2020 – in protest at the disproportionate impact of Covid-19 on BAME communities and Black people on the front line in health and social care. Jimmy Cliff's inspirational songs were a big part of many Black people's lives in the 1970s, with Windrushers often choosing to have 'Many Rivers To Cross' played at their funerals. The lyrics tell of struggles which many experienced, but just as they managed to survive by willpower and pride in self and their origins, so too will those who come after them.
"Many rivers to cross and it's only my will
That keeps me alive
I've been licked, washed up for years
And I merely survive because of my pride."
Another song that's often included in the funeral playlists of many Caribbeans is Bob Marley's 'Three Little Birds' – with the words giving hope to their family and friends, just as the three little birds gave the Windrush Generation hope.
"Don't worry about a thing
'Cause every little thing is gonna be alright
Singin' don't worry about a thing
'Cause every little thing gonna be alright."
It's been quite a journey for the Windrush Generation since they and Lord Kitchener arrived at Tilbury Docks in 1948. They have experienced so much and faced such a lot of hardships, despite contributing and achieving so much for Britain. Perhaps Jamaican reggae dancehall artist Buju Baton has it right in his 2020 song 'Blessed', with its message that no matter what, in time, the Windrush Generation and their descendants all agree:
"We ago mek it, mek it
Win the prize and tek it, tek it
We ago mek it, mek it
Four corner, global
We ah strive and ah reach fi we goal
Dem ah fight and spite through dem in control
Dem ah real asshole, but a long time
We ah fight fi a slice of di bread
Dem ah scream and ah dream and ah wish we fi dead
But ah God have we head ah nuh just now
We ah scream and ah cheer fi di team
Dem ah plan how fi bench we and dem rule supreme
Like ah dem one fi clean
Well imagine we ah try move out of di shack
Dem ah cry and ah spy and ah try stop we clock
Guess ah who have we back
Tell dem seh we bless
Tell dem we bless, tell dem we bless, tell dem we bless
Tell dem we bless, tell dem we bless, tell dem we bless"