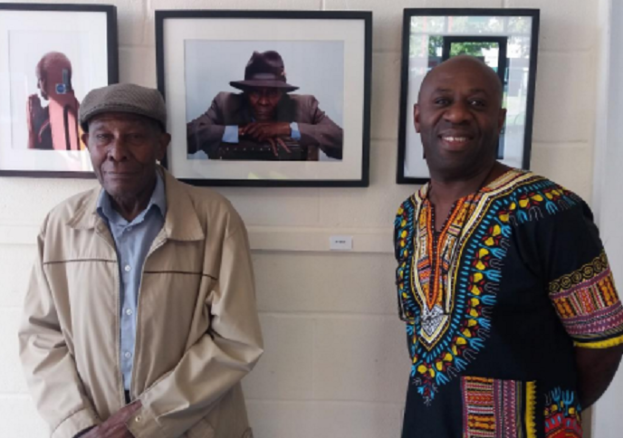 They say you can capture a thousand words in a single photograph. I totally agree and that's why it is so exciting that The Real Photography Company has been awarded a Windrush Day Grant to commemorate and celebrate the arrival and contribution of the Windrush Generation in Bristol. The grant has been awarded through the Ministry of Housing, Communities & Local Government, administered by Near Neighbours.
The Real Photography Company's 2021 Windrush Community Project is based around a series of portraits of the Windrush Generation, taken by the Bristol-based photographer Garfield McKenzie.
Entitled 'The Pioneers', McKenzie's collection of portraits make this often invisible generation visible, paying homage to these fearless individuals who left their lives back home in the Caribbean to start a new life in Britain. Now elders, the Windrush Generation went on to shape many lives and generations of Black British communities.
'The Pioneers' exhibition was first shown at Bristol Central Library in October 2019 for Black History Month, hosted by Wendy Leocque, on behalf of The Real Photography Company. Featuring new portraits, the exhibition was brought to St Pauls Learning Centre in October 2020, but lockdown restrictions meant people weren't allowed inside the building to see it. Instead, The Real Photography Company created a projection of the images, which were beamed out to the local community from the café windows every night.
The 2021 Windrush Community Project builds on this work and will relaunch 'The Pioneers' exhibition with new images by Garfield McKenzie, on National Windrush Day, Tuesday 22 June. As part of the project, The Real Photography Company is also publishing a commemorative book of 'The Pioneers' and commissioning a new musical composition by Bristol Reggae Orchestra, celebrating the Windrush arrival in Bristol.
We spoke to Wendy Leocque of The Real Photography Company to find out more.
Tell us about your project?
Our project is centred around The Pioneers photography exhibition but Covid restrictions permitting, we are also coordinating a series of free celebratory events and workshops through the rest of 2021 including:
Windrush Celebration Day on Saturday 26 June with a pop-up family portrait studio where people can have a photo taken by Garfield McKenzie, eat delicious Caribbean food from Glen's Café and take time to celebrate and socialise.
Five free photography workshops led by The Real Photography Company inviting people to explore vintage photographic processes in the darkrooms at St Pauls Learning Centre, which will take place from September-December 2021. These workshops will have a strong emphasis on family portraits, documenting memorabilia and connecting us to stories of the past, for future generations to learn from.
We are also holding a Black History Month Celebration Event in October where we will launch the book of 'The Pioneers' and premiere the new music we've commissioned from the Bristol Reggae Orchestra. We'll also be asking residents of St Pauls for nominations to a new St Pauls Hall of Fame.
Why is Windrush Day important?
Because a whole generation of people left their country to help rebuild another country. The contribution of the Windrush Generation can't be overstated and the legacy they leave is immeasurable. From music, food and celebrations such as carnival, to their descendants who continue to contribute in so many ways today.
Why should we all be recognising Windrush Day?
The arrival of the Windrush Generation and their ongoing contribution is a big part of UK history that isn't talked about enough. The Windrush Scandal shows what happens when we forget!
What does Windrush Day mean to you?
My family came to the UK from Jamaica in the 50s and 60s. Windrush Day means everything to me. I am me because of them.
How are you celebrating Windrush Day this year?
I'll be busy helping to relaunch 'The Pioneers' portraits of the Windrush Generation, with an updated exhibition of new images. The exhibition will also be turned into a book and the Bristol Reggae Orchestra is composing a dedicated piece of music to accompany the project.
The Windrush Generation contributed so much and their contribution is often overlooked. I'm really pleased that we're able to commemorate them in this way and we will have this to build on each year and every Windrush Day.
It is so important to be able to share the stories of this generation for their families, communities and new settlers that continue to come to Britain from all over the world.
To find out more please visit www.realphotographycompany.co.uk or follow @realphotographycompany on Instagram, Facebook and YouTube.