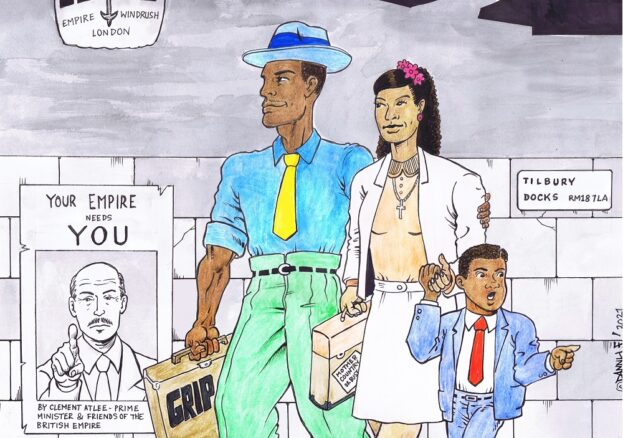 Today, 22 June 2021 is the fourth annual National Windrush Day. That means it's been 73 years since the Empire Windrush ship docked at Tilbury bringing the first of the Windrush Generation to the UK, but the national day is about more than just one moment in history.
It's about communities coming together to reminisce and celebrate the immense contributions that people from the Caribbean have made to Britain and will continue to make. It's also about celebrating the national status given to the ongoing legacy of the Windrush Generation, through a day that's observed not only by Caribbean communities but by people up and down the country stopping to remember and saying thanks for what we have done for the UK.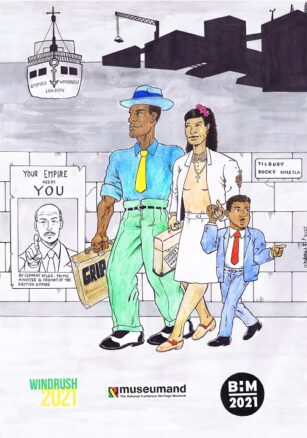 Arthur Torrington CBE explained to me how the Caribbean community has celebrated Windrush Day, long before it became a national observed day in 2018. The 40th anniversary of Windrush Day was held on 22 June 1988, when Sam King – a World War 2 serviceman and a passenger on Empire Windrush in 1948, held a celebratory event hosted by the Mayor of Lambeth in Brixton. Then, on 22 June 1998, the 50th anniversary celebrations were led by the Windrush Foundation.
Guyanese-born Arthur is a community advocate and historian who co-founded the Windrush Foundation with fellow director Sam King in 1995. They set up the charity to keep alive the contributions of African and Caribbean people to the UK and went on to deliver a range of heritage and community services, helping to create an identity for Caribbean people, especially young people, in Britain.
Arthur was awarded an OBE in 2002 for his services to community relations in London, and a CBE in 2011 for his services to Black British heritage.
The Guyana High Commission in London presented Arthur with the 'Windrush Lifetime Service' award in 2018 for his "tireless work to raise awareness of the contribution of the Windrush Generation…a lasting gift to current and future generations."
The 50th anniversary of Windrush Day led by the Windrush Foundation was reported in the Guyana Chronicle with the paper saying: "Using their own resources, Arthur and Sam went around the country, gathering together as many people as possible, with stories of the Empire Windrush, and what would become known as the Windrush Generation."
Thank you Arthur for all that you have done for our community and others.
You can join Arthur today, at his Windrush Day event discussing Caribbean 'migration and settlement' in the UK. Individuals, says Arthur, aren't migrating if they have passports to enter the country in which they intend to settle, as the Windrush Generation did back in 1948. So why is the Windrush Generation still referred to as Caribbean 'migrants'? Get involved and have your say.
Windrush Commemoration 2021 Download 
Danny F. The Artsloth, (F for Francis) is a Hackney born comic gem. Museumand, The National Caribbean Heritage Museum and Black History Month UK commissioned this comic writer and illustrator to create a celebratory poster which he entitled 'Windrush Commemoration 2021'.
Danny's comic-strip storytelling career began in 1994 when he teamed up with Skank Collective, the UK's first band of 'BAME' comic-strip writers whose body of work includes many magazine editions, as well as the graphic novel: 'Scotland Yardie'.
More recently, the artworld has become more open to the work of comic-art, graffiti and other forms and Danny has been invited to present his work in public exhibitions and galleries. His 'one-shot' , 'Windrush Scandal' depicting his friend Elwarldo Romeo's threatened deportation is due to be housed at the Black Cultural Archives.