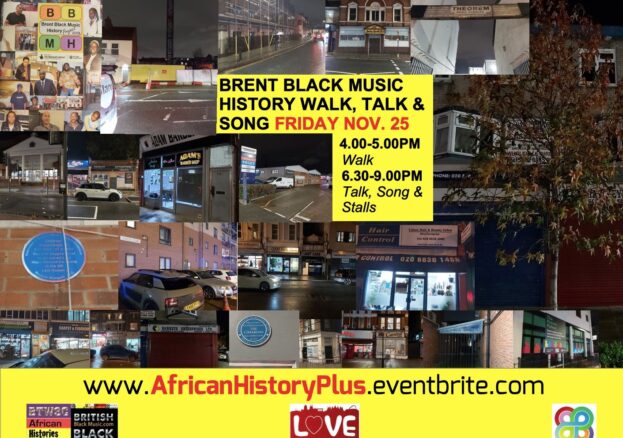 src="https://www.blackhistorymonth.org.uk/wp-content/uploads/2022/11/BBMH22-GERRY-DEDICATION-1-328×438.jpg" alt="" width="328″ height="438″ class="aligncenter size-medium wp-image-57516″ /><img
BBM/BMC's only physical event of the year, as a way of marking African History Month UK 2022 – discover Harlesden's deep music history!!
UPDATE: This event is dedicated to the memory of Gerry Anderson, who recently passed away. He managed the Hawkeye record shop in Harlesden for nearly 45 years!
His business partner Roy 'Hawkeye' Forbes-Allen will be making a donation to Gerry's favourite charity, Sickle Cell Society, at this event.
What are you checking? Book individually
4.00-5.00pm
WALK? From Willesden bus garage (Pound Lane, NW10 2HW) to The Reggae Tree in front of Hawkeye record shop (2 Craven Park Rd, NW10 4AB)
6.30-9.00pm
TALK & SONG? In Tavistock Hall/Windrush Hall, Harlesden Methodist Church (25 High St, NW10 4NE)
TALENT SPOTLIGHT?(OPEN MIC 8.30-9.00pm)
STALL? (£15, set-up from 5.30pm-6.30pm/wrap up 9.00-9.30pm)
+ LIMITED AFRICAN-CARIBBEAN MEALS ON SALE
15 years after BTWSC published the 'Brent Black Music History Project' (BBMHP) book* and DVD, and a local walk was suggested at the launch of the resources, project lead and BBM/BMC founder Kwaku will lead a walk around Harlesden, followed by a talk, presentation and performances.
Friday November 25 2022 in Harlesden, Brent
4.00-5.00 Walk around Harlesden. Led by historical musicologist and long time Brent resident Kwaku, and special guests and also long time Brent residents artist manager, record producer and serial community radio operator Ronald 'Fergy' Amanze and reggae historian and singer Sparky Rugged.
6.30-9.00pm Talk & Performances (must be booked separately). Kwaku will provide a video-backed presentation, with Sparky Rugged and Ronald 'Fergy' Amanze adding to the talk about the local black music history, as we attempt to update the information from BBMHP. Sparky Rugged will perform, and will Music4Causes ft Kimba, who will also lead the audience in creating a song based on the local black music history!
Limited stalls available (book now)
•Some of the content of the 'Brent Black Music History Project' (BBMHP) book can be found in the Brent London Borough Of Culture 2020/Metroland's 'No Base Like Home The A-Z Of Brent's Black Music History' resource – click here to read it.
Brent
Sunday 3 December
Nick Rankin talks about his new history & memoir of being a child in colonial Kenya, African nationalism…