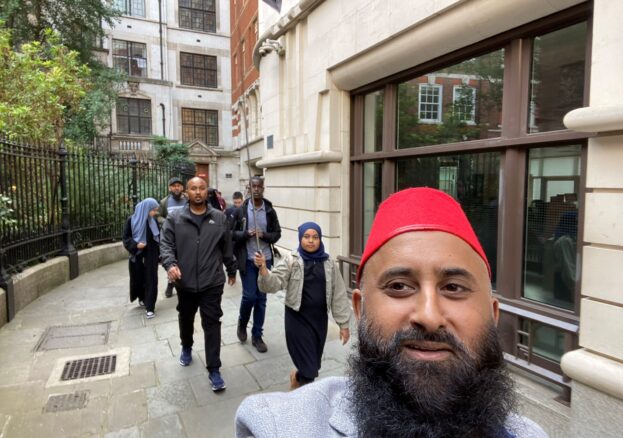 From St James Park tube station (Broadway entrance) the station is served by Circle and District lines.
Highlights
• Ambassadors — trials, parade, and legacy
• Nelson Mandela & Ahmed Kathrada together with anti-blackness in South Asians
• Hidden plaque opposite parliament
• Slave, dawah, and Quran
• Tragedy, converts, and Islamophobia
• Malcolm X files
• Black history more than slavery
• Paintings of the past shaping the present
Lambeth Black Muslim History Tour
(Vauxhall, Stockwell and Brixton)
From Starbucks, Vauxhall bus station Closest Tube Station: Vauxhall served by the Victoria Line. The following bus routes also stop at Vauxhall bus station: 2, 36, 77, 87, 88, 156, 185, 196, 344, 360, 436, 452
Thursday 21st Oct 2021 10:30 AM
Sunday 24th Oct 2021 11:00 AM
Highlights
• Forgotten pioneer Duse Muhammad Ali
• Activist Leila Hassan
• Early prayer places and myths
• Development of Black Mosques in Lambeth
• Community Charity Muslim Sister's Jamaat set up in 1988 by black female converts to Islam
• First black South African MP
Shepherds Bush Black Muslim History Tour
From outside Shepherd's Bush Mosque. Served by buses 207, 607 and about a 5 minute walk from Shepherd's Bush Market station (Hammersmith & City line). 10 minute walk from Shepherd's Bush tube station (Central Line).
Thursday 28th Oct 2021 10:30 AM
Sunday 31st Oct 2021 11:00 AM
Hightlights
• Ahlam Saed -A woman who took on an Islamophobic person!
• Shepherds Bush Mosque
• Muhammad Ali
• 100-year-old Somali Community
• What was Duse Muhammad Ali doing in Shepherds Bush in 1908?
• Who was the African Muslim footballer to play football in WW1 and has a street named after him?
• Egyptian House
More Brixton Listings MORE
Brixton
Friday 3 December - Friday 17 December 2021
Tamos Juntos – Kizomba Party & Dance Classes Every Friday Night! In this event, we will have a…