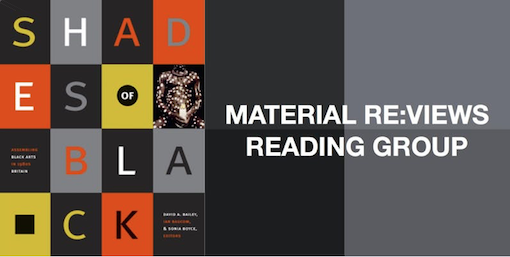 Reading together, maybe in silence, or laughter, but together; not as work but as art.
About this Event
We are excited to announce the first Material Re:Views reading group, where we will reflect on the Black Arts Movement. This group follows a politics of reading together. The academic environment individualises the act of reading, makes knowledge a metrics and study a tool: we are expected to learn in private to assert ourselves in public. By reading together and to each other, we retreat into a space for conviviality, collaboration, where reflection is a necessarily social process.
'Because reading can also be thought of as a form of social reproduction, that kind of work necessary for everything to continue. And if we think of it this way, we may have a way to refuse it as work, and engage it as art' (Thompson and Harney 2018)
Our key text is Shades of Black: Assembling Black Arts in 1980s Britain, with a particular focus on two essays 'Assembling the 1980s: The Deluge—and After' by Stuart Hall, and 'On Becoming at Artist: Algerian, African, Arab, Muslim, French and Black British? A Dialogue of Visibility' by Zineb Sedira and Jawad Al-Nawab.
You don't need to prepare beforehand because we will project the text into the space if possible, or work from digital copies to read excerpts together. We invite you to bring writings or artworks from the Movement that resonate with you to share with the group. Before the event, we will email copies of the essays for those who want to read them in full. The book is available at multiple university and public libraries.
Location TBC, dependent on numbers. If we can avoid a classroom we will!
About the book:
In the 1980s—at the height of Thatcherism and in the wake of civil unrest and rioting in a number of British cities—the Black Arts Movement burst onto the British art scene with breathtaking intensity, changing the nature and perception of British culture irreversibly. This richly illustrated volume presents a history of that movement. It brings together in a lively dialogue leading artists, curators, art historians, and critics, many of whom were actively involved in the Black Arts Movement. Combining cultural theory with anecdote and experience, the contributors debate how the work of the black British artists of the 1980s should be viewed historically. They consider the political, cultural, and artistic developments that sparked the movement even as they explore the extent to which such a diverse body of work can be said to constitute a distinct artistic movement—particularly given that "black" in Britain in the 1980s encompassed those of South Asian, North and sub-Saharan African, and Caribbean descent, referring as much to shared experiences of disenfranchisement as to shades of skin. Contributions by Stanley Abe, Jawad Al-Nawab, Rasheed Araeen, David A. Bailey, Adelaide Bannerman, Ian Baucom, Dawoud Bey, Sonia Boyce, Allan deSouza, Jean Fisher, Stuart Hall, Lubaina Himid, Naseem Khan, susan pui san lok, Kobena Mercer, Yong Soon Min, Keith Piper, Zineb Sedira, Gilane Tawadros, Leon Wainwright, and Judith Wilson.