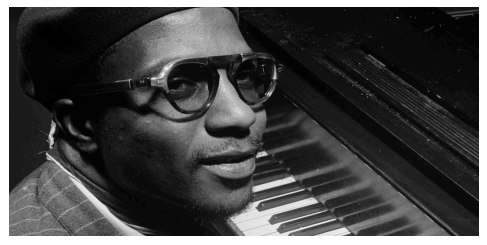 As the launch event for the Monk Misterioso Tour, Culture& has partnered with Filomena Campus to host a talk and performance at the British Library with composer and pianist Peter Edwards, artist and curator Errol Francis and American writer, cultural critic and political activist Candace Allen. The talk will explore Monk's music not just in terms of a legendary jazz musician but also as a composer and modernist pioneer, who lived through the civil rights movement in the US. Filomena Campus will perform alongside the award-winning contemporary jazz composer and pianist Peter Edwards to illustrate Monk's most famous compositions including Round Midnight, Epistrophy and Misterioso. This will be an opportunity to revisit material on Monk from the British Library's extensive sound and video archives.
Epitomizing artistic originality, candid eccentricity and indifference to conventional rules of performance, Thelonious Monk emerged in the 1940s to become one of the high priests of bebop. Regarded as one of the most enigmatic and unusual jazz composers, Monk, whose unique improvisational style, with rigorously structured and surreal themes, created some of the most innovative and unsentimentally beautiful music in the history of jazz. The composer influenced musicians as diverse as Miles Davis, John Coltrane, Chick Corea and Steve Lacy. 
The event features Peter Edwards, pianist for the late trumpeter Abram Wilson and described by The Guardian as a 'rising piano star' on solo piano, and award-winning Filomena Campus on vocals. Edwards and Campus will perform solos and duets featuring some of Monk's most famous compositions. Filomena Campus will add to Monk's wordless compositions with a mixture of scat, speech and gesture to bring a new dimension to classic tunes.
The event launches the Arts Council England sponsored tour of Monk Misterioso: A Journey into the Silence of Thelonious Monk by Theatralia – directed by Filomena Campus to be performed at the London Jazz Festival at Kings Place on 18 November 2017. With a revised script by renowned Italian writer Stefano Benni, a new selection of arrangements by Rowland Sutherland and new video design by SDNA, this dramatised jazz production explores the revolutionary jazz legend who lived his last seven years in silence.
For Monk Misterioso: A Journey into the Silence of Thelonious Monk  Filomena Campus has brought together an all-star line-up including Cleveland Watkiss (winner of Best Vocalist at the Guardian Jazz Awards) in the role of Monk, alongside Black Top's Pat Thomas, Orphy Robinson, MD Rowland Sutherland and Dudley Phillips and with special guests Jean Toussaint and Mark Mondesir. 
For this revival, Campus has reworked the show with Marcello Magni, co-founder of Complicite, and Benni has revised the text. A highlight of the show is a performance of Billie Holiday's Strange Fruits, paired with a poem by Benni as a tribute to her music, and to reiterate the issue of racial discrimination. Jazzwise wrote "Watkiss then gave one of the most stunning a cappella account of 'Strange Fruits' you'll ever hear". 
Errol Francis and Culture& 
Errol Francis is an artist and curator and is Chief Executive and Artistic Director of Culture& which is an independent arts and education charity based in London. The organisation works in partnership with arts and heritage institutions and artists to open up who makes and enjoys arts and heritage. Culture&'s well-established heritage training and public programmes promote diversity in workforce and audience development and encourage high quality engagement with the world's rich and diverse heritage, whilst promoting intercultural contact, dialogue and understanding.
Peter Edwards
Peter Edwards is a leading contemporary jazz musician whose 'guileless, soulful music' is 'full of emphatic chording, Latin grooves and romantic, cinematic themes' (Guardian). He is the 2015 Parliamentary Jazz Awards 'Newcomer of the year' and directs the Nu Civilisation Orchestra, who were commissioned by BFI Southbank to create a new original score for a screening of Oscar Micheaux's 1925 film Body and Soul, as part of the 2017 Black Star Festival. Peter was also a commissioned composer in the PRS Foundation 2017 New Music Biennial.
Filomena Campus and Theatralia
Internationally renowned and award winning jazz vocalist, lyricist, theatre director and university lecturer, Filomena Campus, has toured and collaborated with top UK jazz musicians including Evan Parker, Guy Barker, Orphy Robinson, Byron Wallen and Cleveland Watkiss. In 2013 Filomena created the international Theatralia Jazz Festival (formerly My Jazz Islands) in collaboration with Jazz Club Soho Pizza Express in London and the Italian Cultural Institute London.
Candace Allen
Candace Allen is an American writer and cultural critic, based in London. Her book 'Soul Music: The Pulse of Race and Music' explores the personal, social and political power of music and her novel 'Valaida', was based on the life of jazz trumpet player Valaida Snow. Candace was a political activist in her time at Harvard University in the late 60's and early 70's, playing an instrumental role in the establishment of its African and African-American Studies Department. She was the first African-American woman to be a member of the Directors Guild of America and was a founder of Reel Black Women, a professional organisation for African-American women in film. Actively campaigning for the election of Barack Obama in 2008 & 2012, Candace became a frequent commentator on US culture, race and politics on radio and television, and writes regularly for The Guardian. She is also a founding trustee of the Chineke! Orchestra.
Thelonious Monk (1917-1982)
"The piano ain't got no wrong notes!" 
Thelonious Sphere Monk (October 10, 1917 – February 17, 1982) was an American jazz pianist and composer. Monk had a unique improvisational style and made numerous contributions to the standard jazz repertoire, including "'Round Midnight", "Blue Monk", "Straight, No Chaser", "Ruby, My Dear", "In Walked Bud", and "Well, You Needn't". Monk is the second most-recorded jazz composer after Duke Ellington, which is particularly remarkable as Ellington composed more than a thousand pieces, whereas Monk wrote about 70.
His compositions and improvisations feature dissonances and angular melodic twists, and are consistent with Monk's unorthodox approach to the piano, which combined a highly percussive attack with abrupt, dramatic use of switched key releases, silences and hesitations.
He was renowned for his distinctive style in suits, hats, and sunglasses. He was also noted for an idiosyncratic habit observed at times during performances: while the other musicians in the band continued playing, he would stop, stand up from the keyboard, and dance for a few moments before returning to the piano.
Monk is one of five jazz musicians to have been featured on the cover of Time, after Louis Armstrong, Dave Brubeck, and Duke Ellington and before Wynton Marsalis.
As his health declined, Monk's last six years were spent as a guest in the Weehawken, New Jersey, home of his long-standing patron and friend, Pannonica de Koenigswarter, who had also nursed Parker during his final illness. She proved to be a steadfast presence, as did his own wife Nellie, especially as his life descended into further isolation. Monk did not play the piano during this time, even though one was present in his room, and he spoke to few visitors. He died of a stroke on February 17, 1982, and was buried in Ferncliff Cemetery in Hartsdale, New York. In 1993, he was awarded the Grammy Lifetime Achievement Award. In 2006 he was awarded a special Pulitzer Prize for "a body of distinguished and innovative musical composition that has had a significant and enduring impact on the evolution of jazz."
More Camden Listings MORE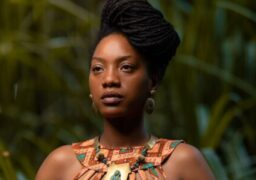 Camden
Sunday 14th August
We're very happy to announce that leading reggae star, Hempress Sativa, will play The Jazz Cafe as part of…