In this lecture one of the most inspirational human rights lawyers, speakers and advocates of our time speaks from his wealth of personal experience about the vital need for equal justice. Bryan Stevenson comes as our guest from the USA to give this unmissable lecture revealing the miscarriage of justice and destructive inequalities of racism and institutional racism and the fundamental need for change.
How to book
Book a ticket to attend in person
To book a ticket, please click the yellow "Book" button above right or below.
Bryan Stevenson is a widely acclaimed and world famous human rights lawyer who has dedicated his career to helping the poor, the incarcerated, and the condemned. He is the founder and Executive Director of the Equal Justice Initiative (EJI), a human rights organization in Montgomery, Alabama. Under his leadership, EJI has won major legal challenges eliminating excessive and unfair sentencing, exonerating innocent death row prisoners, confronting abuse of the incarcerated and the mentally ill, and aiding children prosecuted as adults.
Mr. Stevenson has argued and won multiple cases at the United States Supreme Court, including a 2019 ruling protecting condemned prisoners who suffer from dementia, and a landmark 2012 ruling that banned mandatory life-imprisonment-without-parole sentences for all children 17 or younger. Mr. Stevenson and his staff have won reversals, relief, or release from prison for over 135 wrongly condemned prisoners on death row and won relief for hundreds of others wrongly convicted or unfairly sentenced.
Bryan Stevenson has received over 40 honorary doctoral degrees, including degrees from Harvard, Yale, Princeton, the University of Pennsylvania, and Oxford University. He is the author of the critically acclaimed New York Times bestseller, Just Mercy, which was named by Time Magazine as one of the 10 Best Books of Nonfiction for 2014 and which was recently adapted as a major motion picture. He is a graduate of the Harvard Law School and the Harvard School of Government.
If you cannot attend in-person, this lecture will also be streamed live online. For tickets to watch online,
We want to make sure that the Autumn Lecture Series is open to all. Free places are available for each lecture, in person and online.
If you can, please consider buying a ticket for £10 for you or for someone else. Your purchase will help keep our education programme open to all.
More Events in Greater London Listings MORE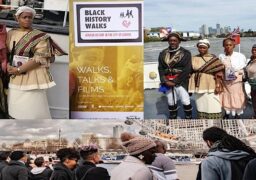 Westminster
Saturday 25 May
Your private, double-decker boat will start from the Temple Pier near Temple tube station on the Embankment. Your…