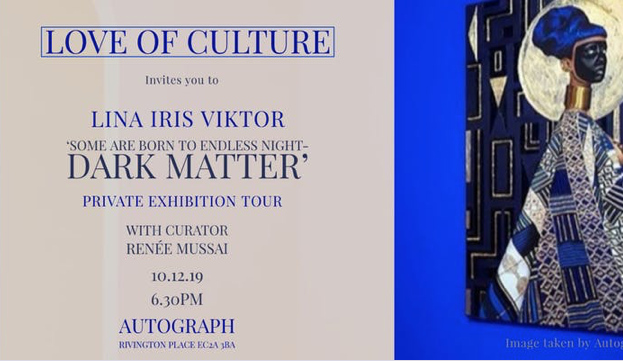 Private tour of the stunning solo exhibition from Lina Iris Viktor: Some Are Born to Endless Night-Dark Matter. Led by Curator Renée Mussai
About this Event
Join us for an immersive tour of the exquisite exhibition by Lina Iris Viktor at the brilliant Autograph gallery!
Led by the Curator herself Renée Mussai.
"Lina Iris Viktor's magnificent work centres the black figure as the universal human form through which narratives are weaved, histories entwined and possible futures imagined"
Renée Mussai
ABOUT THE EXHIBITIONBecome immersed in deep lustres of black punctuated with luminous 24-karat gold and opulent ultramarine blue hues in Lina Iris Viktor's singular artistic universe.Her photography, painting and sculptural installations are infused with cultural histories of the global African diaspora and preoccupied with multifaceted notions of blackness: as colour, as material and as socio-political consciousness. To Viktor, black is the proverbial materia prima: the source, the dark matter that birthed everything.This is the British-Liberian artist's first major solo exhibition in the UK, with more than 60 works on display in two galleries, many seen for the first time.This will be the last event of the year for Love of Culture, so do join us for drinks and more conversation afterwards!
More Hackney Listings MORE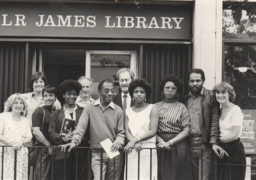 Hackney
Sun, 3 May 2020 10:00 – 12:00
This walk recognises 70 years since the SS Windrush arrived from the Caribbean..This tour starts with the 1950's…