Join us for a screening of the director's cut of Solange Knowles' film, an exploration of origin and spiritual expedition.
The extended cut features new scenes and musical arrangements of the visual artist and singer-songwriter's interdisciplinary performance art film When I Get Home.
When I Get Home, created to accompany Knowles' album of the same name, confronts how much of us we have taken or left behind in our evolutions, and how much fear determines this.
The artist returned to her home state of Texas to answer this question through an expedition of a futurist rodeo, uplifting the narrative of black cowboys and honouring her Houston lineage in a visual meditation.
The film was directed and edited by Solange Knowles with contributing directors Alan Ferguson, Terence Nance, Jacolby Satterwhite and Ray Tintori.
Additional art courtesy of Houston artists Autumn Knight and Robert Pruitt and collage work by Gio Escobar of Standing on The Corner.
The film also features new sculptural work by the artist, Boundless Body (2019), an 8 by 100 ft. rodeo arena displayed in the desert of Marfa, which sits alongside many architectural wonders in the film, such as the Rothko Chapel at the Menil Collection and the IM Pei-designed Dallas City Hall.
More Lambeth Listings MORE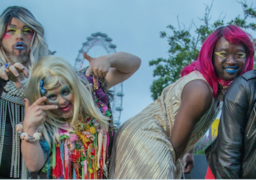 Lambeth
Sun 15 December 2019
Get glitzy this winter with the world's first collective of drag kings and queens with Down's syndrome, fresh…