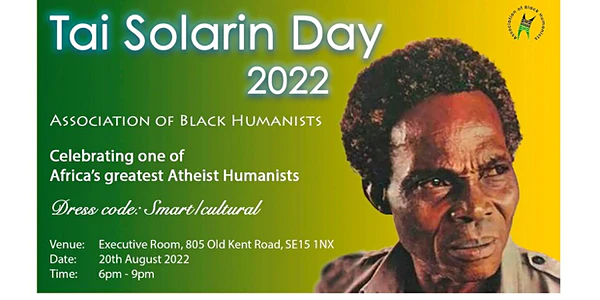 Join Association of Black Humanists to celebrate the contribution of African, Caribbean and diaspora humanists. #FreeMubarakBala
Please join Association of Black Humanists for an opportunity to celebrate and recognise the contribution of African humanists in Africa, the Caribbean, and the diaspora.
Association of Black Humanists has chosen to celebrate Tai Solarin because he was a fearless humanist and atheist, a philanthropist, and a passionate human rights activist. He is an apt representation of a humanist. Tai Solarin suffered persecution and even jail for standing up to the regime in Nigeria. In the present day, as we can see with Mubarak Bala, the struggle continues.
The Tai Solarin Day Award 2022 for outstanding contributions to Humanism will be given to Mubarak Bala.
The compère for the evening will be Tavian Oladapo, and guest speakers at this event will include:
Amina Ahmed – Mubarak Bala's wife
Professor Anthony Pinn of Rice University
Dr Leo Igwe, Humanists International board member
Maachelle Farley, founder of Humanists Barbados
Roslyn Mould, Ex-President of Humanists Association of Ghana
Mandisa Thomas, founder of Black Non-Believers of the United States
Andrew Copson, Chief Executive of Humanists UK
and Corin Solarin, Tai Solarin's daughter
Join Association of Black Humanists for an exciting evening featuring cultural musical entertainment with Malick Kouyate on Kora and drums, and dining on a menu of authentic West African cuisine.
More Lewisham Listings MORE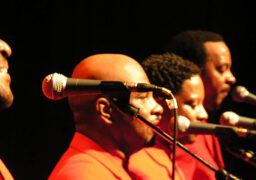 Lewisham
Saturday 16 March 2024
Direct from the USA, Soul Satisfaction's AMERICAN FOUR TOPS show has been travelling internationally bringing all the sweet…