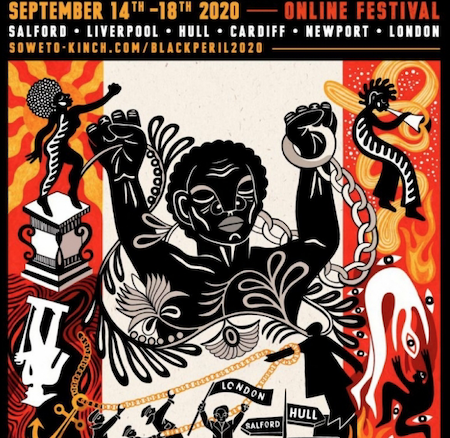 SEPTEMBER 14TH – 18TH 2020 — ONLINE FESTIVAL
This unique collection of performances and curated content will be screened in an online festival from September 14-18th.
As well as newly commissioned performances, we're inviting historians, artists and notable cultural figures to discuss the modern implications of this past: including Kehinde Andrews, Lowkey, Nicholas Payton and Jason Moran. Moreover, we'll be drawing on local councillors, venues, promoters and cultural leaders to contribute to a lively series of panel discussions.
Join us from London, Hull, Salford, Liverpool, Cardiff and Newport for this exclusive curated series of performances, bringing the past to life and making sense of the present!
LIVE MUSIC, DANCE, NEW COMMISSIONS, EXCLUSIVE VIDEOS and ALBUM CONTENT, INTERVIEWS, PANEL DISCUSSIONS and much MORE.
TICKETS
INTERVIEWEES
Lowkey
Kehinde Andrews
Nicholas Payton
Jason Moran
Catherine Tackley
Jamie Baker
Jacqueline Jenkinson
MUSIC
Soweto Kinch
Robert Mitchell
Jay Phelps
Xhosa Cole
Nick Jurd
Nathanial Cross
Sonia Konate
Yahael Onono
Hannah Mbuya
Grafton Forbes-Amos
Francis Mott
DANCE
Jade Hackett
Tyrone Isaac Stuart
Fion Campbell-Davies
Stefano Addae
Tanaya Martin
Mason Connolley
Caramel Soldier
FILM/VIDEOGRAPHY