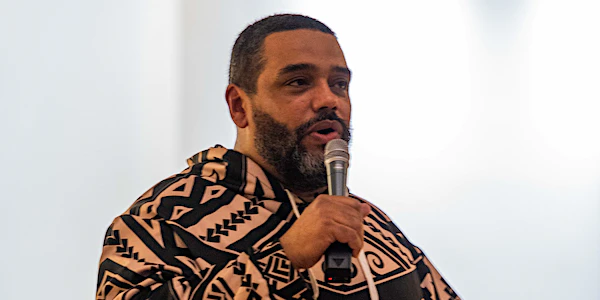 Malik Al Nasir is not a typical Liverpool author. After nine years in Local Authority care, he emerged traumatised, homeless, destitute, and semi-literate, having spent most of his childhood outside of formal education. A chance encounter with poet and activist Gil Scott-Heron in 1984, was to prove life changing. Using poetry, Gil mentored Malik for 27 years, watching him evolve and graduate from all three of Liverpool's universities, before Gil's passing in 2011. 'Letters to Gil' is Malik's incredible memoir of his journey.
What started with him sneaking backstage at the Royal Court Theatre, led him to where he is today, reading for a PhD at University of Cambridge, where in 2022, he was awarded the prestigious 'Sydney Smith Memorial Prize' for 'outstanding achievement and contribution to the artistic and literary life of St Catharine's College'. Malik will discuss the implication of his memoir for policy makers in education and child social care, and explore how one man was able to put right what an entire system got so terribly wrong. The talk will be hosted by writer and University of Liverpool PhD candidate Bernadette McBride
Blackwell's bookshop will be facilitating a signing with Malik after this event in the Waterhouse Café.
We have listened to your feedback and this year we're offering you the chance to purchase full day or weekend passes so you can enjoy everything the festival has to offer.
All passes will include reserved seating in the lecture theatre, a free drink at the Waterhouse Café, plus a host of other exclusive VIP benefits.
Cost: Saturday pass £30, Sunday pass £40, Weekend pass £60
Please note, all types of festival passes do not include the launch event on Friday 7th October with Ann Cleeves at the Yoko Ono Lennon Centre.
About The Author
Malik Al Nasir is an author, performance poet and filmmaker from Liverpool. He has produced and appeared in several documentaries with artists such as Gil Scott-Heron, The Last Poets, Benjamin Zephaniah and Public Enemy, as well as footballer Mark Walters and many other luminaries. Malik started tracing his roots back through slavery over 15 years ago and his pioneering research has been recognised by Sir Hilary Beckles (Chair CARICOM Commission for slavery reparations), historian David Olusoga, and The University of Cambridge, where Malik is reading a PhD in history at St Catharine's College, with a full scholarship, in recognition of the significance of his research.
Book Reviews:
'A searing, triumphant story. A testament to the tenacity of the human spirit as well as a beautiful ode to an iconic figure.' Irenosen Okojie.
'An incredible story, one that will have you jaw-dropped in disbelief at the cruelty meted out to Malik as a boy but also uplifted by his courageous, irrepressible exuberance, by his determination to defy the shitty hand he was dealt after he was put into the care system. And at the centre of this remarkable story stands the towering figure of Gil Scott-Heron … This is an intensely powerful and vivid memoir … When a book like Letters to Gil comes along, you are reminded of how indomitable the human spirit can be'. Jamie Byng.
'Nasir tells the story of his life – including his brutal treatment in care homes as a child – and his friendship with the musician-poet [Gil Scott-Heron]. His candid, eye-opening story includes a joyously uplifting tale of the time he accompanied Scott-Heron to meet Stevie Wonder'. Independent, 'Books of the Month'.
'… Letters to Gil [is] part of a growing corpus of Black British memoir that confronts difficult subjects … It is also a tribute to artists who blend creative expression with fearless political commentary, such as the hip-hop artists Mos Def, Nas and the members of Public Enemy. With this brave memoir, Al Nasir can be counted among them'. Times Literary Supplement.
'There are so many layers in Malik Al Nasir's Gil Scott-Heron memoir … and that's what makes the book so compelling … Malik's poet's ear makes the leap into the rhythms of his candid and vivid prose an easy progression … Al Nasir's remarkable story proves once again the adage that music, not to forget an iron determination to overcome adversity and personal bravery, is certainly the healing force of the universe'. Marlbank.
'Letters to Gil movingly yet unsentimentally chronicles [Malik's] transformation … Al Nasir's account of his early life, while frank and touching, is at once a searing indictment of the institutional racism at the heart of the contemporary "care" system, a moving illustration of the redemptive power of music and poetry (personified by Gil Scott-Heron), and (almost incidentally), courtesy of its intimate glimpses of moments in the lives of Scott-Heron
himself … A harrowing yet ultimately heartening memoir, Letters to Gil transcends the purely personal to make an important contribution to the burgeoning science of public history, championed by the likes of David Olusoga'. London Jazz News.
Organizer of Talk with Malik Al Nasir 'Letters to Gil'
The Liverpool Literary Festival is set to be an exhilarating weekend of discussions, readings and debates reflecting the insatiable curiosity of both the city and University of Liverpool.
The Festival offers you the opportunity to enjoy readings by internationally celebrated writers, explore significant cultural issues through historical and contemporary perspectives, as well as engage in lively and challenging debate.
Supported by Student Roost and Bruntwoo
More Liverpool Listings MORE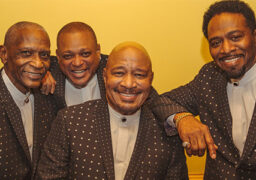 Liverpool
Friday 1th December
The Stylistics, who are currently on a sold-out tour in the US, are proud to announce their UK…