"The truth will set you free ~ but first it will piss you off." ~Gloria Steinem
About this Event
100% of the net proceeds from this event will be donated to the Loveland Foundation Therapy Fund, which provides financial support to help Black girls and women access high-quality, culturally competent therapeutic services.
This is a fundraising event. If you have the means, please contribute the full tuition for the event.
To contribute at a discounted rate, choose among the following promotion codes:
BEGIN25 for a 25% discount
BEGIN50 for a 50% discount
BEGIN75 for a 75% discount
How do you, as a Caucasian woman, relate to the topic of racism when it comes up in your world?
Do you …
Hope the whole issue will just go away?
Feel afraid that if you get into it, you'll be completely overwhelmed?
Tell yourself it's not your problem because it doesn't affect you (but deep down know that it really is, and does)?
Become angry when someone insinuates that you might be racist?
Want to be helpful but don't know how?
All these experiences are completely understandable. They're part of the terrain for any of us who do, in fact, have the dubious luxury of side-stepping the reality of racial injustice.
None of us has been taught how to bridge the racial divide. We haven't been given the skills or support to heal the painful feelings that arise around this tender topic.
But here's the truth:
Posting clever links on social media is not enough to heal the roots of racial injustice.
As white women, we need to help each other overcome our discomfort in facing this critical issue. Without awareness, acceptance, and action, the racism that tears our society apart will never heal.
When we summon the courage to explore our emotions and beliefs around racial intolerance in a compassionate space free from judgment, we build our capacity to touch the truth without blaming ourselves or others.
We can recalibrate our thoughts, words, and behaviors to become more effective agents for racial transformation.
Let's begin the conversation.
In our time together, we will
Use EFT Tapping to withstand the discomfort of confronting racial truths
Identify the ways we (even with the best intentions) perpetuate racism
Understand the links between racial prejudice and systemic racism
Gain skills for healing numbness, guilt, shame, and fear
Outline an effective, personalized path for spiritual and practical action
Healing racism is up to us. Yes, it's work, and we can do it, especially if we do it together.
More ONLINE EVENT Listings MORE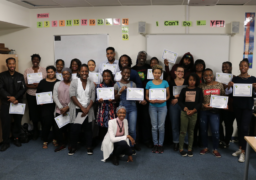 ONLINE EVENT
January 14, 2021 - September 11, 2021
ONLINE COURSE: Introduction to the Study of Black History, Politics, Sociology, Psychology, Science, Art, Music and Religion Starting…