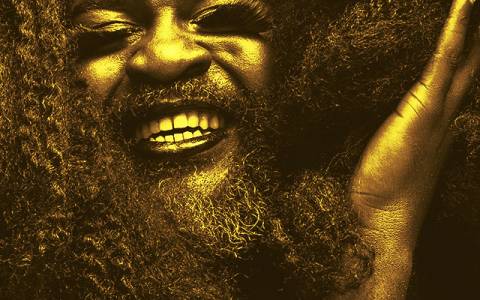 Something To Aim For present Le Gateau Chocolat's Pandora
Commissioned by The Lowry for WEEK 53 and the Lawrence Batley Theatre
From the hot hills of the antipodean carnivals via the velvet cobblestones of highland festivals, to the brilliant halls of Bayreuth. International icon of stage and song Le Gateau Chocolat has been brewing something daring, something delicious, something dark: 'Pandora'.
There is a box.
You have no idea what it might contain and whether or not you will it to, the only certainty is that it will open.
What mysteries abound? What contaminants, what affliction, what trauma? What might we mortals do with this coil, who arewe forced to become?
Through the eyes of 'Pandora', an ethereal creature of great cosmic promise, we see ourselves on earth in that middle place where the majestic and the mundane collide, meddling in each others lives, for better or worse, we wonder how circumstance dictates our evolution. Part song cycle, part theatre – Le Gateau Chocolat interrogates our existential conundrum; when faced with all the curious and cursed facets of life, how might we participate in what we're expected to become.
Would you go back, when all is said and done? Knowing what you now know? Would you go back to the beginning from where all things grow?
Here plays 'Pandora', where deities fear to tread, the ethereal made human, making us author of our ends.
Supported by Arts Council England.
Creative credits
Conceived and performed by Le Gateau Chocolat
Created with:
Composer and Musical Director – David Shrubsole
Co-writer & Dramaturg – Tommy Bradson
Designer – Tom Scutt
Supported by Arts Council England.