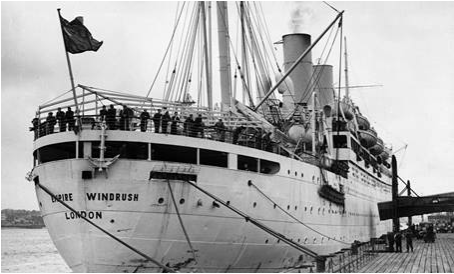 Film: Sorry We Don't Help Darkies
A Caribbean family living in London's Notting Hill during the tension and violence that led to the 1958 race riots, where black homes where targeted and smashed, comes to a brutal realisation that life in post war Britain is far from the 'Mother Country' that would welcome them with open arms as they had been told to get them aboard the 'Empire Windrush' boat to help England rebuild after World War II…
Starring Richard Campbell, Michelle Greenidge, Jemima Ojona, Kai Francis-Lewis & Cameron Palmer Charles.
Writer/Director: Travis Watson / 2013 /10 mins
---
 Performance: Streets Paved With Gold
We are pleased to present a special live 20 min theatrical performance by much-liked Leicester actor Victor Richards telling the imagined story of one man's plight as a member of the arriving Windrush Generation entitled Streets Paved With Gold.2. There will also be an award-winning Streets Paved With Gold music/poetry video by Victor played at the start of the evening as part of the event program.

More info on Victor Richards and his Windrush poetry, book and one-man play.
www.vjaytheatre.net
---
Film: The Dead Sea
An award-winning short film inspired by a true story from the recent Refugee Crisis. (It wasn't too long after this film was made that worldwide news agencies reported migrants been enslaved in Libya).
The story follows Emmanuel and Olu who, after almost reaching Europe by boat, are returned to Libya and incarcerated in one of its infamous migrant detention centres. 
THE DEAD SEA is the latest film from writer/director Stuart Gatt and stars Sope Dirisu (Humans, The Huntsman: Winter's War), Joan Iyiola (Denial, A Season in the Congo) and Yasen Atour (Mission Impossible, Rogue Nation). Its affiliated charities are Medecins Sans Frontieres and Human Rights at Sea.
Producer: Kate Glover
UK / 2016 / 15 mins
---
Film: Windrush Stories
A BUFF Originals/Voice Media Group co-production, Windrush Stories introduces us to the first generation of Caribbean migrants as they recall their experiences of arriving on British shores 70 years ago. Shot earlier this year, BUFF's cameras went to West London along with Voice journalist Leah Sinclair to hear first-hand accounts from members of the Windrush generation.
Dir: Clare Anyiam-Osigwe / UK / 15mins
---
Full Programme:
1. STREETS PAVED WITH GOLD (music video – 5 mins)
Victor Richards presents.. STREETS PAVED WITH GOLD (live performance – 20 mins)
STORIES OF FRIENDSHIP (short Windrush documentary film – 5 mins)
4. STORIES OF WINDRUSH – Coming to England (Guest talk 5 mins)
SORRY WE DON'T LIKE DARKIES (short film –10 mins)
STORIES OF WINDRUSH – Coming to England (Guest talk 5 mins)
THE DEAD SEA (short film – 15 mins)
*Followed by Q&A/Panel Discussion (45 mins)
Invited Guest Speakers & After-film Panel Discussion:
Attending will be a number of guest speakers from the world of politics and various well-standing Windrush/Community organisations. Some of whom will be given the stage to address the audience and speak about their Windrush experiences and ongoing work.
At the end of the evening there will be a Windrush panel discussion hosted by former Hackney Council Councillor, writer and Windrush activist Patrick Vernon OBE, where we plan to discuss the legacy of the Windrush Generation and of course the ongoing government Windrush deportation scandal.
Full Programme: 1 hr, 50 min
For More Info:
Kush Promotions & PR
+ 44 (0) 203 070 3200 or + 44 (0)7961 977 749
E: info@kushfilms.com
www.kushfilms.com or www.britishurbanfilmfestival.co.uk
More Westminster Listings MORE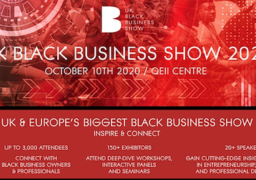 Westminster
Sat, 10 October 2020 09:00 – 18:00
The UK Black Business Show has been created to inspire and connect black business owners and professionals working…