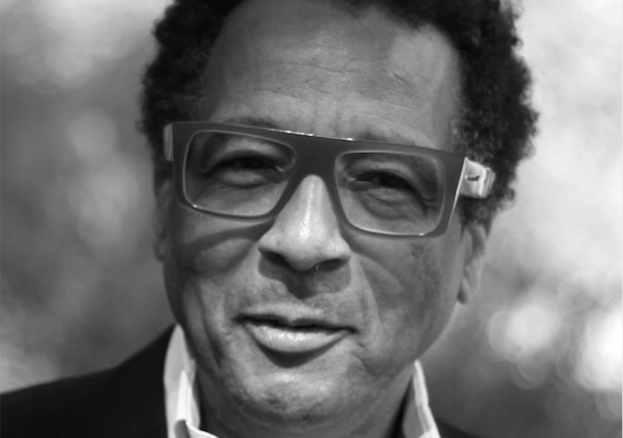 The Black Lives Matter movement has contributed to many positive things. This includes the work being done by art and cultural historians to reclaim the forgotten Black presence in the works of art on the walls of Britain's museums, galleries and stately homes making their work even more relevant and timely. That presence is most times marginalized in the works' compositions and ignored in many of their descriptions.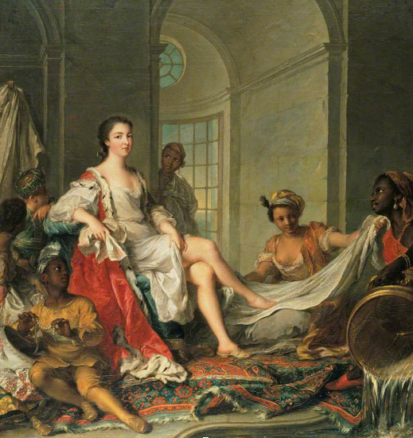 Jean-Marc Nattier Mademoiselle de Clermont en Sultane (1733) The Wallace Collection
https://upload.wikimedia.org/wikipedia/commons/2/27/Mademoiselle_de_Clermont_en_Sultane.jpg
For example, Mademoiselle de Clermont en Sultane by Jean-Marc Nattier at The Wallace Collection is typical, the Gallery's 2014 Guide includes the following description:
Nattier depicts Mademoiselle de Clermont as [the wife of a Sultan in her harem] justifying her chic state of undress, while lavish costumes, textiles, jewellery and a sumptuous Turkish carpet help to reinforce a mood of exotic excess.
Neither the Collection's guide nor its website makes any mention of the five Black figures attending to Mademoiselle de Clermont. Their presences and roles are totally ignored at best or perhaps inferred by the 'lavish costumes' or the 'mood of exotic excess' described in the guide or what is described on the Collection's web site as an 'orientalising atmosphere of luxury'.
This implicit exoticizing and overt neglect of the Black presence on the walls of our museums, galleries and stately homes is changing, and changing at pace. I want to draw your attention to three very separate but interrelated projects which address those neglected romanticised, indifferent responses to that Black presence.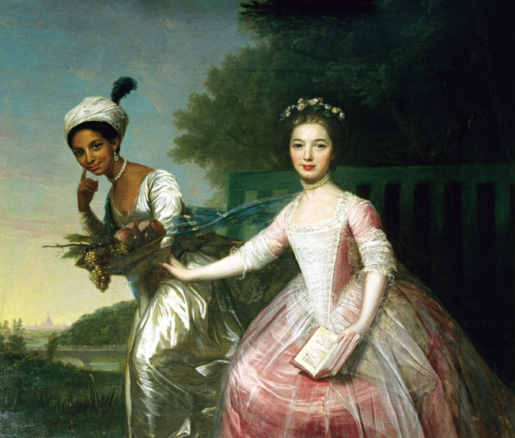 Painting of Dido Elizabeth Belle (l) and her cousin Lady Elizabeth Murray (r).
circa 1778 David Martin, Scone Palace, Scotland
https://upload.wikimedia.org/wikipedia/commons/6/61/Dido_Elizabeth_Belle.jpg
First, and perhaps the most celebrated is the research in Lord Mansfield's eighteenth-century family archives. Diligent historians moved the image of Dido Elizabeth Belle from being described in a 1904 inventory listing of John Martin's 1778 dual portrait as Lady Elizabeth Finch-Hatton with a Negress Attendant. In 2019, that description was replaced to say Lady Elizabeth Finch-Hatton and her cousin Dido Elizabeth Belle. The work of those historians moved Dido Elizabeth Belle from being a marginal 'negress attendant' to a blood relative of the other figure in the dual portrait, giving Dido a back story celebrated in Amma Asante's 2013 movie Belle.
Secondly, Denise Morelle's 2014 ground breaking PhD thesis Seeing Laure: Race and Modernity from Manet's Olympia to Matisse, Bearden and Beyond which produced the 2018  book Posing Modernity: The Black Model from Manet and Matisse to Today and the eye opening exhibition Black models: from Géricault to Matisse first in New York then in Paris and Guadalupe.
Denise's work reclaimed the lives of the Black models depicted yet anonymised in Impressionists' paintings. I recall studying Édouard Manet 1863 Olympia, reading at length all about the significance of the flowers and of that black cat's erect tail and yet nothing about the courtesan's Black female attendant, she was apparently invisible to viewers and art historians.
Denise's research brought Manet's courtesan's Black assistant to life, having been lost in the records, her name was Laure. Manet painted Laure in at least three works however, her name was lost in the scholarly literature. Denise's scholarship and tenacity brought Laure to life as she had Manet's portrait of his model formerly entitled La Négresse renamed. It is now known as Portrait of Laure giving humanity to Manet's once anonymous model.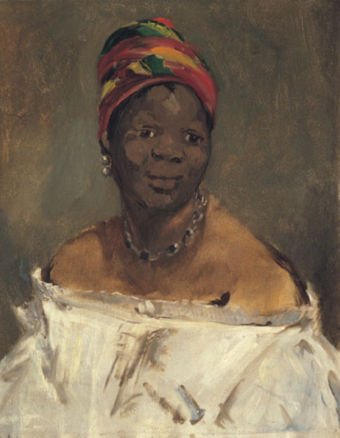 Édouard Manet Portrait of Laure 1862
https://upload.wikimedia.org/wikipedia/commons/a/ad/Edouard_Manet_-_La_Négresse.jpg
The third, and newest initiative I want to draw your attention to is the Black Presence in British Portraiture (BP2) network. This is a network of scholars, museum professionals and collectors of which I am a member. We have a passion for discovering, understanding and presenting the Black African presence in British portraiture from 1500 to1800.
Taking the Menil Image of the Black in Western Art collection records at the Warburg Institute in London as a starting point. The BP2 database now has some 400 entries and continues to grow with input from other members of the network, members of the public are invited to submit entries
The network believes research is fundamental in order to identify the individuals portrayed. So, if no names or details are to be found in local parish registers or household accounts or similar, then the white families they were associated with will be researched in order to interrogate their colonial connections. The BP2 website is being developed and the BP2 Podcast has been launched. Each episode will have an in-depth discussion on one of the works from the database. The latest episode is about the Thomas Gainsborough 1768 portrait of Ignatius Sancho.
The Black Lives Matter movement has made the work of the BP2 network, Denise Morelle and other historians even more relevant. As the lives of ignored, forgotten, marginalised Black figures seen in the paintings on the walls of galleries and stately homes are being brought back to life. Despite having been lost over time, their images are being reclaimed, given a history – Black Lives being reclaimed to Matter.
Senior Fellow of the Institute of Commonwealth Studies
http://about.me/michaelohajuru