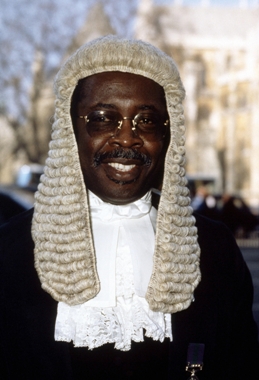 And….
> The first known person of African ancestry to be the Head of his Chambers in England and Wales
> The first person of African ancestry to be made a QC in England and Wales
> The first person of African ancestry to be made a Recorder of the Crown Court in England and Wales
> The first person of African ancestry be appointed by the British Government to a dependent territories as a High Court Judge of the Supreme Courts of the British Virgin Islands, and Anguilla, British West Indies.
> The first Head of Chambers to allegedly accept seven female barristers at one time in 1975. A record during that era.
Dr John Anthony Roberts QC was born in Sierra Leone on 17 May 1928. His great grandfather Joseph Jenkins Roberts, born in Norfolk, Virginia, USA, was the first President of Liberia, and his grandfather, John Anthony Roberts (Snr.), born in Liberia, was a cable engineer who worked in many countries including Brazil, America and in England, between 1891 and 1892. John's father, John Anthony Roberts (Jnr.), was a Brazilian, and John's mother, born in Freetown, Sierra Leone, was a descendant of "liberated" Africans, who chose to return to Africa after the Slave Trade. In the 1940s John worked as a Costs Clerk for Taylor Woodrow in Sierra Leone and then as a Civil Servant.
He was fascinated by airplanes, having seen members of the Royal Air Force (RAF) in Sierra Leone during the Second World War. He came to the UK in 1952 to join the RAF, where he first qualified as an accountant. Later, he was selected for aircrew duties. John remained in the RAF until 1962, serving in Europe, the Near East, the Far East and the South Pacific etc. He was invited by the then Prime Minister of Sierra Leone to work in the Sierra Leone Civil Aviation Service, where he worked in the Air Traffic Control Services Department between 1962 and 1964.
John returned to England in 1964 with his wife, Eulette, a Jamaican and their son Tony, who was born in Sierra Leone. John and Eulette were married in 1961. He worked as Civil Servant in the UK between 1964 and 1969 and in 1966, he started to read law, as he said he: "Loves helping people." He read law part-time at the Inns of Court School of Law whilst working and was Called to the Bar (Gray's Inn) in 1969, becoming a Master of Bench in 1996. In 1972 he also became a Member of Lincoln's Inn.
In 1970 John helped set up Chambers at 9 Stone Buildings, Lincoln's Inn. In 1975 he left 9 Stone Buildings to set up his own Chambers at 2 Stone Buildings. He ensured that his set of Chambers was fully representative, mixed and diverse with Asian, white and African and Caribbean members. He left 2 Stone Buildings in 1992 when he became a High Court Judge in The Supreme Courts of the British Virgin Islands, and Anguilla, both British West Indies Dependent Territories. He tried many high profile cases, including homicide.
John was made an Assistant Recorder (a part-time judge of the Crown Court) in 1983 and became a Recorder in 1987. In 1988, John became the first person of African ancestry to be appointed a Queen's Counsel at the English Bar.
Apart from the English Bar, John has also been called to the Bars of 10 other countries: Jamaica (1973), Sierra Leone (1975), Trinidad & Tobago (1978), Bahamas (1984), St Kitts & Nevis (1988), Antigua (2002), Barbados (2002), Bermuda (2003), Anguilla (2006) and Grenada (2007). This may well be a record.
He was made a Bencher of the Council of Legal Education in Sierra Leone in 1990. Between 1990 and 1992 he was a tutor at the Inns of Court School of Law in London, concentrating on Advocacy.
John was a former President of the British West Indian Ex-Servicemen and Ex-Service Women's Association and former joint President of the British Caribbean Association, UK.
In 1991 he was made an Honorary Citizen of Atlanta, Georgia, USA. He became a Freeman of the City of London in 1996, made an Honorary Citizen of the British Virgin Islands in 2000 and then awarded an Honorary Doctorate at City University in 1996.
In 1998, aged 70, John retired from the Bench as a Recorder, as is the requirement. He was 80 in May this year and recently retired from private practice. He is a fellow of the Chartered Institute of Arbitrators and still sits as an arbitrator and remains a door tenant at Warwick Court Chambers.
He is a John is a keen pianist, organist, guitarist and choir singer and a firm believer that "you are never too old to learn". He loves reading, dancing and music. He is a member of the Guild of Freemen, a former boxer and sprinter in the RAF, who enjoys flying light aircrafts (which he gave up a few years ago).