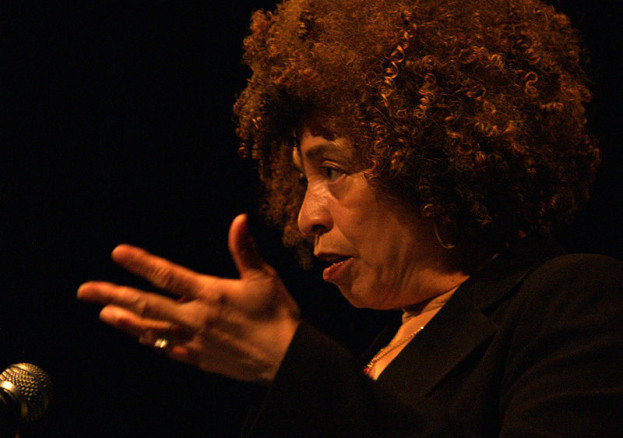 Angela Yvonne Davis is an American Scholar, Political Activist and Author who emerged as a prominent counterculture activist in the 1960's.
Angela Davis is best known for her leadership of the Communist Party USA and her close association with the Black Panther Party during the Civil Rights Movement.
Born 26th January, 1944, Davis was born in Birmingham, Alabama and lived in 'Dynamite Hill', a neighbourhood which was notorious for racial conflict.
Angela Davis migrated to the North during an American Friends Service Committee program that placed Black students from the South in integrated schools in the North. She chose Elisabeth Irwin High School in Greenwich Village. There she was introduced to socialism and communism, and recruited by a Communist youth group, Advance.
After studying at Brandeis University in Waltham, Massachusetts, under a scholarship, Davis would be further exposed to Socialism and Communism; saving up for trips to France, Switzerland and Finland. Her trip to Finland was to attend the eighth World Festival of Youth and Students. Upon her return to the US in 1963, Davis was greeted with a Federal Bureau of Investigation interview about her attendance at the Communist-sponsored festival.
Further exposure to Communism would take Angela to Germany, where she studied at The University of Frankfurt. After visiting East Berlin during the annual May Day celebration, she felt that the East German government was dealing better with the residual effects of fascism than were the West Germans. Many of her roommates were active in the radical Socialist German Student Union (SDS), however, due to the formation of the Black Panther Party, Davis sought a return to the US.
Davis would go on to attain a master's degree from the San Diego campus. She received her doctorate in philosophy from Humboldt University in East Berlin.
Academic Career
Davis was an acting assistant professor in the philosophy department at the University of California, Los Angeles (UCLA). Starting the role in 1969, her popularity mainly stemmed from her feminist work, as well as her affiliations with the Communist Party USA and the Black Panther Party.
Such popularity would prove unfavourable with the then California Governor Ronal Reagan, who would fire her from the post later that year because of her Communist Party Membership.
This decision would prove to be an ill-gotten gain, forcing Judge Jerry Pacht to rule that the Regents could not fire Davis solely because of her affiliations with the Communist Party. This lead to the board being censured and the reinstatement of Davis as a Professor at UCLA.
On June 20th, 1970, the Regents would release Davis once again for the "inflammatory language" she had used on four different speeches and her repeated characterisations of the police as 'pigs'".
Marin County Courthouse Incident
On August 7, 1970, Jonathan Jackson, a heavily armed 17-year-old African-American high-school student, gained control over a courtroom in Marin County, California with a firearms that Davis had purchased. With the firearms in his posession, Jackson would arm the Black defendants and help them to flee whilst holding Judge Harold Haley, the prosecutor, and three female jurors as hostages.
The Judge and all three men would be killed in the police shooting that ensued during the escape and Davis was charged with "aggravated kidnapping and first degree murder in the death of Judge Harold Haley" under California Law for her involvement in the procuring of the weapons.
The FBI would take a great interest in finding Davis, placing her on the top ten the FBI's Ten Most Wanted Fugitive List.
On October 13, 1970, FBI agents found her at a Howard Johnson Motor Lodge in New York City. President Richard M. Nixon congratulated the FBI on its "capture of the dangerous terrorist, Angela Davis".
It would take until January 5, 1971, before Davis appeared at the Marin County Superior Court and declared her innocence before the court and nation: "I now declare publicly before the court, before the people of this country that I am innocent of all charges which have been levelled against me by the state of California."
Across the nation, thousands of people who agreed with her declaration began organising a movement for her release. In New York City, Black writers formed a committee called the 'Black People in Defense of Angela Davis'.
By February 1971 more than 200 local committees in the United States, and 67 in foreign countries worked to free Angela Davis from prison. Thanks, in part, to this support, in 1972 the state released her from county jail.
On February 23, 1972, Rodger McAfee, a dairy farmer from Fresno, California, paid her $100,000 bail with the help of Steve Sparacino, a wealthy business owner. Portions of her legal defence expenses were paid for by theUnited Presbyterian Church.
Davis was tried, and the all-white jury returned a verdict of not guilty, as simply owning the guns used in the crime was not sufficient evidence in accrediting her as the plots mastermind
. The fact that she owned the guns used in the crime was judged not sufficient to establish her responsibility for the plot. She was represented by Leo Branton Jr., who hired psychologists to help the defense determine who in the jury pool might favour their arguments, a technique that was uncommon at the time, and also hired experts to undermine the reliability of eyewitness accounts.
Post Acquittal
After her acquittal, Davis visited Cuba. In doing so she followed the precedents set by her fellow activists Robert F. Williams, Huey Newton, Stokely Carmichael, and Assata Shakur. Her reception by Afro-Cubans at a mass rally was so enthusiastic that she was reportedly barely able to speak. Davis perceived Cuba to be a racism-free country, which led her to believe that "only under socialism could the fight against racism be successfully executed." When she returned to the United States her socialist leanings increasingly influenced her understanding of race struggles.
Activism
Davis has written several books. A principal focus of her current activism is the state of prisons within the United States. She considers herself an abolitionist, not a "prison reformer," and has referred to the United States prison system as the "Prison-industrial complex". Davis suggested focusing social efforts on education and building "engaged communities" to solve various social problems now handled through state punishment.
Davis was one of the founders of Critical Resistance, a national grassroots organisation dedicated to building a movement to abolish the prison-industrial complex. In recent works, she has argued that the prison system in the United States more closely resembles a new form of slavery than a criminal justice system.
According to Davis, between the late 19th century and the mid-20th century the number of prisons in the United States sharply increased while crime rates continued to rise. During this time, the African-American population also became disproportionally represented in prisons."
Other Political Stances
As early as 1969 Davis began publicly speaking, voicing her opposition to the Vietnam War, racism, sexism, and the prison-industrial complex, and her support of gay rights and other social justice movements. In 1969 she blamed imperialism for the troubles suffered by oppressed populations.
Davis opposed the 1995 Million Man March, arguing that the exclusion of women from this event necessarily promoted male chauvinism and that the organisers, including Louis Farrakhan, preferred women to take subordinate roles in society. Together with Kimberlé Crenshaw and others, she formed the African American Agenda 2000, an alliance of Black feminists.
Other Interests
Her interests included prisoner rights; she founded Critical Resistance, an organisation working to abolish the prison-industrial complex. She is a retired professor with the History of Consciousness Department at the University of California, Santa Cruz, and a former director of the university's Feminist Studies department.
Her research interests are feminism, African-American studies, critical theory, Marxism, popular music, social consciousness, and the philosophy and history of punishment and prisons. She was twice a candidate for Vice President on the Communist Party USA ticket during the 1980s and in 1997, Davis declared herself to be a lesbian in Out magazine.