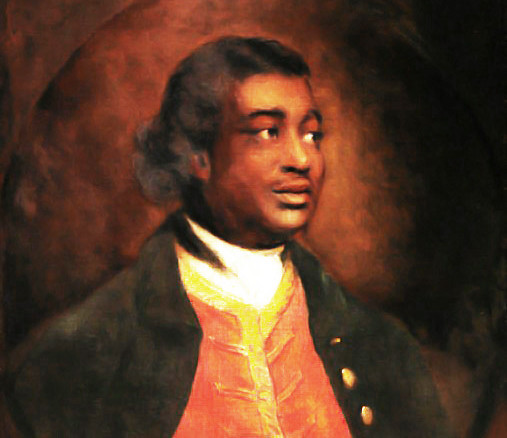 Born in 1729 on a slave ship, Ignatius spent his first two years as an enslaved boy on the island of Grenada.
Little is known about his parents, as his mother died whilst Ignatius was young and his father committed suicide, as he preferred death rather than to become a slave.
Sometime between Sancho's second and third birthday, his owner brought him to England where he worked as a servant in Greenwich before working for the Duke of Montagu.
It is established that Ignatius taught himself how to read and write; as teaching slaves to be educated was seen as an unwritten crime, with slave owners and plantation workers risking their lives if a slave was to become literate.
Once Sancho became literate, he immediately began speaking out against the Slave Trade, as well as learning how to compose music and write poetry on the subject.
The next available public record of Ignatius Sancho is in 1773, where he and his wife began a grocer's shop in Westminster, which
By 1773, Sancho was married and with his wife, the storefront became a meeting place for some of the most famous writers, artists, actors and politicians of the day. It is at this location that Ignatius Sancho became a good friend and neighbour to of Ottobah Cugoano, another Abolitionist and natural rights Philosopher.
Because of his financially-independent householder status, Ignatius was eligible to vote and in 1774, Sancho became the first black person of African origin to vote in parliamentary elections in Britain, voting twice in 1774 and again on the year of his death in 1780.
After his death in 1780, Sancho's letters were published in a book, which became an immediate best seller. Five editions of the book were published and his writing was used as evidence to support the movement to end slavery. Sancho had mentioned slavery in many of the letters he had written to friends. In 1778, for example, he commented that the main aim of all English navigators was 'money-money-money'. Sancho also made people aware of how the lives of Africans were made miserable by the Slave Trade. The following extract his from one of the letters published in 1782 shows the power of his arguments
"… the Christians' abominable traffic for slaves and the horrid cruelty and treachery of the African Kings – encouraged by their Christian customers who carry them guns to furnish them with the hellish means of killing and kidnapping."
Whilst there is little to know about Ignatius Sancho's life, his legacy is one that remained undisputed in death. As such, to acknowledge Sancho as a person who changed the Americas is a title that he should be remembered by.