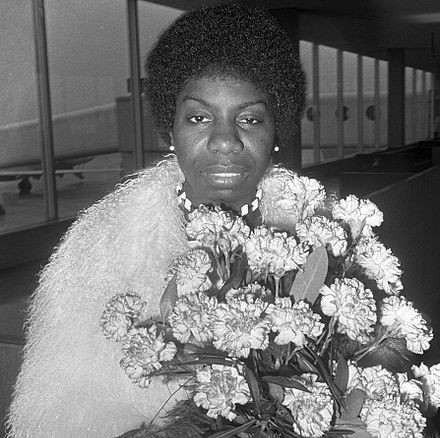 Born to a Christian family on February 21st, 1933; Nina was the sixth child to a North Carolina preacher, Mary Kate Waymon and Handyman, John Divine Waymon.
Early aspirations for the Civil Rights campaigner would be to become a concert pianist, which would lead her to audition at Curtis Institiute of Music in Philadelphia, but was sadly rejected; a decision she felt was based on her Race.
Taking up studies in Music at Juilliard School of Music in New York would be expensive and Nina took a job playing as a pianist at Midtown Bar & Grill on Pacific Avenue in Atlantic City. However, despite the knoweldge that her studies could not be funded by her parents, she also knew that her parents would not approve of playing 'the Devils music', and thus adopted the name Nina Simone in 1951.
Inspired by the names of "Nina" (from niña, meaning 'little girl' in Spanish), and "Simone" -taken from the French actress Simone Signoret, whom she had seen in the movie Casque d'or, Nina Simone would remain undetected by her parents as she rose to fame.
This dedication to music is why Simone recorded more than forty albums, mostly between 1958, when she made her debut with Little Girl Blue, and 1974, and had a hit in the United States in 1958 with "I Loves You, Porgy".
Simone's inspiration to become involved in the Civil Rights Movement of the 1960's is due to an incident at her first 'concert' at the age of 12. Here, her parents were moved to the back of the Church theatre in order to make space for White People. Angered that her parents may miss her recital based on Race, Nina refused to perform until her parents were reinstated at the front of the theatre.
In 1964, Nina changed record distributors, from the American, Colpix to the Dutch, Philips, which also meant a change in the contents of her recordings. Simone had always included songs in her repertoire that drew upon her African-American origins (such as "Brown Baby" and "Zungo" on Nina at the Village Gate (1962). On her debut album for Philips, Nina Simone in Concert (1964), however, Simone for the first time openly addressed the racial inequality that was prevalent in the United States with the song "Mississippi Goddam", her response to the murder of Medgar Evers and the Birmingham Church Bombing. The song was released as a single, and it was boycotted in certain southern states. Specifically, promotional copies were smashed by a Carolina radio station and returned to Simone's record label. "Old Jim Crow", on the same album, addressed the Jim Crow laws.
From then on, a Civil Rights message was standard in Simone's recording repertoire, becoming a part of her live performances. Simone performed and spoke at many civil rights meetings, such as at the Selma to Montgomery marches. Simone advocated violent revolution during the civil rights period, rather than Martin Luther King's non-violent approach, hoping that African Americans could, by armed combat, form a separate state. Nevertheless, she wrote in her autobiography that she and her family regarded all races as equal.
Simone moved from Philips to RCA Victor during 1967. She sang "Backlash Blues", written by her friend Langston Hughes on her first RCA album, Nina Simone Sings the Blues (1967). On Silk & Soul (1967), she recorded Billy Taylor's "I Wish I Knew How It Would Feel to Be Free" and "Turning Point". The album 'Nuff Said! (1968) contains live recordings from the Westbury Music Fair, April 7, 1968, three days after the murder of Martin Luther King, Jr. She dedicated the whole performance to him and sang "Why? (The King Of Love Is Dead)", a song written by her bass player, Gene Taylor, directly after the news of King's death had reached them. In the summer of 1969 she performed at the Harlem Cultural Festival in Harlem's Mount Morris Park.
Together with Weldon Irvine, Simone turned the late Lorraine Hansberry's unfinished play To Be Young, Gifted and Black into a Civil Rights song. Hansberry had been a personal friend whom Simone credited with cultivating her social and political consciousness. She performed the song live on the album Black Gold (1970). A studio recording was released as a single, and renditions of the song have been recorded by Aretha Franklin (on her 1972 album Young, Gifted and Black) and by Donny Hathaway.
Simone left the US in September 1970, flying to Barbados as she was disappointed that she was not making the Hits like she used to. However, a miscommunication between her Husband/Manager; Stroud and herself meant that He interpreted her leave of absence as a desire to get a Divorce, as she had left her wedding ring. In truth, Simone had left in order to take a break and expected her Husband to call her when she was expected to perform.
Upon her arrival back to the US, Simone's previous protest for the country's involvement in the Vietnam War meant she was issued with a Warrent for her arrest as she had not paid her taxes.
Returning to Barbados to evade the authorities and prosecution, Simone stayed in Barbados for quite some time, having an affair with the Prime Minister, Errol Barrow. A close friend, singer Miriam Makeba, then persuaded her to go to Liberia. Later, she lived in Switzerland and the Netherlands, before settling in France in 1992. Since Ms. Simone toured the USA in 1992 and 2000, it is apparent that her problems with the US Internal Revenue Service were settled as some point.
She recorded her last album for RCA, It Is Finished, during 1974. Simone did not make another record until 1978, when she was persuaded to go into the recording studio by CTI Records owner Creed Taylor. The result was the album Baltimore, which, while not a commercial success, was fairly well received critically and marked a quiet artistic renaissance in Simone's recording output.
Legacy
The legacy of Nina Simone is one that seems difficult to relate to on the surface. However, when you consider that Nina used her platform of fame to highlight Racial Injustice in America, it is easy to see why she has been considered a Civil Rights Activist in her own right. Now whilst her methods may be difficult to agree with, Nina Simone knew that her personal protest would reverberate to a louder audience; much like Cassius Clay's refusal to join the US Army for the Vietnam War, or Muhammad Ali's refusal to be Cassius Clay during court.
So whilst Nina Simone may not have the same legacy as Rosa Parks, Simone's legacy was on the airways, in the background telling everyone of the struggles every African-American endured, even if they did not want to learn.
As such, it is impossible to know the true extent of Nina's actions; yet to acknowledge her work and not it's influence, would serve as an injustice to her success, for Racial inequality was the basis for her work, her accolades, and success.