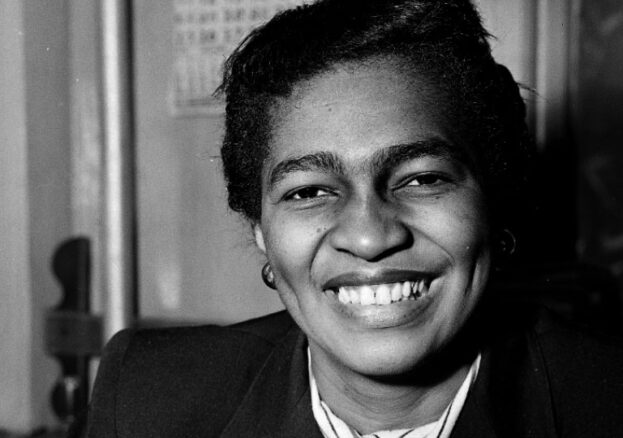 As we mark African History Month, expect Claudia Jones be become better known this year. She's the subject of a chapter entitled 'Black British Activism In Notting Hill', which is in 'Pearson Edexcel GCSE (9-1) History: Migrants in Britain c 800-Present', published at the start of the new school term for students taking GCSE History. This month sees the republication of 'Claudia Jones: A Life in Exile' by Marika Sherwood et al, twenty-one years after it was first published.
She may well be even much more known in the immediate future, as I've read 2020 news reports that say there is a film in the works, to be directed by Frances-Anne Solomon, the director of the superb docudrama 'Hero: Inspired By The Extraordinary Life And Times Of Mr. Ulric Cross'. The film based on Claudia's life is simply called 'Claudia'. More on that later.
It's worth pointing out that even books on Claudia written by academics have their share of mistakes, whilst many articles in magazines and on the internet are riddled with the prevalent, same-old, same-old ahistorical narratives. So let's see how many of these ahistorical narratives I can disabuse your minds of.
Claudia Jones was born in Port of Spain, Trinidad on February 21 1915. However, her father and mother did not name her Claudia Jones. She was named Claude Vera, and her surname was Cumberbatch. She did not travel to New York with her parents – she met them there two years after they had emigrated to the US. Claudia arrived in New York on February 9 1924, aged almost nine years old. She travelled with her sisters Sylvia, Meta, Irene and Lindsay, plus an aunt.
Although she is very much associated with Notting Hill, Claudia neither lived in or near Notting Hill. However, taking Notting Hill to also mean the surrounding environs, such as Ladbroke Grove, it's fair to say that she pounded its streets many times. Her friend and comrade Amy Ashwood Garvey lived at 1 Bassett Street, where Claudia would no doubt have visited Amy on either a personal visit or more likely to discuss some issue to do with either the local area or some form of mistreatment or discrimination experienced by Africans, particularly those from the Caribbean, in the late-1950s to the early 1960s.
Indeed, Claudia was one of the leaders of the London March On Washington For Jobs And Freedom "solidarity march", which started its journey to the American embassy from Ladbroke Grove. This march took place on August 31 1963, which was three days after the momentous march in Washington.
Now, let's blow one of the most deeply-entrenched myths – Claudia never organised a carnival in Notting Hill, neither did she start the Notting Hill Carnival nor was her, or strictly speaking the West Indian Gazette's, Caribbean Carnival a precursor to Notting Hill Carnival (NHC).
The West Indian Gazette's Caribbean Carnival was held annually between 1959 and 1964 across different London locations, of which none was remotely close to Notting Hill. By the way, it was not the first "Caribbean Carnival" in London, and neither did it have anything to do with the Antiguan carpenter Kelso Cochrane, who was murdered in Notting Hill more than three months after the inaugural event on January 30 1959.
Considering NHC started in 1966, and Claudia died on December 25 1964, and that NHC is essentially a street affair, compared to the Gazette's sit-down variety show, the link between the two is not even tenuous. There's no link, besides a ubiquitously repeatedly myth that's taken on the cloak of a fact. Then, there's another fact worth pointing out, which is that Notting Hill Carnival did not actually start off as an African Caribbean affair!
Describing Claudia as the Mother of Notting Hill Carnival, is not only factually incorrect, it also tarnishes Claudia's legacy. No one would quibble if she's described as the Mother of Caribbean Carnival. After all, she helped produce six in London, and two in the regions. That was an impressive cultural feat in itself, considering the times.
However, the image we ought have embedded in our minds when we think about Claudia shouldn't necessarily be about carnival, but the fact that she is undoubtedly the greatest British African activist ever! Certainly, the Royal Mail's 2008 issue of the Women of Distinction postage stamps got it right, when she was described simply as Civil Rights Activist. The accolade was rightly deserved, because Claudia was an indefatigable activist, whether driving forward the numerous organisations she belonged to, marching on the streets, or using the West Indian Gazette as a mouthpiece for race, gender, class or political activism.
One of the things I loved about 'Hero' was its blending of unassailable historical facts with dramatic licence, and I am hoping 'Claudia' follows suit. However, the troubling part of the news reports on the proposed film is the projection of "the pivotal role played by British-Trinidadian journalist and activist Claudia Jones in launching the world's largest street festival, the Notting Hill Carnival."
Upon reading this, I immediately emailed the director to clarify the film's line on any connection of Claudia to NHC. Unfortunately, I did not receive a reply before filing this story. I did point out to the director that there is a group of carnivalists, including those of Trinidadian heritage, who do not subscribe to the connection of Claudia with NHC. Although their voices may be currently muted by the prevalent narrative, if in the unlikely event that the 'Claudia' film supports this received wisdom, I can foresee its reception in Britain being marred by such opposing voices.
Lastly, Claudia was the founding editor of the Gazette, which started in March 1958. It was a pioneering newspaper that covered a myriad of issues pertaining to Britain, the Caribbean, Africa and beyond. It was however not Britain's first African newspaper, nor was it ever a weekly or sold in high street newsagents.
"Nearly fifty-seven years after her lonely death in a north London flat, let's put the mighty warrior that was Claudia Jones in a rightful and correct context, as we tell her British African history."
Kwaku is a history consultant and historical musicologist. He's the organiser of the UK African Women Self-Organising Zoom event on Dec. 20 2021, which marks the 57th anniversary of the death of Claudia Jones.