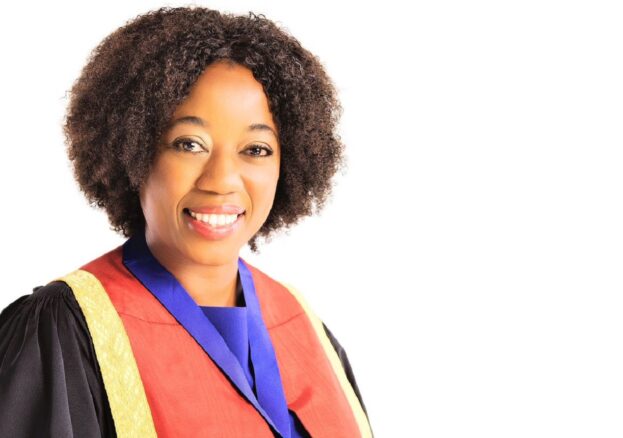 Once upon a time, a long way away in Trinidad, an 8-year-old girl was given the job of caring for some of her family's pets. Her parents expected her not just to play with the animals, but to check on them, report any signs of illness and help treat them too. That little girl is now grown up and can't thank her parents enough for the confidence they had in her.
Dr Mandisa Greene recalls helping her family to take care of their chickens, one breed kept for eggs, and another for their meat; as well as a menagerie of pets that included cats, dogs, a tortoise and a tarantula! Mandisa's family was so well known for their love of animals that people brought unwanted pets to them to re-home.
Mandisa remembers how her parents involved her in her first major decision, about whether or not one of their pets should be put to sleep. Aged just 13, she embraced this responsibility and the belief her parents had in her by taking the time, carefully considering all the factors and then making her decision. This was a significant moment for Mandisa as she recalls it cemented her parents' belief and confidence that she could one day be a Vet.
A family passion
It's said that children sometimes catch the dream of their parents and run with it, and that's what Mandisa did when it came to choosing her career path. Her mother had always wanted to be a vet but had ended up as a lecturer. Inspired by her parents and her childhood experiences, Mandisa decided that she would become the Vet in the family.
She knew her parents would have been supportive of any career, but they pulled out all the stops to help their daughter become a Vet. The only thing they asked of her and her siblings to instil a sense of responsibility in their life choices, was "Pick and then stick to it!"
Mandisa's parents took her to open days at the University of the West Indies, so she could meet other Vets. She fondly recalls her father telling everyone "Meet my daughter. One day she will be a vet".
Learning from failure
Mandisa's career began when she returned to the UK aged 18, ready to start vet school. She had been born in the UK, but her family had returned to Trinidad when she was 2. Her first application to vet school was unsuccessful, something Mandisa puts down to not doing enough to present herself through her application. Undaunted, she used the time to become the well-round applicant that the vet school expected. She got some experience by work-shadowing vets; and found support to complete her second application, to present her experience well. Success!
At university, Mandisa expected she would sail through the course but she failed exams. She hadn't found it easy and had faced many hurdles and brick walls but finally her tenacity had won out. Her clinical years, which were designed to help students prepare for their practical role as a vet confirmed what she had always known, one day she would be a vet.  Mandisa was a natural and she knew she had made the right career choice as she continued her training.
Mandisa's philosophy is "If you really, really want something in life you have to face any adversity that comes along, but what you mustn't do is give up on your dream."
Sharing best practice
Since qualifying, Mandisa has worked as a vet, even while raising her two young children and taking care of her mother during a spell of serious illness. To prioritise her family, she took jobs locally and held temporary roles at times, enabling her to continue doing the job she loves as a small companion animal vet. In fact, Mandisa was doing a spot of temporary cover at a local practice when the team there told her that some of the clients had been commenting on her "bedside manner" and the difference it had made to them and their pets.
Every Vet that graduates with an accredited Veterinary Degree in the UK automatically becomes a member of the Royal College of Veterinary Surgeons which is their regulator.  As Mandisa's career progressed she felt the urge to be more involved with the discussions that impacted her professional career. The rest as they say is history or as Mandisa puts it "Taking full and active participation gave me insights into the profession I would never have had otherwise. I met people I never would have, and was able to visit some great places too."
Mandisa was elected to the Council of the Royal College of Veterinary Surgeons 2014-2022 and became its President on 10 July this year, in the college's first virtual ceremony. A theme of Mandisa's presidential year is Diversity and Equality, to champion a more diverse and inclusive profession with renewed intention, and to engage in the delivery of the College's Diversity and Inclusion Action Plan.
Tackling racism
With the Black Lives Matter movement highlighting how essential it is that Black people are supported within organisations and neighbourhoods, the College's Action Plan is addressing how best to support all the members of a veterinary team to work in an environment free from discrimination and racism – including staff and students.
"Black people are under-represented in my profession and it's not unusual for some people to say "I didn't expect a black person to be a vet!" said Mandisa. We need to protect students and employees from racism and ensure they can train and work in the best environment possible. 
"In the days when I was a student, social media wasn't available and support from other students outside of my own school wasn't really possible. During my student years, I never met another black student, or knew if there were any elsewhere in the UK. Today, social media and modern technology enables students to connect with each other, provide support and compare their experiences. I can see the benefit of creating a community for shared experiences and feel I would have benefited from these sort of things in my day.
"My goal in my time as RCVS President is to improve diversity in my profession so my children's generation will feel this career is attainable.  I want children who are keen on science to consider a career in this field. I hope potential students from more diverse backgrounds in the UK would really consider being a vet, but as you can't be what you can't see we need to ensure our diverse vets are visible.  We would like to encourage and facilitate black vets speak in schools and colleges.  I was fortunate to dream about being a vet in Trinidad, where I saw people who look like me doing the job, and seeing those vets ensured I never considered my skin colour to be a barrier to becoming one."
Mandisa herself has been a lecturer in Veterinary Sciences, educating both students and qualified veterinary nurses at Harper Adams University.
She concludes: "In terms of racism experienced, from a personal perspective, there are no microaggressions that have stayed with me permanently, although I have experienced a significant amount from colleagues.  I know that I am fortunate, clients hear my name, Mandisa, and it will automatically act as a filter, they decide even before I meet them whether or not they will use my services. I believe my clients therefore judge me on my skills, on matters that will help their pet, not my ethnicity.