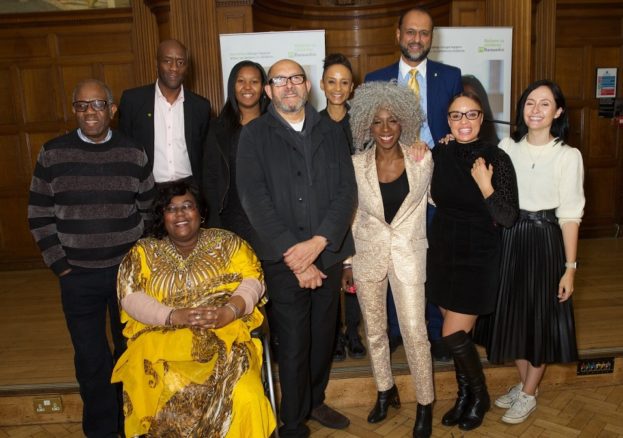 Barnardo's is calling for more diversity in the charity sector after marking Black History Month with an exhibition and event last night (Thursday).Barnardo's is calling for more diversity in the charity sector after marking Black History Month with an exhibition and event.
According to NCVO's UK Civil Society Almanac , 91 per cent of the charity sector's workforce is white, and ACEVO's annual survey of leaders of the biggest 100 charities in the UK revealed 93 per cent of charity chief executives are from white backgrounds.
At Barnardo's, the UK's largest children's charity, just over 80 per cent employees are white and around 20 per cent of the people it supports are BAME.
To help raise awareness of issues relating to equality, diversity and inclusion and to actively support people from underrepresented groups, Barnardo's pairs senior leaders with more junior staff from diverse backgrounds as part of a reciprocal mentoring programme.
It also aims to increase success rates for appointing BAME applicants to posts by 50 per cent and has an emerging leaders programme aimed at increasing diversity at manager level and above.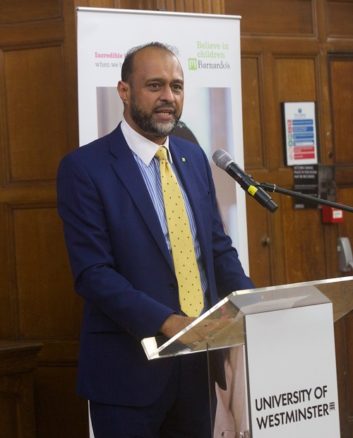 Speaking with BHM, Barnardo's CEO Javed Khan said:
"The UK is increasingly diverse, and the children we support have changed over the last 153 years, with one in five now from BAME backgrounds. It's time the sector reflects that diversity from the inside out so it can provide better support to the people it serves.
"Barnardo's has a long and proud history of helping vulnerable children, regardless of their ethnicity or other factors. We strive to ensure equality, diversity and inclusion runs through everything we do.
"But while 10 per cent of our paid employees are from BAME backgrounds, the number drops to around five per cent when it comes to our volunteers.
"We want to change this by encouraging more people from Black and other ethnic minority communities to consider charities like ours when applying for jobs or voluntary placements, not just in frontline services, but across a range of disciplines."
At their event at the University of Westminster, Barnardo's showcased beautiful archive photographs of Black children supported by the charity more than 100 years ago. This was followed by a thought-provoking discussions on the challenges faced by Black youth today.
A number of celebrities attended to show their support, including DJ Pandora Christie who also spoke passionately at the event about her own experiences as a young mixed race woman, Barnardo's Vice Presidents Floella Benjamin OBE, Bruce Oldfield, reverend Joel Edwards, actor Kate Holderness, Radio One's Adele Roberts and singer Heather Small.
Also among the 150-strong audience were Barnardo's service users, members of Black professional networks, non-profit workers and other influencers.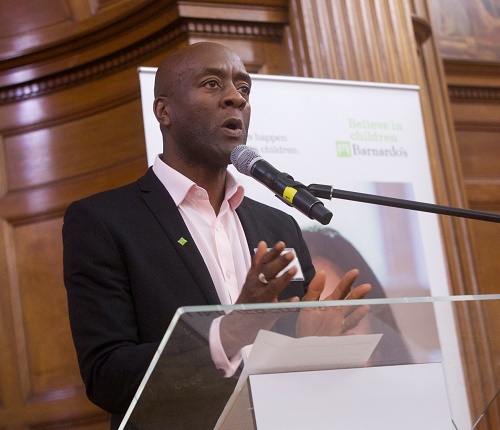 Hugh Sherriffe, Regional Director of Barnardo's Children's Services, said:
"Black History Month is an important time to take a moment to honour and reflect on the historical challenges that Black communities faced – and still face.
"We must continue to strive for racial equality and diversity to be embedded into our work culture every day; not just every October."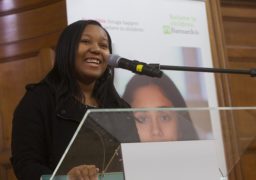 Marisa, a 16-year-old young carer from London who is currently supported by Barnardo's, spoke at the event.
Marisa said:  "I think it's great that Barnardo's has done this event for Black History Month especially as a Black person myself. I appreciate the support that Barnardo's has given to young people for over 153 years especially for people of colour who still face racism and challenges – and that's on top of all the other things they are going through."